Reviews of the newest DVD collections
of your favorite classic TV shows!
Click on the title to order - huge discounts and free shipping through Amazon.com!

---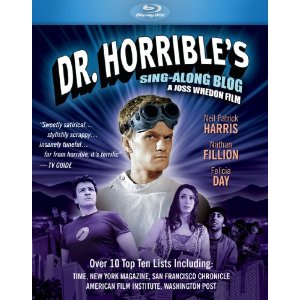 Dr. Horrible's Sing-along Blog
Web series 'Horrible' and 'Guild' good examples of new trend
The timing of the blu-ray release of "Dr. Horrible's Sing-along Blog" and the DVD release of the third season of "The Guild" is interesting given recent evidence that broadcast and cable television is headed the way of the dinosaur. It was reported several weeks ago that the number of cable television subscribers was declining and predicted that this trend would increase significantly in the next few years.
The report cited web-based content, such as "Horrible and "The Guild," as a reason for the decline. It also noted the increased use of streaming video from providers such as Netflix as a factor. I have recently begun accessing Netflix content through my Tivo and will scale way back on my cable channels when my special pricing deal with Comcast expires.
"Horrible" has become a cult phenomenon and is a great use of creator Joss Whedon's quirky humor and the offbeat charm and relatively unknown singing talent of star Neil Patrick Harris, who has appeared in "Rent" and other Broadway musicals. Additionally, this production looks and sounds much better in blu-ray on my large television screen than it did on my computer screen.
Harris plays Billy, a.k.a. Dr. Horrible, a madman with an evil mind who does not invent a shrinking ray but did make a freeze ray and has a death ray that he upgraded from a stun ray. The video blogs that he posts on the Internet provide advance notice of his evil schemes and describe his campaign to join the Evil League of Evil, which singing cowboys also document. One terribly failed scheme teaches Horrible that these blogs tip off the authorities of his plans.
Horrible spends his time that is not devoted to proving his evilness pursuing the pure-hearted Penny, played by "The Guild's" Felicia Day. I will not spoil the plot by revealing whether she is lucky and gets away but will share that she develops a romance with Horrible's arch nemesis the heroic Captain Hammer, played by Nathan Fillion. Fillion is known to Whedon fans as the evil Caleb in "Buffy the Vampire Slayer" and the roguish Mal Reynolds in "firefly."
The hilarious musical numbers remind me of both Whedon's exceptional musical episode of "Buffy" and the exceptional offbeat indie musical "Colma: The Musical" in that the lyrics and choreography are great parodies of Broadway musicals. A "Horrible" number set in a Laundromat is my favorite.
The extras on "Horrible" include video applications of varying quality that fans submitted for membership in the Evil League of Evil and a full-cast hilarious musical commentary by the cast.
"The Guild" is another good series that is equivalent to a low-budget Comedy Central production and is a recent example of loser misfits banding together that has become a theme in programs and books. It tells the story of The Knights of Good, a guild that obsessively plays an on-line role-playing game (rpg), who meet in person in the pilot episode and become involved in each other's lives.
The series centers around Codex, played by Day, who is seeing a therapist regarding her rpg addiction. Other players include the wonderfully hyper and immature Zabu, the hilariously negligent middle-class mother Clara, and the slacker teen boy D-List model Bladezz who is subject to fall-on-the-floor humiliation at the hands of his sister and his high school classmates.
The third season opens with the Knights running afoul of rival guild The Axis of Anarchy, lead by a sadistic character played by Will Wheaton. One cannot blame Wheaton for wanting to play contrary to his horribly "gee whiz" Wesley "Jar Jar" Crusher persona but his effort to pull off malicious are as ill-fitting as the pajama-style outfit that Wesley wore constantly.
The torment of the Knights does provide good entertainment. High, or low, lights include distributing photos of Bladezz on a stick to his classmates for mocking purposes and getting other guilds to gang up on the Knights. This leads to a showdown with a predictable outcome in the season finale.
The plethora of extras include a Halloween episode, outtakes, and cast interviews.
I would enjoy hearing from anyone with thoughts regarding web series or want to share their own comments regarding Wesley or Wheaton's failed efforts to depict his evil side. My e-mail is tvdvdguy@gmail.com.
---
TV on DVD Reviews: