Reviewing the latest DVD collections
of your favorite classic television shows!
Click on the titles to order - huge discounts
and free shipping through Amazon.com!
---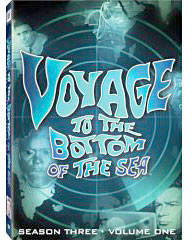 Voyage to the Bottom of the Sea - Season 3, Vol. 1
Most fans agree that Voyage to the Bottom of the Sea season 3 took a nosedive in quality from season 2 but if you're a die hard Irwin Allen fan like I am it really doesn't matter that much. I love every scenery chewing moment, the colorful monsters of the week, the underwater shots, the cool special effects & set designs and the simplistic storylines. It all harkens back to a different television era.
Standout episodes for this second year in color include 'Deadly Waters' (with the Seaview trapped at ocean's bottom), 'The Wax Men' (with Michael Dunn as an evil clown), 'Thing From Inner Space,' and the first episode, 'Monster From The Inferno' where the crew go up against an atomic brain.
There are two extras, video interviews with the show's co-star David Hedison including and audio talk from 1966 along with a still gallery.
Switch your brain off and enjoy Voyage for what it is and it's a lot of fun. If I had a 5-11 year old kid I would definitely get this DVD collection. Or get it for the kid it makes you feel like.
DVD Release Date: June 19, 2007
Run Time: 663 minutes
VIDEO CLIPS:
Clip # 1: Monster Inferno - Real Player / Windows Media
Clip # 2: Nelson's Report - Real Player / Windows Media
Clip # 3: Rock & Roll - Real Player / Windows Media
Clip # 4: Werewolf Main - Real Player / Windows Media
---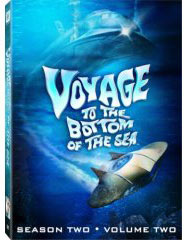 Voyage to the Bottom of the Sea - Season 2 Volume 2
I'm a big fan of the Irwin Allen sci-fi / fantasy shows of the 1960s. The one I'm least familiar with is Voyage, so it's a thrill for me to discover this show for the first time, really. Outside of a few scattered episodes of this series' four year run, it's all new to me. For some reason, this show didn't turn up in reruns like Lost in Space or even Time Tunnel did in my TV viewing area as a kid.
This DVD collection represents the last half of the second season, the first year in color and the hyper-realized hues are spectacular (the first generation of color TV shows REALLY wanted you to know the program was in color). I was much more impressed with these episodes than I was with the first season collections; as a bonus, there's a new interview with Voyage star David Hedison and a gallery of gorgeous production stills.
Set designs, underwater photography, all top notch; that's what Irwin Allen's productions did best - special effects and atmosphere. Wood paneling and curtains on a submarine? The set designers made the high tech surroundings look like a cool rumpus room.
And the flying sub was the wildest flying craft ever created for TV. Irwin Allen always gave his shows a slight makeover from one year to the next so I'm looking forward to season three on DVD.
As a taste, here are some video nuggets from this DVD release (in Windows Media format):
---
Voyage to the Bottom of the Sea
EPISODES IN THIS DVD:
46. 26 Dec 65 Terror on Dinosaur Island
47. 2 Jan 66 Killers of the Deep
48. 9 Jan 66 Deadly Creature Below!
49. 16 Jan 66 The Phantom Strikes
50. 23 Jan 66 The Sky's On Fire
51. 30 Jan 66 Graveyard of Fear
52. 6 Feb 66 The Shape of Doom
53. 13 Feb 66 Dead Men's Doubloons
54. 20 Feb 66 The Death Ship
55. 27 Feb 66 The Monster's Web
56. 6 Mar 66 The Menfish
57. 13 Mar 66 The Mechanical Man
58. 20 Mar 66 The Return of the Phantom
---
Classic TV DVD Reviews: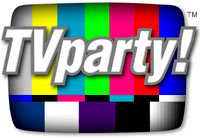 * TV on DVD *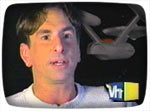 Reviews by
Billy Ingram,

as seen on
VH1, Trio
and
Bravo.
Watch for Billy Ingram onBRAVO this month!
| | |
| --- | --- |
| FEATURES YOU MIGHT ENJOY: | |
Voyage to the Bottom of the Sea on DVD!

Plot Synopsis: Voyage chronicled the adventures of the world's first privately owned nuclear submarine, the SSRN Seaview. Designed by Admiral Harriman Nelson, she was a tool of oceanographic research for the Nelson Institute of Marine Research. Though the show is known for its few "monster" episodes, many plots were veiled commentaries of what was happening in the news. Such plotlines as nuclear doomsday, pollution of natural resources, foreign threat, and theft of American technology are all still relevant today.

Plot Outline: The submarine Seaview is commissioned to investigate the mysteries of the seas. Usually it finds more problems than answers...

SEASON 2 - Volume 2:
Format: Color, Dolby, Dubbed, Full Screen, Subtitled, NTSC
Language: English
Region: Unknown. Read more about region encoding and how it may affect you here.
Aspect Ratio: 1.33:1
Number of discs: 3
Rating
Studio: 20th Century Fox
DVD Release Date: February 20, 2007
Run Time: 672 minutes
Average Customer Review: based on 1 review. (Write a review.)
DVD Features:
Available Subtitles: Spanish
Available Audio Tracks: English (Dolby Digital 2.0 Stereo), English (Dolby Digital 2.0 Mono), Spanish (Dolby Digital 2.0 Mono)
David Hedison Interview
Still Gallery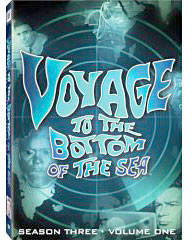 TV Shows on DVD
Holiday Specials on DVD
TV Commercials on DVD
TV Shows on BLU-RAY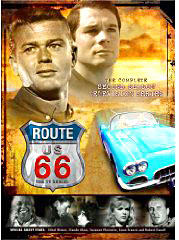 Amazon Prime - unlimited streaming
of your fave TV shows and movies!
Get your FREE 30 Day Trial!
Everything you're looking for is here: