Reviews of the newest DVD collections
of your favorite classic TV shows!
Click on the title to order - huge discounts and free shipping through Amazon.com!

---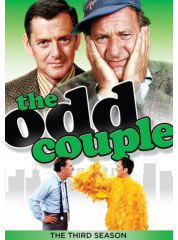 The Odd Couple - Season 3
The Odd Couple is one of those rare, near perfect TV sitcoms from the genre's golden age. The effervescent cast, hilarious scripts, deft direction, and wonderful supporting players all add up to one of those unique instances where a TV spinoff of a movie (in this instance a Broadway play as well) was as good or better than the original (see also M*A*S*H).
Tony Randall and Jack Klugman star as Felix and Oscar, hopelessly mismatched roomates - one's an unapologetic slob, the other a neurotic clean freak. Both Randall and Klugman were nominated for Emmy awards each year of The Odd Couple's run and it's easy to see why - it's the chaotic friction between them that propels the rollicking events forward.
Also seen in the remarkable cast are Al Molinaro (Happy Days) as Murray the cop; Penny Marshall (Laverne& Shirley) as Oscar's secretary; Elinor Donahue (Father Knows Best) as Felix's sometime girlfriend Miriam; and Brett Somers (Match Game) as Oscar's acerbic ex-wife (Somers was Klugman's real life spouse at the time).
Guest stars during season 3 include Hal Smith, Archie Hahn, Joan Hotchkis, Doney Oatman and other familiar 1970's sitcom faces.
While never a major ratings hit, this was the program that made writer / producer Garry Marshall a major force in television - he went on to produce some of the hottest shows of the 1970s and 1980s including Happy Days, Mork & Mindy and dozens of others.
You can't go wrong with this reasonably priced collection of one of the best of the series' 5 year run. There are so many classic shows here - like the laugh out loud episode where Oscar & Felix go on Password (with guest stars like Allen Ludden, Betty White) or the one with Oscar and his ex pretending to still be married. Great stuff.
This was one program our entire family watched and laughed with together and it's certainly suitable for family viewing today, the comedy is as fresh as ever. There are reportedly some minor edits and music substitutions but I didn't notice where they were.
Hours and hours of laughter!
---
The episodes in this Odd Couple Third Season DVD set:
Gloria, Hallelujah
Big Mouth
The Princess
The Pen is Mightier Than the Pencil
The Odd Monks
I'm Dying of Unger
The Odd Couples
Felix's First Commercial
The First Baby
Oscar's Birthday
Password
The Odd Father
Don't Believe in Roomers
Sometimes a Great Ocean
I Gotta Be Me
The Ides of April
Myrna's Debut
The Hustler
My Strife in Court
Let's Make a Deal
The Odyssey Couple
Take My Furniture, Please
The Murray Who Came to Dinner
---
TV on DVD Reviews: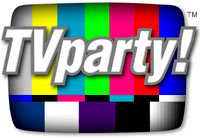 TVparty! for TV on DVD!
| | |
| --- | --- |
| | Reviews by Billy Ingram, as seen on VH1, Trio and Bravo. |




Carol Burnett Show on DVD
| | |
| --- | --- |
| FEATURES YOU MIGHT ENJOY: | |
---
Plot Outline: Two men, a neat freak and a slob separated from their wives, have to live together despite their differences.

Plot Synopsis: Felix and Oscar are an extremely odd couple: Felix is anal-retentive, neurotic, precise, and fastidiously clean. Oscar, on the other hand, is the exact opposite: sloppy and casual. They are sharing an apartment together, and their differing lifestyles inevitably lead to some conflicts and laughs.

Number of discs: 4
Studio: Paramount Home Video
DVD Release Date: January 22, 2008
Run Time: 600 minutes
---
The Odd Couple

had one of the memorable theme songs of the time, the narration went like this:


"On November 13, Felix Unger was asked to remove himself from his place of residence. That request came from his wife. Deep down, he knew she was right, but he also knew that someday, he would return to her. With nowhere else to go, he appeared at the home of his friend, Oscar Madison. Sometime earlier, Madison's wife had thrown him out, requesting that he never return. Can two divorced men share an apartment without driving each other crazy?"
---
SEARCH here for what you want: