Reviews of the newest DVD collections
of your favorite classic TV shows!
Click on the title to order - huge discounts and free shipping through Amazon.com!

---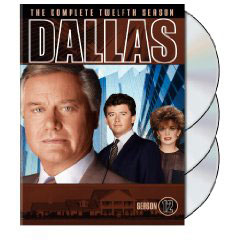 Dallas - The Complete Twelfth Season
Good mix of soap and sitcom
The most notable aspect of 12th season, which premieres on DVD next Tuesday of the '80s primetime soap Dallas is the large amount of character-driven humor and sitcom clichés that it offers.
One of the more humorous moments came when "good" brother Bobby Ewing joked about having a malicious genie attack ruthless brother J.R., who was played by I Dream of Jeannie star Larry Hagman. An equally funny scene had the extraordinarily frugal Cliff Barnes blatantly pocket a quarter that he found on the floor while visiting a friend at her home.
The season begins with J.R. sustaining surprising little harm from being shot by ex-wife Sue Ellen and then finding himself the victim of small-town justice after seducing naïve young Cally in rural Arkansas.
A small-town sheriff, harsh prison camp officials, and Cally's irate red-neck brothers present a relatively foolish threat to a character who has been the victim of countless power-brokers who he has abused, a mercenary who he betrayed, and desperate individuals with grudges against him.
On returning to Dallas, J.R. rejoins Bobby in running the family business, Ewing Oil. Their predictable bickering and J.R.'s inevitable scheming lead to a scene in which J.R. and Bobby enter an elevator with a case of expensive wine immediately after a serious argument. Anyone who has ever watched a sitcom can easily predict what happened next.
The sitcom flavor of this still melodramatic series also includes a forced alliance between J.R. and his long-time enemy Barnes. No wacky misunderstandings ensue, but each character does get barbs in at the expense of the other.
Another storyline comes directly from westerns; the Ewings get involved with a very violent range war with the man who buys the spread that abuts the Ewings' Southfork Ranch. Interfering with the flow of water onto Southfork and knocking down fences between the two properties are the more mild events in this conflict.
An additional storyline that spans most of the season involves Sue Ellen secretly buying a movie studio so that she can make a tell-all film about J.R. Treating the fictional Ewings as real people on which the movie is based is a relatively common but interesting technique; the flashbacks from earlier seasons that relate to making the movie provide a nice primer on significant events in the series.
The movie storyline also provides another opportunity for the humor that marks the 12th season. The screenwriter who Sue Ellen hires comments that telling the story of J.R. would require 50 hours; that may be a good estimate of the amount of time that prior seasons devoted to J.R. storylines.
The bottom line is that this season was not one of Dallas' finest but still was Dallas and still was interesting. This is perhaps the last broadcast network show that kept people home Friday nights. Additionally, I know several people who were also sure to watch the reruns on cable. Very few other programs have inspired this loyalty.
I am eager to hear from other Dallas fans; my e-mail is tvdvdguy@gmail.com.
---
TV on DVD Reviews: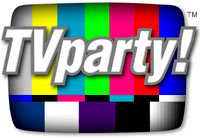 TVparty! for TV Shows on DVD!
Patrick Duffy of Dallas Interview
---
Review by John Stahl

John Stahl is a freelance legal writer who is also a fan of classic and cult television programs. He can be reached at
tvdvdguy@gmail.com
.
---
---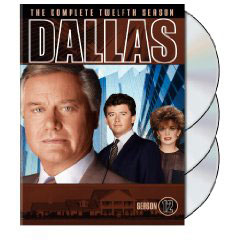 Dallas - The Complete Twelfth Season
Product Details
Actors: Larry Hagman, Patrick Duffy, Ken Kercheval, Linda Gray, Barbara Bel Geddes
Directors: Irving J. Moore, Michael Preece, Russ Mayberry
Writers: Arthur Bernard Lewis
Format: Color, DVD, Full Screen, NTSC
Language: English
Region: Region 1
Aspect Ratio: 1.33:1
Number of discs: 3
Rating: NR (Not Rated)
Studio: Warner Home Video
DVD Release Date: January 19, 2010
Run Time: 1378 minutes

Product Description
J.R. has always been a hound dog with the ladies and in Season 12 it all comes back to bite him. A dalliance with an Arkansas cutie leads J.R. to the wrong end of a shotgun, 10 years of hard labor, a prison break and the altar. And that's just the start of 26 episodes of commotion and emotion that also include a tell-all movie (bankrolled by the first Mrs. J.R. Ewing) that threatens to unveil every low-down trick J.R. ever pulled and a rival oil man scheming to destroy the Ewing empire, taking the clan from Southfork all the way to Austria and Russia!
PR4 & PR5 Pages for ads - CHEAP!
Carol Burnett Show on DVD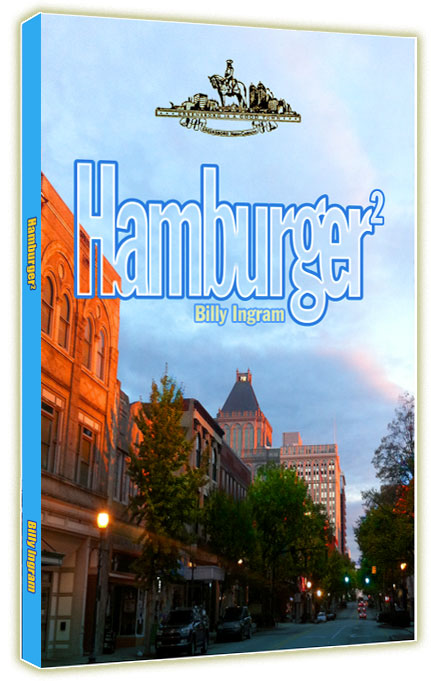 The focus is on Greensboro, NC!
---
Everything you're looking for is here:
Shop Amazon's New Kindle Fire
Shop Amazon's New Kindle Fire