Reviews of the newest DVD collections
of your favorite classic TV shows!
Click on the title to order - huge discounts and free shipping through Amazon.com!

---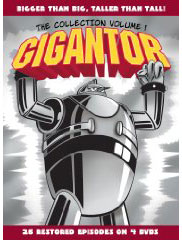 Gigantor Volume One
Good early example of anime
This week's edition of "Animation Friday" is taking the way back machine to 1966 for a look at the early anime series "Gigantor," the first 26 episodes of which were released on DVD on Tuesday. The next 26 episodes are scheduled to be released in September.
"Gigantor" began life as an animated series in Japan, and producer Fred Ladd brought the series to the U.S. and adapted it for American audiences as a follow-up to the "Astro Boy" series for which he had done the same.
Gigantor is an enormous "space-age robot" that the father of 12 year-old Jimmy Sparks invented and that Jimmy operates via a control box. The closest modern example is the basic "toaster" model cylon from "Battlestar Galactica."
A typical plot from the futuristic world of 2000 involves Jimmy and Gigantor being called in when a super villain with a colorful name such as Dr. Katzmeow, Mr. Nefarious, or Dr. Birdbrane acts to take over the world; none of the stories involve the cronies of a presidential candidate manipulating election results.
Jimmy and his colleagues bumbling police officer Inspector Blooper, world-class scientist Bob Brilliant, and secret agent Dick Strong usually find themselves pinned down or captured and call in Gigantor to smash his way through the fighter jets or other obstacle du jour and rescue them. Hindrances such as an especially powerful foe or the control box somehow malfunctioning are resolved within a few minutes.
This black-and-white show has the artsy simple style and hilariously awful dubbing of early anime. The exaggerated features, expressions, and reactions of every character are a great deal of fun and have inspired me to watch my "Speed Racer" DVDs.
"Gigantor" also offers the escapist fun of having a young boy fly fighter jets and run the show. The suspension of disbelieve extends to not thinking about why an adult could not operate the control box and why Gigantor acts largely on his own once the operator of the control box operates him. Watching him go "terminator" on the human race would be entertaining.
This DVD set also includes an interview with Ladd, who offers some interesting insights into the show but begins sounding like Grandpa rambling on about the war after roughly 15 minutes.
One problem with the segment was that the producer of the documentary just had a single camera filming Ladd as he spoke; different angles and/or clips from "Gigantor" and fan conventions would have added a great deal of fun.
The observations of Ladd confirmed my sense that Jimmy looked like he was 10 years-old. Ladd stated that Jimmy was 12 and that the show appealed to Ladd because he believed that every boy fantasized about controlling a powerful machine. Ladd offered the analogy of him wanting to drive a car when he was 11.
The DVD set also contains pdf files of "Gigantor" comic books that were published in 2000. The nice thing about seeing them in that format is that you do not have to worry about ruining them with fingerprints.
Please do share your thoughts regarding this show as e-mail to tvdvdguy@gmail.com.
---
TV on DVD Reviews: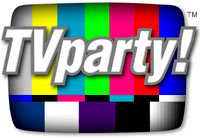 TVparty! for TV Shows on DVD!
Patrick Duffy of Dallas Interview
---
Review by John Stahl

John Stahl is a freelance legal writer who is also a fan of classic and cult television programs. He can be reached at
tvdvdguy@gmail.com
.
---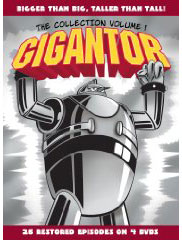 Gigantor Volume One
Product Details
Actors: Gigantor: the Collection
Format: Animated, Box set, Black & White, Dolby, DVD-Video, Full Screen, Restored, NTSC
Language: English
Aspect Ratio: 1.33:1
Number of discs: 4
Studio: Koch Vision
DVD Release Date: May 5, 2009
Run Time: 650 minutes

Product Description
"Gigantor the Space Age Robot is at your command!"
The First 26 Episodes of the Classic Series Digitally Transferred from the Original 16mm Film
Premiering in the '60s, "Gigantor" blazed a new trail in America for Japanese animation. The influential series was one of the first featuring a giant, heroic robot and was designed with a cinematic sensibility that thrilled and captivated audiences.
When terrorist groups, evil criminals and hostile aliens become too powerful for Earth's armed forces, the virtually-indestructible robot is built to combat them. Commanded by Jimmy Sparks through a remote control, Gigantor must battle to save the world from a never-ending assault by ruthless villains.
BONUS FEATURES:
Interview with director/producer/writer Fred Ladd
Interview with anime historian Fred Patten from Animation World Magazine
Select audio commentary with Fred Ladd
Gigantor comic book issues 1-6 (DVD-ROM content)
PLUS 16-page companion guide with episode summaries and archival publicity materials
TV Shows on DVD
Holiday Specials on DVD
TV Commercials on DVD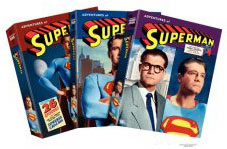 Amazon Prime - unlimited streaming
of your fave TV shows and movies!
Get your FREE 30 Day Trial!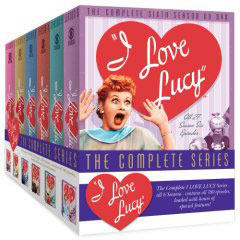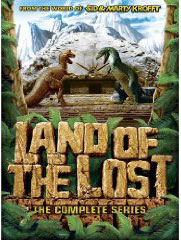 ---
Everything you're looking for is here:
Shop Amazon's New Kindle Fire
Shop Amazon's New Kindle Fire