Reviews of the newest DVD collections
of your favorite classic TV shows!
Click on the title to order - huge discounts and free shipping through Amazon.com!

---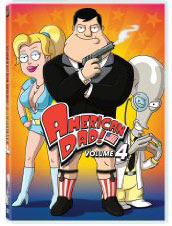 American Dad
'American Dad' V4
Very funny dark humor
The best thing that can be said about Volume 4 of the adult-oriented "American Dad" animated Fox sitcom is that it greatly increased my interest in the show. This set, which contains episodes from the third and fourth seasons of the show, was released April 28.
This set of "Dad" also has me eager to watch "Seth MacFarlane's Cavalcade of Cartoon Comedy," which is being released on DVD on May 12. MacFarlane is a creator of "American Dad" and its companion show "Family Guy" and provides the voice of Smith. The "Cavalcade" DVD consists of uncensored versions of cartoons that MacFarlane created for the Internet.
"Dad" tells the story of ultra-right-wing CIA spy Stan Smith and his equally bizarre family. The Smiths can be thought of as a more outrageous version of the Bunkers from "All in the Family," complete with the repressed wife and the radical daughter.
I have watched "Dad" since it joined the Fox Sunday night lineup a few years ago, but it never really grabbed me. I suspect that this is because it seemed a general clone of its companion show "Family Guy," which is having a new DVD set released in June, and because "Dad" is on at the end of the lineup.
However, watching the episodes on the Volume 4 DVDs was a great experience. The picture quality is much better than my cable company provides, and I got a better sense of the clever and outrageous sense of the plots than I received when I watched these episodes after an entire evening of similar programs.
The set begins with the epic "Tearjerker" episode, which was a very amusing Bond spoof that also took hilarious shots at egotistical untalented actor Matthew McConaughey, America's obsession with the babies of celebrity couples, and big-budget art films that try to manipulate our emotions.
The trailer of a film that is pivotal to "Tearjerker" in which the Paul Lynde-like effeminate alien Roger plays a mentally-retarded version of Anne Frank whose puppy dies of cancer is among the funniest things that I have ever seen. Having the recently deceased man who narrated film trailers for years narrate this segment was a terrific bonus.
The politically incorrect dark humor of the series also depicted hilarious themes of incest involving Smith and his mother and his daughter. Other sexual themes include furries who have sex dressed in full animal costumes and Klaus the German scientist who is trapped in the body of a fish spreading the fish disease ick through contact with family members.
Another highlight involved nerd son Steve taking revenge on the popular kids by stunts that included having a prostitute infect the teddy bear of a cheerleader. The commentary on popular and unpopular high school cliques in this show was great.
The extras on the DVD set were also generally good; I loved the segment on the making of "Tearjerker" and enjoyed seeing the voice-actors in a segment that was filmed at the 2008 ComicCon convention. The unfortunate aspects of that segment were that it was of the cast reading the script of an episode that I had just watched on the DVD, and the camera-work was rather shaky and did not come in close enough during that segment.
Please do share your thoughts regarding this show as e-mail to tvdvdguy@gmail.com.
---
TV on DVD Reviews: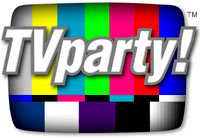 TVparty! for TV Shows on DVD!
Patrick Duffy of Dallas Interview
---
Review by John Stahl

John Stahl is a freelance legal writer who is also a fan of classic and cult television programs. He can be reached at
tvdvdguy@gmail.com
.
---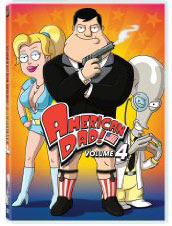 American Dad
The following 14 episodes on this set:
Tearjerker
Oedipal Panties
Widowmaker
Red October Sky
Office Spaceman
Stanny Slickers
Spring Break-Up
1600 Candles
The One That Got Away
One Little Word
Choosy Wives Choose Smith
Escape From Pearl Bailey
Pulling Double Booty
The Most Adequate Christmas Ever

Product Details
Actors: Seth MacFarlane, Wendy Schaal, Scott Grimes, Rachael MacFarlane
Format: AC-3, Animated, Box set, Color, Dolby, DVD-Video, Full Screen, Subtitled, NTSC
Language: English
Region: Region 1 (U.S. and Canada only. Read more about DVD formats.)
Aspect Ratio: 1.33:1
Number of discs: 3
Rating:
Studio: Twentieth Century Fox
DVD Release Date: April 28, 2009
Run Time: 305 minutes
TV Shows on DVD
Holiday Specials on DVD
TV Commercials on DVD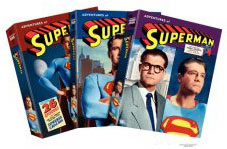 Amazon Prime - unlimited streaming
of your fave TV shows and movies!
Get your FREE 30 Day Trial!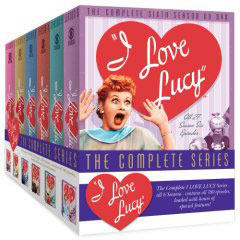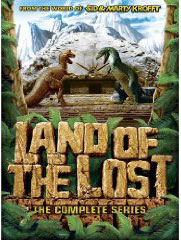 ---
Everything you're looking for is here: