Reviews of the newest DVD collections
of your favorite classic TV shows!
Click on the title to order - huge discounts and free shipping through Amazon.com!
(Ordering TV shows on DVD from the United Kingdom? Click here! )
---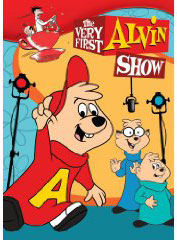 Alvin and the Chipmunks: The Very First Alvin Show
Established the boy band model
The September release of DVDs entitled "The Very First Alvin Show" and "Alvin and the Chipmunks Go to the Movies: Star Wreck" prompted fond childhood memories of Alvin and the Chipmunks; their Christmas album remains one of my favorites and is much better than children butchering Christmas carols by screeching off-key at the top of their tiny lungs.
Alvin and his brothers were created in the 1950s and are cartoon chipmunks who sing popular songs in helium-induced voices. They have also starred in several television series and in a recent big-budget film.
This group also followed the boy band model before Marky Mark was even born. Lead singer Alvin is a cute bad boy whose middle name is mischief. Band member Theodore is an adorkable brainiac, and Simon is sweet and naïve. It does not seem that they wear promise rings.
The Alvin Show release is the home video release of the premiere episode of the first show in which the chipmunks appeared. It has Alvin and his brothers teaching a nervous eagle how to fly, and a separate cartoon involves Alvin antagonizing a gondolier in Venice.
The two additional shows on the DVD are the charmingly sappy 1985 "A Chipmunk Reunion" special that has the chipmunks leaving the big city to visit their birth mother in the forest and the higher budget and more entertaining "The Chipmunks Present Rockin' Through the Ages."
"Rockin'" is a special hosted by Will Smith in his Fresh Prince persona that condenses the history of the chipmunks and has them perform songs from the 1950s through the 1990s.
An unintentionally timely feature adds Alvin to a handful of Michael Jackson videos. An amusing feature that is less timely has NBC stars from the early 1990s audition to be the voice of Alvin; The best clip on the DVD is a 1958 segment from the Ed Sullivan variety show in which Alvin schemes to conk Sullivan on the head with a toy mallet.
The "Movies" DVD consists of 20-minute film parodies of "Star Trek," "Dick Tracy," and Sherlock Holmes films starring the chipmunks. Predictably, Alvin plays the lead in each parody. These features cleverly incorporate the trademark elements of the films on which they are based; having Simon as McCoy and Theodore as Spock bicker in the Star Trek parody is one of the more amusing moments in these presentations.
The bottom line is that these cartoons offer good wholesome fun and are an inexpensive way for fans of the chipmunks to enjoy the antics of these animated rodents.
Please do share your thoughts regarding this show as e-mail to tvdvdguy@gmail.com.
---
TV on DVD Reviews: