Reviews of the newest DVD collections
of your favorite classic TV shows!
Click on the title to order - huge discounts and free shipping through Amazon.com!

---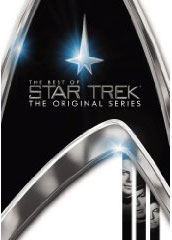 The Best of Star Trek: The Original Series
Good episodes from an enduring series
The DVD set, which was released on Tuesday, "The Best of Star Trek The Original Series" includes well remastered episodes of this classic 1960s sci-fi series that has launched 11 movies and five spin-offs. This includes the 1970s animated version.
As is the case with the "Best of Star Trek: The Next Generation" DVD set, which was also released on Tuesday, the problem is that episodes that deserved inclusion were excluded.
The first episode on the original series DVD is "The City on the Edge of Forever," which guest-stars "Dynasty" and soft-core porn star Joan Collins as a 1930s social worker in New York who will cause the Germans to win World War II if Kirk and his time-travelling companions do not allow her to live. This one contains good dialogue about the dangers of changing a timeline.
The second episode is "The Trouble with Tribbles," which is a popular and humorous episode. This tale of small furry creatures who eat and procreate with great enthusiasm includes the clever twist of killing two tribbles with one stone.
The third episode, "Balance of Terror," depicts the first encounter between the Enterprise and the evil Romulans. The dilemma in this one is whether to reignite dormant hostilities in retaliation for a rather limited attack. It also depicts a nice tale of unwarranted racism based on a false impression.
The fourth episode "Amok Time" introduces the Vulcan condition of Pon Farr that compels Vulcan males to return to their home planet to mate. As Vulcan officer Spock observes, this is comparable to salmon on earth spawning to return to their place of birth.
The first glaring omission is "Mirror Mirror" that includes a transporter malfunction, a parallel universe, and goateed evil twins. These are classic "Star Trek" and general sci-fi elements.
"Space Seed" is the second episode that this set should have included. This is the episode with superhuman Khan that inspired "Star Trek II: The Wrath of Khan" that was the first chapter in the "Spock Saga" trilogy in the original "Star Trek" movies. A very good remastered version of that trilogy was released on Tuesday as well.
"The Doomsday Machine" is a third episode that warrants a "best of" designation. This one pits Kirk and the gang against a true weapon of mass destruction and has a widely parodied resolution.
Please do share your thoughts regarding this show as e-mail to tvdvdguy@gmail.com.
---
TV on DVD Reviews: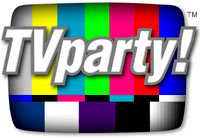 TVparty! for TV Shows on DVD!
Patrick Duffy of Dallas Interview
Star Trek on Blu-Ray Review
Star Trek on DVD Review
Star Trek Next Generation on DVD Review
Star Trek movies on DVD Review
Best of Star Trek on DVD Review
---
Review by John Stahl

John Stahl is a freelance legal writer who is also a fan of classic and cult television programs. He can be reached at
tvdvdguy@gmail.com
.
---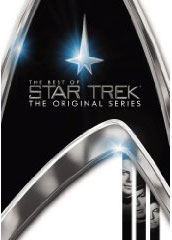 The Best of Star Trek: The Original Series
Product Details
Actors: William Shatner, Leonard Nimoy, DeForest Kelley, Michael Dunn, Liam Sullivan
Directors: Anton Leader, David Alexander, Don McDougall, Gene Nelson, Gerd Oswald
Format: AC-3, Color, Dolby, Dubbed, DVD-Video, Full Screen, Subtitled, NTSC
Language: English
Subtitles: English, Spanish
Number of discs: 1
Rating: NR (Not Rated)
Studio: Paramount
DVD Release Date: May 12, 2009
Run Time: 201 minutes
---