Reviews of the newest DVD collections
of your favorite classic TV shows!
Click on the title to order - huge discounts and free shipping through Amazon.com!
---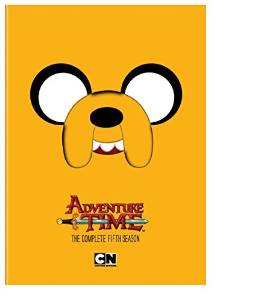 Adventure Time Season 5
Cartoon Network made their nut by running kiddie animation during the day and even more crudely animated fare for adults at night. So it's only natural, I guess, that the line would get blurred, now those cartoons made for adults are for more appropriate for children, Adventure Time being a prime example. I say it's main appeal is to children, maybe producers are aiming it at really, really, really stoned adults with arrested development.
With a cast of characters that numbers into the billions, few of which are at all distinctive or interesting, Adventure Time centers around 12-year old Finn and his best pal Jake, a 28-year old magical dog. It's Game of Thrones for 9-year olds set in a post-modern, post-apocalyptic world.
They say the best cartoons are illustrated radio plays, that you can ignore the pictures and still follow the action. Adventure Time fails that test miserably. But hey, if you enjoy the series season 5 is now on Blu-Ray so smoke 'em if you've got 'em and enjoy!
From the press release:
Adventure Time is back on Blu-ray and DVD with the complete fifth season, featuring all 52 episodes - yes 52! - from Cartoon Networks #1 show! The Complete Fifth Season release also comes with a totally rad exclusive special feature, and comes packaged in a custom slipcase featuring everyone's favorite magical dog Jake, adding to the collectible custom die-cut slipcases from the previous season releases.
---
TV on DVD Reviews: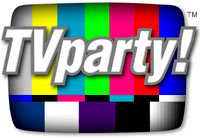 TVparty! for TV Shows on DVD!
Adventure Time the Complete Fifth Season features the following 52 episodes:
Episodes:
1. Finn the Human
2. Jake the Dog
3. Five More Short Graybles
4. Up a Tree
5. All the Little People
6. Jake the Dad
7. Davey
8. Mystery Dungeon
9. All Your Fault
10. Little Dude
11. Bad Little Boy
12. Vault of Bones
13. The Great Bird Man
14. Simon and Marcy
15. A Glitch Is a Glitch
16. Puhoy
17. BMO Lost
18. Princess Potluck
19. James Baxter the Horse
20. Shh!
21. The Suitor
22. The Party's Over, Isla de Señorita
23. One Last Job
24. Another Five More Short Graybles
25. Candy Streets
26. Wizards Only, Fools
27. Jake Suit
28. Be More
29. Sky Witch
30. Frost & Fire
31. Too Old
32. Earth & Water
33. Time Sandwich
34. The Vault
35. Love Games
36. Dungeon Train
37. The Box Prince
38. Red Starved
39. We Fixed a Truck
40. Play Date
41. The Pit
42. James
43. Root Beer Guy
44. Apple Wedding
45. Blade of Grass
46. Rattleballs
47. The Red Throne
48. Betty
49. Bad Timing
50. Lemonhope (1)
51. Lemonhope (2)
52. Billy's Bucket List
*Special Feature:
Exclusive Behind the Scenes Featurette
*Subject to change
Adventure Time the Complete Fifth Season BASICS:
SRP: Blu-ray $39.99 DVD $29.97
Street Date: July 14, 2015
Run Time: 572 Minutes
Rating: TV-PG
---
| | |
| --- | --- |
| | Reviews by Billy Ingram, as seen on VH1, Trio and Bravo. |
| | |
| --- | --- |
| FEATURES YOU MIGHT ENJOY: | |
---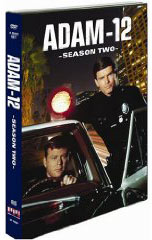 Adam-12: Season Two

Product Description
A spin-off of the popular NBC-TV series Dragnet that was created and produced by that series Jack Webb, Adam-12 chronicled in striking
detail and accuracy events from real LAPD cases. The show presented actual department-issue badges, vehicles and Los Angeles patrol stations, and its compelling realism gave the program a seven-season run on NBC from 1968 1975. Patrol the streets of Los Angeles circa 1969 with Officers Malloy (Martin Milner) and Reed (Kent McCord) in Season 2 of the memorable police drama Adam-12.Actors: Martin Milner, Kent McCord, William Boyett
Directors: Hollingsworth Morse
Format: Box set, Color, DVD-Video, Full Screen, NTSC
Language: English
Region: Region 1 (U.S. and Canada only. Read more about DVD formats.)
Aspect Ratio: 1.33:1
Number of discs: 4
Studio: Shout! Factory
DVD Release Date: September 30, 2008
Run Time: 660 minutes