Reviews of the newest DVD collections
of your favorite classic TV shows!
Click on the title to order - huge discounts and free shipping through Amazon.com!

---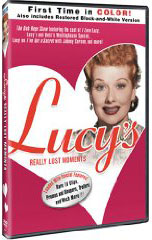 Lucy's Really Lost Moments
A nice collection of rare vintage television appearances
The DVD "Lucy's Really Lost Moments" offers an interesting and amusing glimpse of 1950s television centered around Lucille Ball, who was the queen of television during that era. The segments had surprisingly edgy moments and seeing the blatant advertising in the stories themselves was amusing.
The disc starts with Ball and the rest of the "I Love Lucy" cast appearing on the 1956 season-premiere episode of "The Bob Hope Show," which was a Sunday night variety show that was scheduled against "The Ed Sullivan Show." This segment opened with Hope delivering an opening monologue in which he made several jokes about Chevrolet, which sponsored his show, and about the Eisenhower/Stevenson race for the presidency.
My favorite joke from the monologue was Hope saying that he was proud to present the '57 Chevrolets that people would be still be paying for in '58. This was a variation of the hugely successful technique of Alfred Hitchcock making fun of the sponsors on "Alfred Hitchcock Presents," which was a mystery anthology series of the era.
Although I was born several years after the Eisenhower/Stevenson race, I am old enough that I forgot some of the great and rather edgy jokes that Hope made regarding each candidate. I do remember being surprised that a 1956 show was so harsh.
The sketch in which Ball and her posse appeared with Hope was a bizarre version of "I Love Lucy." Ball was the only cast member who played her role from the show and Vivian Vance and Desi Arnaz got rather amorous. I was surprised as well that, despite political correctness coming long after the 1950s, this skit made a "wetback" joke at the expense of Arnaz.
A special in which the "I Love Lucy" cast showed a representative of the Westinghouse appliance company around the Desilu studios and Ball nagged Arnaz about buying a houseful of Westinghouse appliances was amusing in itself and was another interesting example at the pervasive nature of advertisers in shows of the era. The dated remark that Lucy wanted the 21"-screen television, a.k.a. "the big one" was another fun reminder of the age of this special.
Arnaz took the lead in promoting the upcoming "Lucy-Desi Comedy Hour" specials and other Desilu productions while talking with the Westinghouse representative.
The only disappointment regarding the DVD is that the colorized version of it was produced poorly. The producers of the DVD used the lower-quality technique that was used for black-and-white movie and television programs in the 1980s, rather than the far superior modern technique that was used for earlier seasons of "Bewitched" and "I Dream of Jeannie."
Please do share your thoughts regarding this show as e-mail to tvdvdguy@gmail.com.
WATCH NOW :
Lucy's Really Lost Moments
---
TV on DVD Reviews: