Reviews of the newest DVD collections of your favorite classic TV shows!
Click on the title to order - huge discounts
and free shipping through Amazon.com!
---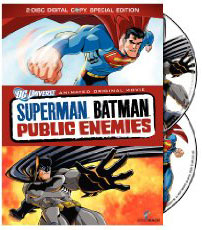 Superman Batman - Public Enemies
I suppose I was lucky to have grown up when I did, collecting comic books just as the industry was being shaken up from within. At the age when a kid would naturally put down the comics to pursue more mature reading material in come Neal Adams, Bernie Wrightson, Jeff Jones, Dennis O'Neil, and a slew of other young creators determined to grow the medium into an art form.
Older, re-awakened pros like Al Williamson, Wally Wood, Joe Kubert and Jack Kirby also stepped up to the plate to create the most amazing graphic stories.
The proof is in the number of multi-million dollar productions we see today based on the characters and situations those writers and artists created decades ago. It cost us 25 cents or less to enjoy them back then but we had to sift through the grit to get to the tiny slivers of gold. I still have a few hundred comics from that time that I'll never let go of.

President of the United States Lex Luthor declares Superman an enemy combatant and a world of superheroes and villains come out of the woodwork to claim the billion dollar bounty on the Man of Steel. That's the premise behind Superman Batman - Public Enemies a new animated feature film from the DC Universe / Warner Bros. studios.

Bruce Timm, the re-animator of animated comics, is the producer behind this one so look for a plethora of famous and lesser known characters from the DC Universe - the ridiculously busty Powergirl, Captain Cold (and every other villain that conquers ice), Solomon Grundy, Hawkman, Metallo, even Captain Atom from the Charlton Action Heroes plays a major role.
And remember that silly space suit that Luthor wore beginning in the late-1970s, a design I suspect they whipped up to make the Luthor action figure more interesting (since previous to that he mostly wore Brooks Brothers suits)? It's back to great effect.
And robot built by a young Toyman to save the world combines the Superman / Batman images in an homage to the composite characters that were so popular in the 1960's World's Finest teamup comics.
The voice talent is in pitch perfect, especially Clancy Brown as the malevolent Luthor, and one of my favorite actors CCH Pounder (The Shield) turns up as his right hand woman. The animation is impressive but limited, the script full of action from start to finish; no time for secret identities and long soliloquies, hurray for that.

This feature is rated PG-13 which would explain some of the more extreme violence - I say extreme compared to the cartoons I grew up with where heroes and villains couldn't punch or fight, they could only move each other out of the way or bind someone. No punching or even much running.
If I were a fourteen year old boy (or girl) there's no doubt Superman Batman - Public Enemies would have thrilled me no end, even watching it as an adult, far outside the film's demographic, I still found it an enjoyable 67 minutes - despite some rather glaring plot holes and Deus ex Machina ending. Then again, it is a comic book story.
This DVD set sells for around fifteen bucks if you order online, it's not a quarter I grant you, but a heck of a bargain when you consider it comes with 2 1/2 hours of special features on this 2-Disc DVD and Blu-Ray:

-In Blackest Night: Inside the DC Comics Event.
-A Test of Minds: A featurette with Jeph Loeb that examines the pairing of Batman and Superman in today's era with their competitive and challenging relationship.
-Dinner With DC: Special Guest Kevin Conroy joins the crew of this latest features to discuss their creative approach and the latest teaming up of Batman and Superman. Hosts are Andrea Romano, Bruce Timm and Greg Noveck.
-An Extended Sneak Peek At The Next Upcoming DC Universe Feature.
-A Digital Copy Download.
-2 Episodes of Justice League Unlimited handpicked by Bruce Timm.
---
TV on DVD Reviews:
---
FEATURED TV DVDs: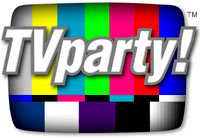 TVparty! for TV on DVD!
Superman Batman - Public Enemies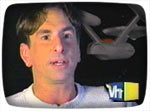 Reviews by Billy Ingram,
as seen on VH1, Trio and Bravo.
On BRAVO'S 100 Funniest Movies!
---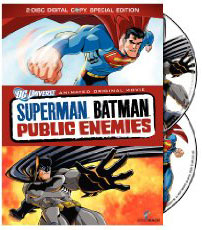 Superman Batman - Public Enemies
Product Details
• Actors: Jerry O'Connell, Clancy Brown, John C. McGinley, Robert Patrick, CCH Pounder
• Directors: Sam Liu
• Writers: Ed McGuinness, Jeph Loeb, Stan Berkowitz
• Producers: Alan Burnett, Benjamin Melniker, Bobbie Page, Bruce W. Timm
• Format: Animated, Color, NTSC
• Language: English
• Region: Region 1 (U.S. and Canada only. Read more about DVD formats.)
• Number of discs: 2
• Rating:
• PG-13 (Parental Guidance Suggested)
• Studio: Warner Home Video
• DVD Release Date: September 29, 2009
• Run Time: 67 minutes
---
Superman on DVD
Batman on DVD
The Flash on DVD
Super Friends on DVD
All New Super Friends on DVD
Superman Doomsday on DVD
Smallville on DVD
Superman Batman - Public Enemies
---
YOU MIGHT ALSO LIKE

Actors: Adam West, Casey Kasem, Buster Jones, Constance Cawlfield, William Callaway, Rene Auberjonois, Michael Rye

Episodes:
1. The Bride of Darkseid (Part I)
2. The Bride of Darkseid (Part II)
3. The Case of the Dreadful Dolls
4. The Case of the Shrinking Super Friends
5. The Curator
6. Darkseid's Golden Trap (Part I)
7. Darkseid's Golden Trap (Part II)
8. The Island of the Dinasoids
9. The Mask of Mystery
10. Mr. Mxyzptlk and the Magic Lamp
11. No Honor Among Super-Thieves
12. Reflections in Crime
13. The Royal Ruse
14. Super Brat
15. The Wrath of Brainiac
16. The Village of Lost Souls


SEE ALSO: Super Friends

TV Shows on DVD
Holiday Specials on DVD
TV Commercials on DVD

Amazon Prime - unlimited streaming
of your fave TV shows and movies!
Get your FREE 30 Day Trial!

Everything you're looking for is here:

Shop Amazon's New Kindle Fire
Everything you're looking for is here: