Reviews of the newest DVD collections
of your favorite classic TV shows!
Click on the title to order - huge discounts and free shipping through Amazon.com!

---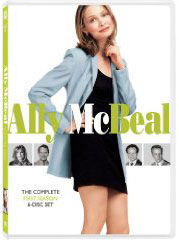 Ally McBeal: The Complete First Season
Good mix of drama and comedy
I do not have a copy of the recently released DVD set of the complete series of the late '90s legal dramedy "Ally McBeal" but do have a set of the first season. My thoughts regarding this show demonstrate that I have the same type of mixed feelings as McBeal herself often experiences.
This amusing and quirky show has well-written characters and many other good elements that make it worth watching, but its heavy-handed approach to feminism hurts it.
McBeal, played by Calista Flockhart, is a nice but generally nervous recent Harvard Law School graduate who is struggling to achieve a proper balance between passiveness and aggressiveness in her professional life and wrestles with the extent to which she should compromise in her dating life. Her friends, who are also her colleagues, have their own endearing quirks.
The clever and innovative aspects of "McBeal" include the imaginary dancing baby that became a fad and the famous unisex bathroom at the law firm where McBeal and her fellow young attorneys worked. I personally preferred the real and charmingly dorky dancing twins at the bar when the McBeal posse hung out over the creepy looking "Casper" baby.
Some of the plot devices were equally innovative. The idea of young attorneys who admit that they want to make large amounts of money starting a firm that lacks the pressure and pretense of more established firm is very appealing. I also liked one episode that used a boxing match as a metaphor for McBeal's first date with a man to whom she felt a strong physical attraction.
On a broader level, the theme that McBeal and her contemporaries were still largely unhappy despite their successful careers, yuppie lifestyle, and group of friends that I envy greatly is good and relatable. However, I do feel that this show could have just as easily been set at an investment firm or other professional environment that generally requires a graduate degree and a strong intellect.
Producer David E. Kelley does a great job raising innovative legal issues and arguing for more liberal laws, but this aspect of the show takes a back seat to the personal trials and tribulations of McBeal in this series. The cases, which included a woman wanting to marry a convict who is serving a life sentence and the family of an airplane crash victim suing the airline, were simply not very compelling. Further, the odd trial techniques of the quiet John "the biscuit" Cage were interesting but fell short of Kelley's usual standard.
A case in which a man wanted to marry two women was more interesting, especially because Massachusetts was one of the first states to enact marriage equality. However, the outcome was very predictable.
The same comment is true about the setting of the show. The Boston location appeals to me as someone who has lived within 30 miles of there most of my life, and the exterior shots of the city look very good on DVD.
However, the minimal mention of Boston makes it seem that the show could be set in any large city. I would have loved to have seen Elaine the office administrator bring in pizza from Pizzeria Regina for a staff meeting or have Ally mention that she went ice skating on the duck pond.
Turning now to my criticism of the feminist aspects of the show, depicting most men as drooling over attractive women and older attorneys as having trouble with the "temptation" that attractive young female attorneys present is very clichéd. The same is true regarding depicting these female attorneys as more subtly going weak in the knees over a handsome and/or "blessed" man. This type of thing does happen but does not seem as prevalent as "McBeal" depicts.
Additionally, the occasional theme that people pay in one manner or another for sex does not add anything to the show.
For the record, my personal brand of feminism is that men and women should be treated equally. I also disagree that women must be more aggressive than men to have successful careers.
I am interested especially in hearing from folks regarding my takes on the feminist aspects of "McBeal." My e-mail is tvdvdguy@gmail.com. I apologize if anyone is offended that it is not tvdvdperson.
---
TV on DVD Reviews: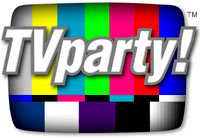 TVparty! for TV Shows on DVD!
Patrick Duffy of Dallas Interview
---
Review by John Stahl

John Stahl is a freelance legal writer who is also a fan of classic and cult television programs. He can be reached at
tvdvdguy@gmail.com
.
---
---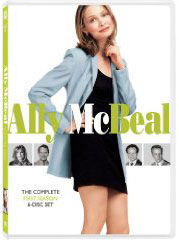 Ally McBeal: The Complete First Season
Product Details
Actors: Calista Flockhart, David E. Kelley
Format: Box set, Closed-captioned, Color, Dolby, Dubbed, DVD, Full Screen, Subtitled, NTSC
Language: English
Subtitles: English, French, Spanish
Region: Region 1 (U.S. and Canada only. Read more about DVD formats.)
Aspect Ratio: 1.33:1
Number of discs: 6
Rating: NR (Not Rated)
Studio: 20th Century Fox
DVD Release Date: October 6, 2009
Run Time: 969 minutes
PR4 & PR5 Pages for ads - CHEAP!
Carol Burnett Show on DVD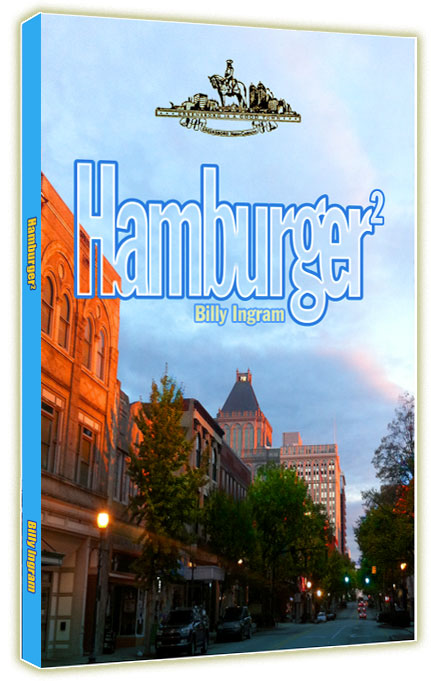 The focus is on Greensboro, NC!
---
Everything you're looking for is here: