Reviews of the newest DVD collections
of your favorite classic TV shows!
Click on the title to order - huge discounts and free shipping through Amazon.com!
(Ordering TV shows on DVD from the United Kingdom? Click here! )
---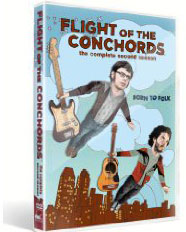 Flight of the Conchords : The Complete Second Season : Born To Folk
Flight of the Conchords remains one of the most oddball, quaint, nutty, off-putting, bwaa-ha-ha funny shows of all time; it bounces along with an effervescent quality that will either win you over or leave you flat.
The producers color way outside the lines to give us a portrait of two daft musicians and their stupefying clueless manager who deal with life with a level of naiveté bordering on the impossible. Add to that the trippy music videos that play like a parody of The Monkees or Lancelot Link Secret Chimp and you've got one of the most original sitcoms of all time.
The songs and the characters won me over right way during the show's freshman year and season two is packed with plenty of hilarious situations and twisty tunes. Perhaps not as memorable as some of the season one songs but they're hyper-fizzy pop concoctions that leave you with a sugar high and a sweet smile.
From the product description: Flight of the Conchords follows the trials and tribulations of a two man, digi-folk band from New Zealand as they try to make a name for themselves in their adopted home of New York City. The band is made up of Bret McKenzie on guitar and vocals, and Jemaine Clement on guitar and vocals.
Absurd and charming, yet somehow it all blends together beautifully.
There are lots of extras for the fans - a documentary, ersatz commercials, deleted scenes, outtakes and it all comes in a very attractive, durable case. Definitely a smart addition to your comedy library that will pay off dividends in the future as you enjoy it over and over again with friends.

---
TV on DVD Reviews: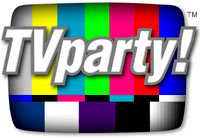 TVparty! for TV Shows on DVD!
Patrick Duffy of Dallas Interview
Reviews by Billy Ingram, as seen on VH1, Trio and Bravo.

Watch for Billy Ingram on BRAVO this month!
---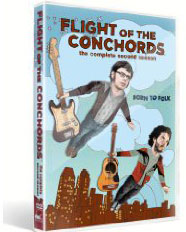 Flight of the Conchords : The Complete Second Season : Born To Folk
Product Details
• Actors: Jemaine Clement, Bret McKenzie, Rhys Darby, Kristen Schaal, Arj Barker
• Directors: James Bobin, Michel Gondry, Taika Cohen, Troy Miller
• Writers: Bret McKenzie, Damon Beesley, Duncan Sarkies, Iain Morris
• Format: Closed-captioned, Color, DVD, Subtitled, Widescreen, NTSC
• Language: English (Dolby Digital 5.1), Spanish (Dolby Digital 2.0 Stereo)
• Subtitles: English, French, Spanish
• Region: Region 1 (U.S. and Canada only.)
• Aspect Ratio: 1.78:1
• Number of discs: 2
• Rating:
• Unrated
• Studio: Hbo Home Video
• DVD Release Date: August 4, 2009
• Run Time: 300 minutes
PR4 & PR5 Pages for ads - CHEAP!
Carol Burnett Show on DVD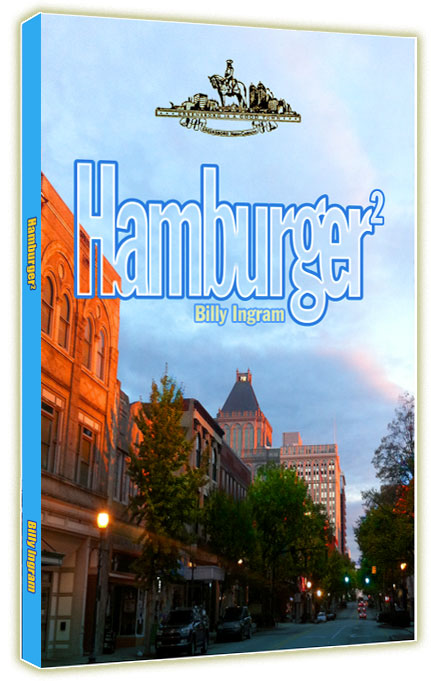 The focus is on Greensboro, NC!
Superman on DVD!
Batman on DVD!
The Flash on DVD!
Super Friends on DVD!
All New Super Friends on DVD!
Superman Doomsday on DVD!
Smallville on DVD!
Justice League: New Frontier
PR4 & PR5 Pages for ads - CHEAP!
Carol Burnett Show on DVD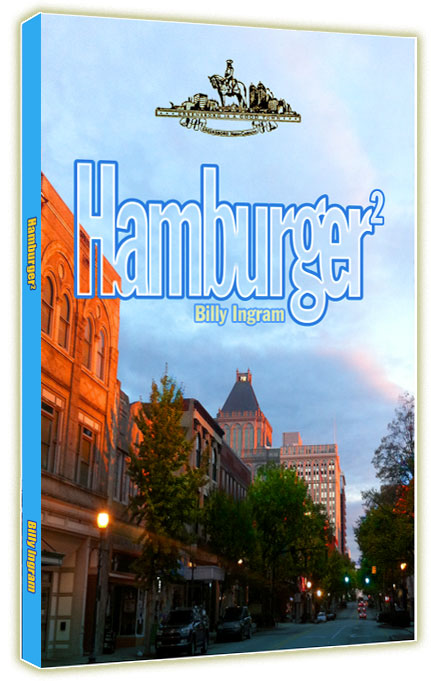 The focus is on Greensboro, NC!
Everything you're looking for is here:

---
Everything you're looking for is here:
Shop Amazon's New Kindle Fire