Your favorite classic television shows from the golden age of TV!
New in the TVparty TV Blog
He was one of the greatest comic book artists of all time - Murphy Anderson, best known for his work on Buck Rogers, Superman, Batman, Atomic Knights, Adam Strange, Hawkman, and worlds of science fiction stories. Part of the team that saved the Batman comics from cancellation before the TV series aired.
Read and watch more...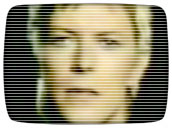 David Bowie on TV
Bowie made several but not many appearances on American TV during the 1970s, mostly on talk and variety shows. Here are a few examples.
Read and watch more...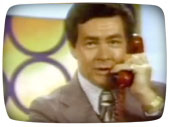 Dialing For Dollars?
Many a housewife in the 1960s, and well into the mid-1970s, would be sitting at home eating Bon Bons when the phone rang and a familiar voice asked, "This is Charlie Harville from Channel Eight's Dialing for Dollars calling. Do you know the count and the amount?" If fair maiden was watching the morning or afternoon movie she would know that the "count" was the number spun on the wheel early in the program, and the "amount" (what she could win) would be the money accumulated since the last winner.
Read more...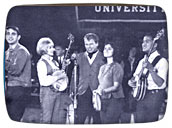 Hootenanny!
Picture this: about two hundred 18-23 year olds sitting in a semi-circle on the floor, digging the latest tunes by artists who sing and play acoustic instruments, while cameras tape the whole shebang for home viewers.
"MTV Unplugged?" Nope, it's Hootenanny, the ABC-TV series that capitalized on the popularity of folk music during the early 1960's. If it's remembered at all today, it's as the show that blacklisted Pete Seeger, a last gasp of McCarthyism that led to a boycott by Bob Dylan; Joan Baez; Peter, Paul & Mary; The Kingston Trio - practically every folk act that meant anything to the masses.
Read and watch more...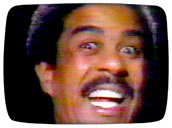 Richard Pryor Show
Was Richard Pryor bitter about his television experience? No, not at all. He had this to say: "One week of truth on TV could just straighten out everything. One hundred and twenty-seven million people watch television every night; that's why they use it to sell stuff. They've misused it a long time so now it's just a business, that's all. They're not going to write shows about how to revolutionize America. The top-rated shows are for retarded people."
Read and hear more...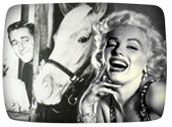 Alan Young, Mr. Ed & Marilyn Monroe?
On January 5, 1961, Alan Young was having dinner with friends, when they all stopped to watch the premiere of his new comedy, "Mr. Ed". Afterward, actor William Conrad (later, TV's "Cannon") said to Alan, "Congratulations, you've got a hit on your hands". Conrad was right, and today "Mr. Ed" is still in re-runs and celebrating its 50th anniversary. Next weekend, Alan Young celebrates his own personal milestone when he turns 92. I interviewed Alan by phone recently, and we talked about his life and career.
Read and watch more...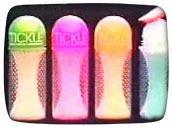 Classic Commercials for Women
From the very beginning of the ad age, women became a key strategic focal point for advertisers. The polyester decade in particular played host to some of the most memorable and wildly successful ad campaigns of all time. All too often, early TV advertisements aimed at "the weaker sex" were condescending and simplistic. The women's movement in the sixties was one factor leading advertisers to rethink the methods they were using to reach an increasingly important market segment.
Read and watch more...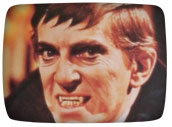 The Dark Shadows Movies
House of Dark Shadows stands as perhaps the most effective TV adaptation to the big screen until Star Trek II the Wrath of Khan came along in 1982. The daytime soap opera Dark Shadows struggled to find an audience before Jonathan Frid joined the cast as Barnabas Collins. This happened in 1967 just after Batman ignited in primetime; both Frid and Adam West became instant pop icons. Perhaps it was the success of the Batman movie that prompted MGM to green light a film version of Dark Shadows four years later.
Read and watch more...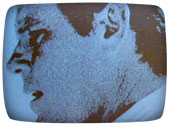 Jack Sheldon!
Jack Sheldon - you may not recognize the name but you'll recognize his voice from those wonderful Schoolhouse Rock segments from Saturday mornings. My favorite of his was 'Conjunction Junction' but there were others - like perhaps the most well-known of the bunch, 'How a Bill Becomes a Law.'
Read and watch more...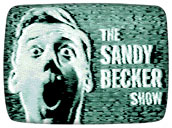 Sandy Becker!
"Anyone who grew up in New York in the 50's and 60's had to know Sandy Becker. He shaped a lot of our personalities. Along with Hambone, Norton Nork, and The Old Professor, I remember his lovable puppets, Geeba Geeba and Marvin Mouse. Sandy Becker was one of a kind. He really seemed to care about his audience and about the welfare of the younger generation. We could sure use a Sandy Becker today."
Read and watch more...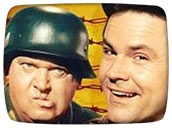 Classic TV on DVD - Archived Reviews!
NEW:
Tom Jones, Twin Peaks, Stargate Atlantis, Voyage to the Bottom of the Sea, Dallas, Men Behaving Badly, Captain N, Hootenanny, ER, Wanda Sykes, Adventures of Superman, Battlestar Galactica, F Troop,
and so many more hot DVD releases.
And they're all deep discounted - for you!
Read more...
Classic TV Shows on DVD?
An extensive catalogue of every classic program available on DVD! See what's available today - with big discounts for you!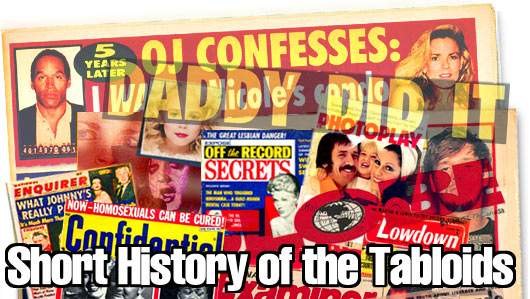 ---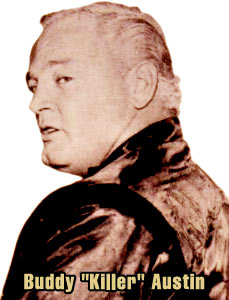 1980's TV Wrestling - Greats and Near Greats!
NOW WITH ADDED RARE VIDEO!
John Hitchcock's look back at the heart of Mid-Atlantic Wrestling - with grapplers known and unknown. Wahoo McDaniel! Ric Flair! Dusty Rhodes! Jim Cornette! Magnum TA! Buddy "Killer" Austin! Johnny Weaver! Johnny Valentine! Harley Race! Dick Murdock! Jimmy Garvin! Nikita Koloff!
Have you ever heard of these guys?!?
Read and watch more...
---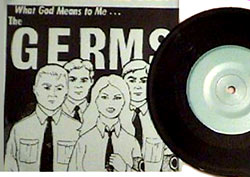 1980's PUNK ROCK
In the early-eighties, young people in Los Angeles were flocking to makeshift clubs in droves to see new, up and coming bands. Live new music, not DJs, was what they craved. These writings provide a sketchy look at the underground club scene in Los Angeles during the time that groups like X, Missing Persons, The Go-Go's, The Minutemen and Wall of Voodoo entered the public consciousness.
Read and see more...
'TVparty is hands down the
best site on the Web for classic TV.'
- Discovery Channel
Please consider a donation
so we can continue this work!

TVparty! is CLASSIC TV
Our 20th year online!
NEW SECTION:
More Modern TV Shows!


NEW! TVparty Classic
Television Blog!
Welcome to TVparty.com the internet's premier classic TV Web site featuring your favorite television shows from the golden age of entertainment!
YOU'VE BEEN WANTING THIS!
Amazon Prime - unlimited streaming of your fave TV shows and movies! Get your FREE 30 Day Trial!
---
TV's Greatest Games! Remember the game show boom of the 1970s? We have all your favorite shows!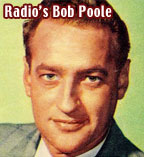 ---
MORE CLASSIC TELEVISION:
Gene Roddenberry
1950's TV Shows
1960's Classic Television
1970's Variety Shows
Classic Local TV Shows
Saturday Morning TV
Our huge catalog of
Classic TV Shows on DVD
Now you can own your favorite classic television programs!
---
Classic TV on DVD!
- I'm Dickens He's Fenster
- Designing Women Season 5

---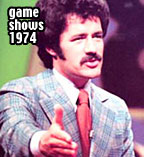 FEATURED CLASSIC TV
GAME SHOWS:
Hollywood Squares
TV Shows on Blu-Ray
TV never looked so great!
---
TV Blog: Will Ferrell Old Milwaukee Beer Commercials / Classic TV Promos / Ed Wynn / Silent Star Marion Mack / Rudy Ray Moore / Natalie Wood Mystery / What I'm Watching/ Louie / George Reeves Suicide / Dark Shadows / Tommy Bond / Discovered George Carlin Routine / John Wayne Loves America / Kenneth Williams / Filthy Rich /2 Questions with Kathy Bates / Sonny & Cher Outakes / My Mother the Car / 1973 CBS Fall Shows /1970's TV Game Show Fails / Vivian Vance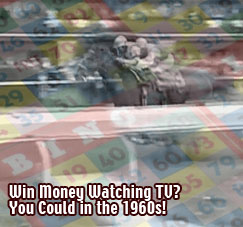 TVparty! Advertising
Privacy Policy
---
- Voyage to the
Bottom of the Sea
---
---
OTHER TV ODDITIES
Saturday Morning Serials
1970s TV Shows
Gene Roddenberry
After Star Trek
Camp Runamuck
---
COMIC BOOKS ON TV
---
"A twisted walk
down memory lane!"
- Sharon Edry, TV Guide
"Top Five Sites! Interviews and articles... are must reads."
- London Sunday Times
"It's too good to be true. Put together by Billy Ingram, TVparty.com has gossip, scandal, sex, singing, dancing, action, drama and celebrities with their 'original parts.''
- LA Times
"An ingenious tribute that elevates the TV past to artlike proportions. Site guru Billy Ingram has compiled features both over-the-top and museum worthy, blissful nostalgia for those born in the '40s or the '80s." A+
- Entertainment Weekly
"Get the inside scoop on all your favorite classic TV shows at TVParty."
- USA Today