Saturday Night TV Gambling!
Can you make money watching TV? You could in the 1960s.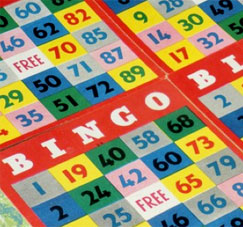 by Billy Ingram
Back in the wild and wooly days, television broadcasters were looking for any gimmick to get advertisers on board. As a new expensive medium, they had to prove television offered an intrinsic value that newspapers and radio didn't. Newspapers and radio had a decades long hold on local advertisers, the upstart TV station couldn't reach anyone they didn't already.
Quite frankly local TV ads were a hard sell given that the network programs attracting most viewers were concentrated during the nighttime hours.
Broadcasters were left with large swaths of daytime programming not consumed by soap operas and game shows to make their profit margins. That meant airing reruns of old shows or creating children's shows that offered advertisers a chance to connect with families in a way radio and print couldn't.
Local chat shows was another way tolure viewers but they were weak tea, there was plenty of talk on the radio already.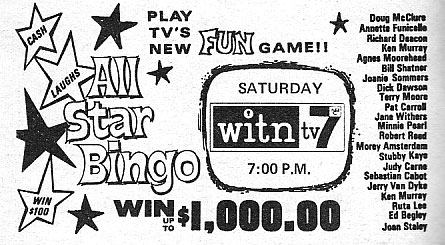 In the mid-sixties a syndicated phenomenon revolutionized advertising and proved, once and for all, that broadcast video had a powerful and singular reach.
All Star Bingo offered viewers the thrill of a live Bingo game coupled with some of the biggest stars on television. Agnes Morehead, Ruta Lee, Judy Carne, Stubby Kaye, William Shatner, and many other tube favorites gathered to compete for a national winner that would receive $1000 cash if they had that coveted winning Bingo card.
But that wasn't the show's main appeal. By visiting an area grocery chain viewers at home not only had a shot at the big money but they could win other cash prizes every week, up to $100 for one local winner.
This was back when $100 was one hundred dollars (around $700 in today's buying power). Shoppers collected as many cards as they could, one at a time (no purchase necessary).
TV Super Bingo was another interactive TV game where 2 celebrities, like Joan Fontaine and Professor Irwin Corey, acted as team leaders for real folks competing in a game that could net a local viewer up to 100 dead presidents, in addition to other smaller cash prizes for the runners up. (The celebrities weren't the kind you'd read about in gossip magazines, call them the Bingo Trivia B-stars.)
Bingo cards by the thousands flew out of the stores and grocers felt the power of interactive advertising. Not that radio and print weren't doing basically the same thing, with targeted promotions tied to original content, but TV broadcasters were combining must-see television with multi-media branding.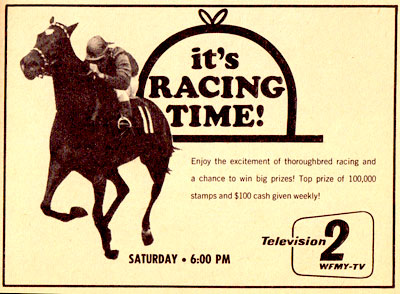 Along the same lines were Off to the Races, Racing Spectacular, and It's Racing Time!, bringing the excitement of thoroughbred racing to the home.
If you visited the sponsor that week you had a big money stake in the winners. Didn't score in the first race? The colorful scratch-off tickets from the grocery store offered 3 chances to win on every show.
Grand prize for It's Racing Time was 100,000 Green (or Gold) Stamps to the national weekly winner with the top local cash prize - that magical number $100.
Greyhound Derby was another promotion in the same tradition with championship canines racing around the dirt track.
Enterprising shoppers could, if there were enough participating stores in the area, spend two hours on Saturday evening playing Bingo and betting on the horses, so to speak.
A large tote board at the local store listed the winners from the community, often with a polaroid photo next to the name. The winners were real and, gosh darn it, every once in a while you or someone you knew banked a buck or two. Of course, all of these races had been run long ago and the promoters knew exactly how many winning tickets to put out there; nothing was left to chance.
S&H Green Stamps, TV racing and Bingo cards - anything to get the customers in the door and in front of the family's new color television set. These innovative half-hour shows aired Saturday evenings around 5:00-7:00pm, the dinner hour when people were most likely to be at home, sandwiched between Roller Derby and Wrestling.
As successful as these promotions were they were relatively short-lived as people tired of the novelty. The payout wasn't worth keeping up with it and regular viewers started to notice the same races being run over and over.
By the end of the 1960s there was much more compelling syndicated content available, that crowded these types of shows out of the major markets and eventually from the smaller outlets by the mid-1970s.
PART TWO:
Cash Money for Watching TV and Answering the Phone!
DIALING FOR DOLLARS
MAKING MONEY WATCHING TV IN THE 60s:
HORSE RACING & BINGO / DIALING FOR DOLLARS