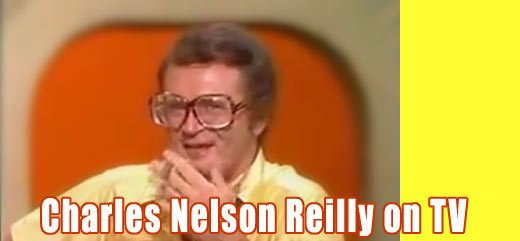 A brief overview of Charles Nelson Reilly's TV career
For those of us that grew up in the 1970s Charles Nelson Reilly was one of those comics that always seemed to be around, as a guest star on sitcoms, as a panelist on game shows, and on late night TV. An accomplished actor, Charles Nelson Reilly was a Tony Award winner that was torn about his television career.
Here is an appearance on the Tonight show with Johnny Carson where Charles tells stories about his days in the New York theatre.
He worked often in television and was a regular on The Ghost & Mrs. Muir where he played the cowardly, jittery nephew of gruff Captain Gregg.
He also appeared as guest on a number of classic sitcoms including Car 54, Where Are You?, Love American Style, The Doris Day Show, Nanny and the Professor, and Here's Lucy.
What really made Charles Nelson Reilly famous was his hilarious, catty appearances on the daytime game show Match Game starting in 1974.
Charles' repartee with fellow contestant Brett Somers was the highlight of the series. Match Game was a huge hit, the top rated daytime TV show in the mid-1970s, people tuned in faithfully to see Gene Rayburn, Brett and Charles.
One very funny moment came when Charles hosted Match Game for a few minutes.
He was also popular on Saturday mornings with Sid & Marty Krofft's Lidsville in 1971 and Uncle Croc's Block in 1975. Lidsville, which the star hated, aired one season of original episodes but turned up in reruns for years thereafter; Uncle Croc's Block was a huge dud that was swept away in just a few weeks.
There was a reunion of the Match Game cast in 2002 on CBS' Early Show including Charles Nelson Reilly, Brett Somers and Betty White. They were as witty and comfortable with each other as ever. The sublime Brett Sommers passed away in 2007.
Charles Nelson Reilly died May 25, 2007 in Los Angeles, California. He was a great talent both on the screen and on the stage and his laughter and unique sense of humor will be missed.
The wonderful documentary Life of Reilly is online and contains his last stage performance.