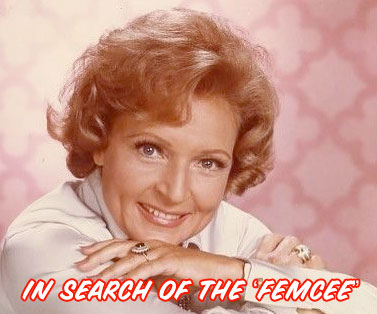 by Cary O'Dell
Ironically, over the years, we've seen more women behind the news anchor desk than we have behind the podium hosting a game show. David Baber's entertaining 2009 book, "Television Game Show Hosts," sort of underscores the issue. In his book, the author offers up 32 biographies of some of game shows's greatest men…and not one woman.
His line-up, of course, is completely understandable. For decades, the genre has been dominated by males-- Bob Barker, Alex Trebek, Pat Sajak, Bill Cullen, Dick Clark, Monty Hall, Dennis James, Gene Rayburn, Wink Martindale, Allen Ludden, Bob Eubanks, Jack Berry, and so many more guys.
In fact, it is only today and in the past few years that women have truly made significant inroads into this once nearly female-free genre. Today, a woman at the helm of a colorful, overly lit game show set is not so hard to imagine (or find) thanks to the current or semi-recent work of such ladies as Sherri Shepherd on "The Newlywed Game," Jane Lynch on "Hollywood Game Night" and Melissa Peterman on "The Singing Bee" and "Bet on Your Baby" as well as, formerly, Meredith Viera on the syndicated "Millionaire"; Anne Robinson, being her snarky self, on "The Weakest Link"; former VJ Kennedy on Game Show Network's "Friend or Foe?" and Carnie Wilson on an earlier incarnation of "The Newlywed Game" also on GSN.
But it was a hard road, and a long one, for these ladies. And those who are enjoying the role now owe part of their success to the (just a) handful of ladies who preceded them.
Of course, women have always been a part of the game show genre not only as contestants but also as prize presenters and assistants. Carol Merrill from "Let's Make a Deal" stood behind many a secret door and helped pave the way for the rotating ladies (once known as "Barker's Beauties") of "The Price is Right." They, then of course, helped usher in Vanna White, longtime "hostess" of TV's indomitable "Wheel of Fortune." Other notable earlier assistants, models or "hostesses" include Dolores "Roxanne" Rosedale of "Beat the Clock" and "Winner Take All"; Sandra Spence of "Pantomine Quiz"; Bess Myerson of "The Big Payoff"; Ruta Lee of "High Rollers"; and Vanna's "Wheel" predecessor Susan Stafford.
Along with "professional letter turner" and the like, women's roles on game shows were also represented via their work as glamorous and witty participants on any number of early "panel shows" like "To Tell The Truth" and "What's My Line?" Though these shows were inevitably hosted by men—originally Bud Collyer and John Charles Daly, respectively—their weekly group of celebrity questioners always included women. Among the most famous and reoccurring: Faye Emerson, Kitty Carlisle, Arlene Francis, Dorothy Kilgallen, Betsy Palmer, and Peggy Cass, among many others. Even TV's early, primetime "Quiz Kids" show (the "Are You Smarter Than a Fifth Grader?" of its day) always included a few little girl prodigies, including Joan Bishop and Vanessa Brown, among its cast of youthful geniuses.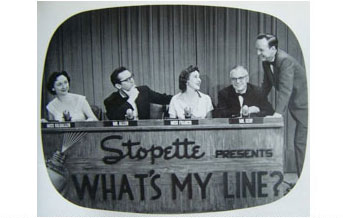 Dorothy Killgallen and Arlene Francis as part of
the classic line-up of "What's My Line?"
This sort of female participation would endure, in various forms, for many years. On the Peter Marshall-era of "Hollywood Squares," that show boasted a regular female cut-up in the lower right of its grid via the talents of Rose Marie. Later incarnations of the series, hosted by John Davidson and Tom Bergeron, had as their center "squares" Joan Rivers and Whoopi Goldberg, respectively.
Sometimes as well, over the decades, ladies got to co-host game shows--but always alongside male counterparts.
In 1950, sometime actress and talk show host Kay Westfall co-hosted, with George Sotos, ABC's "Sit or Miss," a variation of musical chairs which interspersed the traditional children's game with questions and stunts; it was a sort of precursor to TV's more recent "Oh, Sit!," a show also co-hosted by a male-female team, Jamie Kennedy and Jessi Cruickhank. Broadcast from Chicago, the original "Sit," which had a top prize of $75, would only air for a few months. That same year, Westfall worked alongside broadcast Bob Murphy on their own local morning talk program "The Bob and Kay Show" broadcast over Chicago's WENR. Later, in 1953, Westfall would have her own daytime show titled "Oh, Kay!" Later still, in 1961, she was part of the stock company on Bob Newhart's first foray into TV with his variety show "The Bob Newhart Show." Westfall would later depart show business and go into the real estate business in California.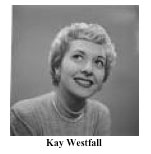 Other male-female teams followed.
Gender stereotypes abounded, in fact, were kind of the point of the show on ABC's "The Better Sex" which pitted a team of five male contestants against a team of five female contestants. This 1977 series was co-hosted by country singer Bill Anderson and future "Real People" host Sarah Purcell.
In 1982 (and running until 1983), Broadway and TV star Leslie Uggams joined Peter Marshall as co-host of the NBC game show-variety show hybrid "Fantasy." Uggams therefore grabs the title of TV's first African-American female game show host. "Fantasy" also featured Meredith McCrae, alongside Chris Lemmon, who acted as a "roving correspondent" for the show. More recent female co-hosts include a pre-"View" Jenny McCarthy on MTV's "Singled Out."
Still, despite these pioneers, the list of women who, over the decades and over the airwaves, got to go it alone as a full-time "femcee" (as the male-oriented term MC has sometimes been recalibrated, a term, interestingly, since co-opted by the rap community to describe its female contingent) is a short one.
Rightfully it seems, the honor of being TV's very first female game show host belongs to Arlene Francis. Francis, in her long, illustrious career, was not only a long-running, invaluable panelist on "What's My Line?" but also has the distinction of being the first woman to guest host "The Tonight Show." She also helped revolutionize daytime TV via her hosting of NBC's daytime "Home" show, a Pat Weaver creation, which was on the air from 1954 to 1957.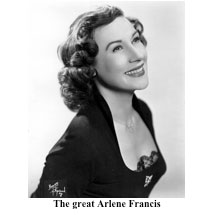 Francis began her "femcee" career by hosting "Blind Date." "Date" began on radio and moved to TV in 1949. A precursor to "The Dating Game," the show featured a pretty female interviewing two (some sources say three) unseen male contestants via a special telephone hook-up. At the end of the show, she picked her favorite for an evening out on the town, which included a visit to NY's famous Stork Club. Usually, for the show, the gents were area college men but, during the Korean Conflict, active US soldiers were given the chance of winning a date and a night out.
Francis's work on "Blind Date" would come to an end in 1952, though the show would continue on with a male host. That same year Francis hosted, over CBS, a nighttime panel show titled "Who's There." On it, a line-up of celebrity guests tried to guess the identity of another celeb based upon physical clues, including props and articles of clothing. Paula Stone and Bill Cullen were two of "Who's" regular panelists.
One year after Francis pioneered the "femcee" role, ABC's primetime "Think Fast" welcomed TV's second female game show host. When the show debuted in 1949, Rutgers academic Dr. Mason Gross acted as host but, in 1950, he was replaced by the fabulously infamous Gypsy Rose Lee. Lee would helm "Think" until the show ended its run in 1950. Regular panelists on the show included Eloise McElhone and Leon Janney. The point of the weekly game was to outtalk the other panelist on a topic suggested by the host(ess).
In 1953, the wonderfully named Vera Vague came to host. Vague was actually comic actress Barbara Jo Allen and Vera was her nom de plum character. Born in New York, Williams studied for a time at the Sorbonne. Returning to America after the death of her parents, Williams settled in California and began pursuing a show business career. She made her radio debut in 1937 and her film debut, in "The Women," in 1939. In the late 1930s, she struck upon the inspiration for a dizzy and easily confused character she named "Vera Vague." As Vera, Williams would work steadily on tour, on radio and in films. She appeared as Vague in a dozen Columbia Studio shorts between 1943 and 1952. In 1953, Vague (as Williams was now usually being billed) came to ABC to host the game show "The Greatest Man on Earth." On the show, six men performed stunts and answered questions to obtain the honor of the show's title. "Man" ended in February of 1953 but, by July, Vague was hosting another show, "Follow the Leader," over CBS. On this show, Vague, as hostess, would act out a skit which contestants then had to replicate. The one who did it the best would win a prize. After that show ended in August of 1953, Williams returned to some film roles, TV work (including a role on the sitcom "Hey, Jeannie!") and doing voices for animation. She passed away in 1974.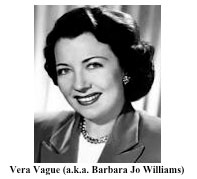 If Williams didn't get to stick around long, TV next female game show host had an even more truncated run. Blond and beautiful Denise Darcel was a cabaret star in her native France and was one of many European exotics imported into post-WWII Hollywood. As a film actress, Darcel made a handful of semi-prominent movies including "Battleground" (1949) opposite Van Johnson, "Dangerous When Wet" (1953), and "Vera Cruz" (1954). As her film career wound down—save for "Seven Women from Hell" in 1961—Darcel (very) briefly came to television as a game show host.
In 1954, on the now defunct Dumont network, Darcel was the original host of "Gamble on Love," a "Newlywed Game"-type game which asked questions of married, engaged or just "involved" couples. "Gamble" was helmed by Darcel for only one month, July of 1954, before she was replaced by Ernie Kovacs who hosted the show for the remainder of its very short run; the program ceased once and for all in August of 1954. After her foray into game hosting, Darcel would make a few more TV appearances before segueing into nightclub appearances and touring in shows like "Can-Can." In 1991, she made a comeback in an LA-staging of the musical "Follies." Married five times, Darcel passed away in 2011.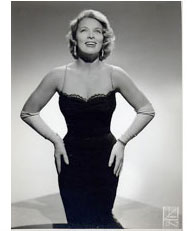 Denise Darcel, host of the short-lived "Gamble on Love"
The often very short tenure of some of these female-hosted shows might have helped create a prejudicial maxim within the industry that believed women didn't make for good game show hosts. In fact, in 1964, Goodson and Todman packaged the show "Get the Message" with Betty White as its host. White would relate later, "I did the pilot and all the run-throughs but the network still said, 'No way, not a chance with a woman.'" "Message" would later air but with Frank Buxton acting as MC.
White would finally get a chance to host a game show though in 1983—almost 20 years later—when she was pegged to host NBC daytime's "Just Men!" On this show, White interacted with seven celebrity "hunks" who each answered a question posed to them. Two female (and only female) contestants would then try to match their answers in order to gain a chance to win a car. Though "Men" only lasted a year, White proved a funny and infallible host and would pick up the Daytime Emmy Award for Best Game Show Host, becoming in the process, that category's first female winner. (Meredith Viera is the award's only other female winner, having picked up the trophy in both 2005 and 2009.)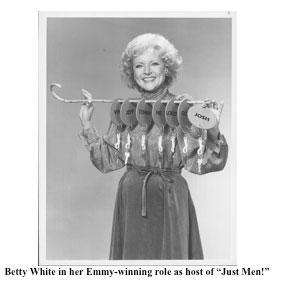 Before the influx of female hosts in the 2000s (which includes not only those mentioned earlier but also comedienne Elayne Boosler on "Balderdash" for PAX TV in 2004), other women also took a stab at game show hosting. Frequent game show guest Elaine Joyce hosted a resurrected version of "The Dating Game" in 1986 and Vicki Lawrence helmed the daytime version of "Win, Lose or Draw!" from 1987 to 1989.
Today, with women making up so much of the game show host populace, and also helming many "reality show" competitions (consider Padma, Julie Chen, Cat Deeley and others), the idea that this role is "male-only" is an antiquated one. Of course, as we've seen, it was never a completely accurate one anyway.
>

Amazon Prime - unlimited streaming
of your fave TV shows and movies!
Get your FREE 30 Day Trial!

PR4 & PR5 Pages for Advertising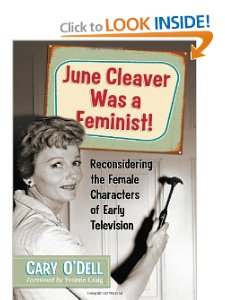 Buy this fantastic book!