by Billy Ingram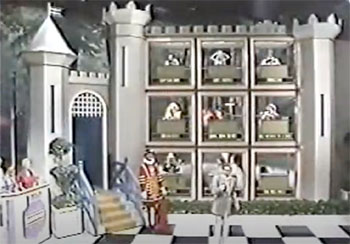 Hollywood Squares, both the daytime (and nighttime syndicated) version, was an extremely popular game show on NBC. So much so someone at the network figured a Saturday morning kiddie version would be equally well-received.
Hollywood Squares was produced by Heatter-Quigley Productions who also produced a kids' version of an unusual weekday game show they helmed a decade earlier called Video Village. Hosted by Monty Hall (Let's Make A Deal), Video Village Jr. aired weekday mornings over the CBS network from July 11, 1960 to June 15, 1962. It was like a walking version of Candyland or Monopoly, there was even a jail where contestants had to answer a question correctly to get sprung from.
Just as on Storybook Squares, Kenny Williams served as the announcer for Video Village Jr.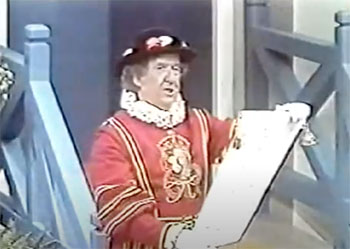 Storybook Squares was a junior version of the celebrity driven daytime morning broadcast hosted by 'Sir' Peter Marshall along with his Town Crier Kenny Williams.
On this Saturday version, youngsters played the game while the stars dressed up as famous historical figures or their famous TV counterparts - like Bob Crane who was seen as Col. Hogan (Hogan's Heroes), Carolyn Jones as Morticia Addams, or Cliff Arquette as Charlie Weaver.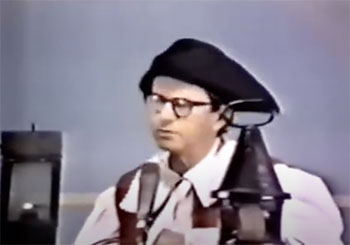 Over the course of the series, Wally Cox was attired as Paul Revere, Stu Gilliam as Merlin, Soupy Sales as Henry VIII, Arte Johnson as The Very Interesting (as opposed to Nazi) Soldier, Abby Dalton as Little Miss Muffet, Nanette Fabray as the Old Lady In The Shoe, and Paul Winchell & his puppet Jerry Mahoney as Romeo & Juliet.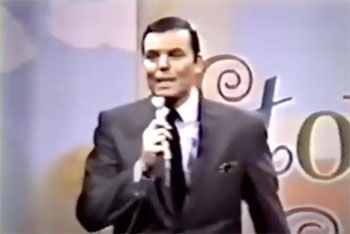 Storybook Squares lasted for just half a season in early 1969, although periodically the concept was revived for special occasions on Hollywood Squares.
On this 1976 episode of Hollywood / Storybook Squares, the stars include William Shatner (as Captain Kirk), Charo (as Lady Godiva), Roddy McDowell (as Pinocchio), Bonnie Franklin (as Goldilocks), Joan Rivers (as The Mean Old Woman In The Shoe), Rip Taylor (as George Custer), Julie McWhirter (as The Good Fairy), Doc Severinson (as The Pied Piper), and John Byner (as Long John Silver in the center square).