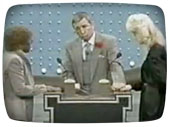 GAME SHOW BLOOPERS
AND CRAZY MOMENTS
Sure to give you a laugh, here are a bunch of bloopers from TV game shows from around the world.
I'm not sure what's dumber, the shows themselves or the contestants!
Nobody can watch just one...
Here are some racy game show moments... is Steve Harvey not the greatest at reacting to dumb answers?
Someone out there in Tubeland has created a video tribute to the late, great Brett Somers, star of that 1970's sensation Match Game.
In the 1970s The Dating Game used to book up and coming actors and pop stars for bachelors and bachelorettes, after all they looked good on TV and could deliver a media savvy performance. For instance, Arnold Schwarzenegger selected a lady for that romantic trip to Tijuana, Mexico in 1973.
In 1972 a 14 year old Michael Jackson took the hot seat to select a date in a surreal episode. He likes playing basketball?!? This is one of the rarest clips you'll see on the internet:
It had to happen one day on The Price Is Right (I think it's the second time, actually) - someone guessed the price of his showcase and got it right on the nose. Note how unimpressed Drew Carey is, like it happens all the time. Turns out the guy was an avid watcher and memorized the value of the prizes.
OK, I admit it - I like to laugh at stupid people. Believe me, I give lots of folks something to laugh at myself, but at least I haven't yet made a fool out of myself on national TV. Unlike these guys - who prolly should have thought twice about going on that game show. For instance, is this the dumbest family ever to appear on The Family Feud?
More silly contestants with astonishing answers - where do they find these people?!?
BONUS - LOCAL NEWS BLOOPER
This is funny! Watch this hapless local TV reporter completely lose his cool and ditch his professional demeanor after a bug flies in his mouth. (Not safe for work.)