Sinatra Wanted To Play The Joker On Batman? Yes!
Interview with Stanley Ralph Ross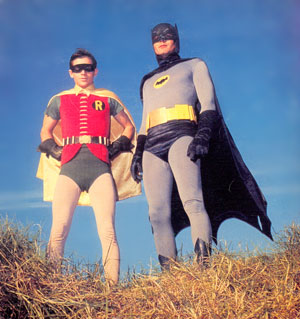 Stanley Ralph Ross not only wrote the pilot for the 1966 Batman TV series he also wrote many of the more memorable episodes, including all of the Catwoman appearances. In this interview with the Television Academy he talks about his concept of Catwoman, played first by Julie Newmar, being different from the comic book version at that time:
Stanley Ralph Ross: The Catwoman that I envisioned was quite different from the Catwoman that Bob Kane envisioned. I just saw her as much sexier, and I saw her with a love-hate relationship with Batman. As a matter of fact, I continued that through all the Catwoman episodes. Don't forget, I had them get married in one episode, which I'll get to in a minute.
This very first one though, I ripped off a famous story called The Lady or the Tiger. It's a famous literary story that ends where a guy has got two doors to open. One, it's got a woman behind, and one has a tiger behind. And you never know which one he picks. But I use that as the end of act one, show one. And so The Lady or the Tiger. We had a real tiger. And so the trainer came up to me and he said, "You're the writer?" I said, "Yeah." He said, "Would you kindly find out if Miss. Newmar is having her period?" I said, "Excuse me? Excuse me? What do you mean if... I can't ask her that. I only just met the woman. Why?" He says, "Well, because if she is, it could be dangerous. The cat could go after her. So I had the wardrobe mistress asked Julie if she was having her period and she wasn't, so we shot the thing. But, I mean, this is one of the sidebars of doing work with live animals.
Well, what I put into the character is what I wanted to see in a woman. Sexy, tall, slim, like my wife. And I mean, I just wanted a woman who was bright and sexually aggressive, and we had fun doing what she did. As far as Julie's concerned, Julie is still a friend and she was at my birthday party this year. And Julie is like the pyramids. She doesn't age. She just doesn't age. Julie's in her sixties now, and she's got legs up to here, and a body that is fascinating, and an ass that could startle birds. I mean, it's just... She's an unbelievable woman and still great fun.
I wrote the show and then she [Julie Newmar] was cast, I had no idea what I was writing. None at all. And she... Here's another case. Research. Julie, in order to do Catwoman right, went to the zoo. She went to the zoo and watched cats for a whole afternoon.
During Season 3 Julie Newmar was no longer available to play Catwoman on Batman so African-American diva Eartha Kitt took on the role.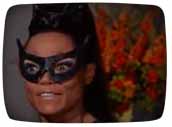 Stanley Ralph Ross: A funny story happened when Julie was replaced by Eartha Kitt because Julie got a movie called Mackenna's Gold, and so Eartha came in to do the part. But I'd already written the script and it called for the Catwoman to force Batman to marry her on the Gotham Island Ferry. You remember when a captain can marry you? So this is the Gotham Island Ferry.
ABC calls me up and says, "You can't do that." I said, "Why?" They said, "It's miscegenation." I said, "What are you talking about?" They said, "You can't have a black woman and a white man get married." I said, "This is Batman! This is Gotham City! This is not real life! They're not going to consummate the marriage on camera. She's going to be arrested before they get to the other side." "Well, no, you can't do it." And I got so annoyed. And I said, "Look, if you won't allow me to do this, I'm going to quit the show." I mean, it got to that point. And so they did. I mean, I just pulled out every bit of strength I could. And they did it.
Of course, there wasn't one letter from the deep south. Nobody. Not a single note from anyone. So I felt that the censors at that point at ABC were far more racist than so-called racist people. And totally silly.
Eartha is very much more like a cat. She's extremely aloof. She keeps her distance, and she wasn't fun. She just was very much stay away. Whereas Julie was, give me any help you can give me. That's the difference.
I was spoiled by working on Batman. It was my first major television experience, and I thought that everyone in television was going to be that way. And it's not so. But it started with Bill Dozier. Bill Dozier, the executive producer, was like a gem. A sweetheart. He would take your scripts and read them, and he would just correct spelling. I used to say, "Don't you have any creative things you want to tell me about?" He says, "I'm not creative. If I was creative, I'd be a writer like you." He said, "I'm a producer. My job is not to be creative. My job is to know who the creative people are." And so he was so wonderful.
Well, there were a few bumps in the bat-road.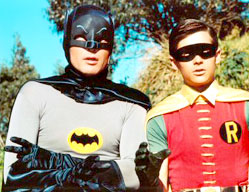 Stanley Ralph Ross: Burt Ward was an ass when he was 19 years old. And the primo example of Burt Ward was he was complaining to the producers that they didn't give him enough to do. No, they gave him too much to do. Complaining that they gave him too much to do. So I wrote an episode where he was kidnapped on about page 11 and not found till page 55. And we just cut to him a couple of times. And so he learned his lesson from that. But, Burt, at that point was married and then he was seeing, I think, Vince Edwards' wife. And he left his wife for her. I married Burt to one of his wives, actually. I think I performed their marriage. You know, he married a girl who was about as old as my jacket.
Most surprising is that Frank Sinatra was a fan of Batman and wanted in on the action.
Stanley Ralph Ross: Sinatra wanted to be the Joker. I don't know if you know that. To be the new Joker... He confessed that to me. I was making a movie with Sinatra called Tony Rome. And the only way I got permission to go do the movie, was I had to tell the producer I would write a Batman episode while I was in Florida, making a movie, Tony Rome. So I rented a typewriter, and during the day I was acting, and at night I was writing this episode.
And so the next morning Sinatra says to me, "You're a writer, aren't you?" I said, "How did you find out?" Because I didn't tell him. He says, "Because I heard your typewriter going." And we were on the same floor. At the [inaudible 00:03:19] "I heard your typewriter. And so I found out you're a writer. What are you writing?" I said, "Batman."
"Oh, I love Batman," he said, "I want to be the Joker." And so and so, and so and so. Then, he and I did a fight scene. If you ever see the movie Tony Rome, you'll see he clips me. And he broke my nose. And he said, "Cut." And director Gordon Douglas said, "Wait a minute. I say 'cut.'" And he said, "No, I think I hurt the kid. I think I heard a crunch."
Batman was an immediate hit - helped greatly by the headlines generated when the second episode was preempted.
Stanley Ralph Ross: It was a Thursday. We sent up a rocket into space and they preempted the second half of the show, to show the rocket taking off from Cape Canaveral. The millions of calls that came in... It's such a brouhaha that they showed the show the next night in its entirety. And a lot of people who had never watched the show watched it because of the newspaper coverage and TV coverage of what happened with all the calls.
The scheduling of doing it two nights was the cliffhanger. This was a throwback to the days of my youth, when you would go to the movies and watch what we called, "Chapters." Flash Gordon, Superman, Batman, and each show had a cliffhanger at the end of it. And I though it was a brilliant idea. Again, I think that was probably Lorenzo's idea. Did you know the show did not test well? Did you know that?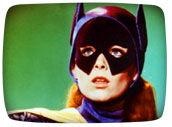 For season 3 the series was reduced to one half hour a week instead of two.
Stanley Ralph Ross: God, I hated that. I tell you what happened, by making it a half hour show, it was ruined for me. Here's why. Because you had to write, as a writer, 12 parts in a half hour before you got the story. You had Bruce and Dick, Batman and Robin, that's four. Because they were really treated differently. Commissioner and Chief O'Hara, that's six. Alfred is seven. Then you're going to have the villain is eight. The villain had like two assistants, is 10. And then you also had Aunt Madge. It's 11 characters. And you also had Batgirl, and Barbara. It's 13 characters. 13 characters in 24 minutes. You hardly got any time. And they would contractually had to speak. You had to write for all of them. You couldn't just give somebody nothing to do. They all had to speak. So those shows were just terribly overladen with requirements. And I really didn't like it.
They cut us back. And what happened there was, we were battling another Fox show. I think Lost in Space was also out of Fox, and that was running on CBS and we were running on ABC. And so we... Fox was a loser or a winner depending on which way you're looking. But you know, Batman has lasted. You look at it today, it's still really... We did 120 episodes, and it still runs. And it still delights people.