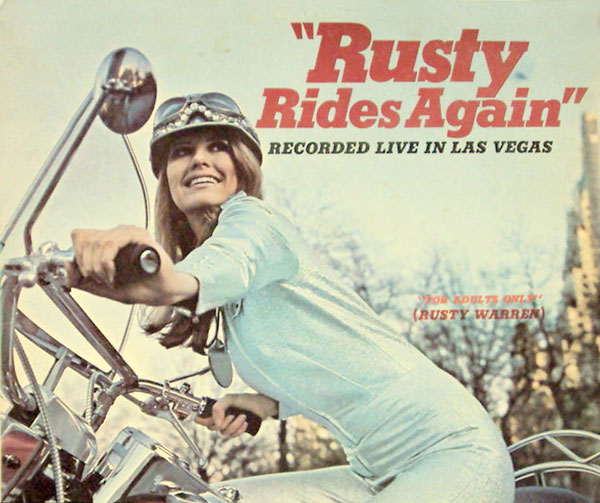 Rusty Warren

by Billy Ingram
Rusty Warren is a risque nightclub comic with a series of albums with titles like Knockers Up and Songs For Sinners. I say risque because, while she was considered a dirty act in the 1960s, it's tame stuff by today's standards. More suggestive than vulgar.
It had to be, remember what happened to Lenny Bruce and Jim Morrison? But in 1960 the idea of a woman comic talking about sex and intimacy was unheard of. Rusty Warren never achieved great fame but she blazed a rail for all who followed and she's the subject of a DVD documentary Knockers Up: The Lady Behind The Laughs.



She may not have been the funniest comedian back in the day, more of a novelty performer really, but I miss that old style nightclub act, the kind that mostly died out after the 1970s partly thanks to TV and disco.
Once people started to go out dancing in the mid-1970s the lounge act circuit collapsed. Here's the lady in more recent times entertaining at the piano and doing her 'hit' 'Knockers Up.' (Skip to minute four to see Rusty.) Watching this makes me wonder if modern audiences are too rude for this type of entertainment.


One of the women who came up behind Rusty Warren was LaWanda Page, best known as Aunt Ester on Sanford & Son. Her act was decidedly more vulgar but then, by the late-1960s, things started to loosen up. This is definitely not safe for work as you'll discover in the first few seconds!
Rusty Warren died on May 25, 2021.