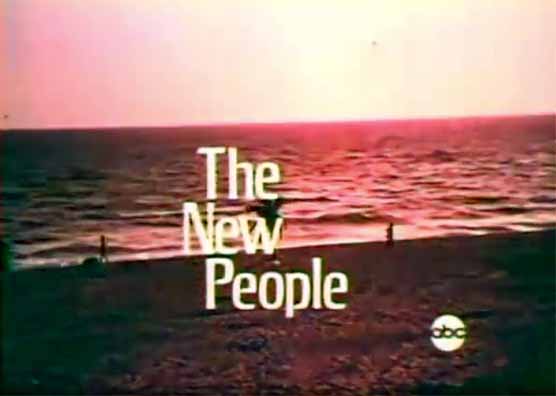 THE NEW PEOPLE
by Cary O'Dell

It is one of television's better-remembered "flops." Not because it was such a dud (like, say, Chevy Chase's late night chat show) and not so much because it was so outrageously bizarre (think "My Mother, the Car"). Rather because it did hold such great promise…and then ended so quickly.
The show in question is "The New People." It ran on ABC from September of 1969 to (barely) January of 1970, airing a total of 17 episodes.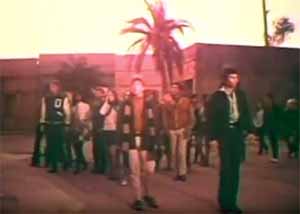 The premise was thought-provoking: a diverse (racially, socially, geographically) group of US college-age students are in the middle of a not-so-smoothly running cultural exchange program. In the opening minutes of the first show, the group is at an Asian airport and we see tension brewing among the young people and their older (and all white and all male) chaperones.
The "kids" it seems thought they were going on this around-the-world trip to interact with other cultures, to talk to and learn from other people of other lands. But, according to them, they are just being used by their government sponsors for show-and-tell, an all-out PR stunt.
Further, there are even some rising tensions within the group, especially between some of its white members and their African-American counterparts.
Things come to a head, and soon the group has collectively decided to quit the trip and return home. Next, this motely crue is seen climbing aboard an outbound plane headed back to America.
But, flying over the Pacific, their aircraft encounters a storm that jostles and jolts the plane. By the time of the show's first commercial break, the plane is breaking apart, glass, trays and then passengers are all being thrown around inside the flimsy, airborne metal container….
After we return from the break—Bing Crosby's family selling Minute Maid orange juice, by the way—the plane has broken apart and has crashed on a deserted island, skidding down a thin, lonely beach.
At the crash site, we see the numbed survivors and quickly learn that nine of the plane's passengers have been killed, including the pilot and co-pilot. Also killed were all but one of the group's chaperones--and he's severely injured. The plane's radio has also been destroyed.
Quickly, some of the survivors (we eventually learn that about 40 have survived the crash) begin to tend to the injured while others beget a signal fire. Others go exploring and soon discover that this island isn't really "deserted" at all. Just over the hill, there are full-size, modern-day buildings, and cars, and street lamps, and stores—but everything is completely empty, save for some extremely creepy looking mannequins dressed up and arranged in life-like poses.
The lone adult to survive the crash is a State Department rep, the wounded Mr. Hannichek (played by Richard Kiley). He quickly figures out where the group has landed. The island was once under the auspices of the US government's AEC (Atomic Energy Commission) and it was once a test site of sorts, to see what happens in the event a nuclear war or fallout.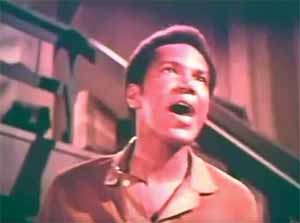 This is good news for the group: actual edible food is found and shelter is plentiful. But, soon, the interpersonal issues that stymied the group before come to bear again on this tropical isle.
Soon, outspoken African-American student, Gene Washington (played by David Moses), and cocky white student, Bull (played by Lee J. Lambert), are fighting and then throwing punches on the beach. The group has to separate them. So much for paradise.
Later, Bull finds a loaded gun among the relics of this manufactured ghost town and he escalates his earlier fight with Washington just as everyone hears a plane flying overhead. Eventually, Bull rushes ahead of the rest of the group and goes to the shore of the island and douses the group's signal fire. He explains to Hannichek, who had been tending the flames and who tries to stop him, "'Cause there's one black boy on this island that ain't never gonna see home again."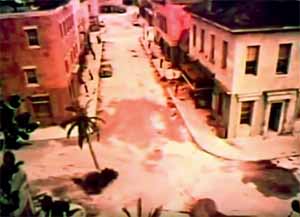 But the extinguished fire means that there is no salvation for anyone else either. If the planes overhead are looking for the survivors, they just marked this particular atoll "clear." So they aren't coming back.
Soon, like the villagers out of "Frankenstein," this then causes all the people on the island to turn vigilante and chase after Bull back into the streets of "town." They catch him and are close to killing him before Hannichek, in nearly his dying breath, confronts them with their hatred, reminding them that they, now, in their violent revenge, are no better than the prior generations they said they were so different from.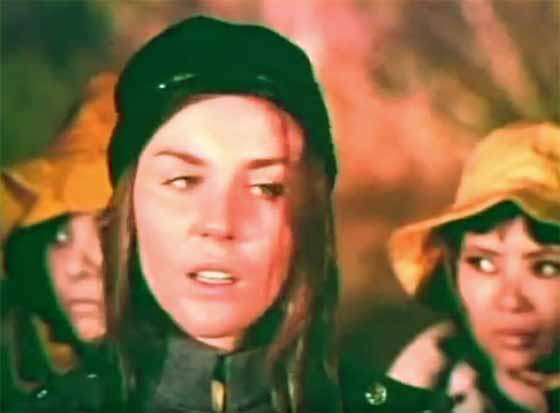 A lot of "New People's" debut episode sounds like something straight out of "The Twilight Zone"—perhaps "Zone's" very first episode, "Where Is Everybody," or, perhaps, from the deeply sad, ironic end of the "Time Enough at Last" episode where Burgess Meredith's shattered eyeglasses sticks him in his own kind of purgatory.
These similarities are not surprising: Rod Serling wrote "New People's" very first episode. But, according to Serling's later biographer, Gordon F. Sander, he distanced himself quickly from the project. When Serling was asked about it later, he seemed almost dismissive, saying, "I have nothing to do with it. The show is somewhere between 'Gilligan's Island' and San Francisco State. It may work, but not with me."
The person who WAS involved with the series might actually be a little surprising. "The New People" was a co-creation of Aaron Spelling (alongside Larry Gordon).
In some ways, "People" very much represents an Aaron Spelling production. Spelling always had a special knack for mixing the new-fangled and cutting-edge with proven TV tropes. He took the hippie counter-culture and mixed it with a standard cop show formula and had a hit with "The Mod Squad." Later, he took feminist empowerment (yes, feminist empowerment) and mixed it with a generous amount of "jiggle" and had a phenomenon with "Charlie's Angels." His "The New People" seemed to want to do the same—taking youth culture, the "Don't Trust Anyone Over 30" contingent and place them front and center in a survival drama that would fit easily into America's primetime schedule.
But what is surprising is, for a Spelling production, "People" tackled a lot of heavy issues that Spelling shows ("Love Boat," "Dynasty," et.al.), by and large, were not known to do. Obviously, race was (bravely) a big topic in the first episode and later, before the series would expire, it would return numerous times in various plots. Furthermore, long before "#MeToo," women's treatment and equality becomes an issue (episode #10) on the island when the females object to some of the treatment they've been receiving from some of the men. Later, the islanders have to address how to deal with the mentally ill when one of their group begins to break with reality. Later, still—and throughout many episodes—the group struggles with governing themselves, setting down laws and how to deal with the violators of those laws. In other words, creating the basic underpinnings of a working society.
How this group of young, sometimes idealistic, sometimes embittered individuals were going to handle all this "grown-up" stuff themselves without any adults around to guide them—or to blame things on—was the gist of the show and, had "New People" endured, it might have been a truly fascinating series to watch unfold.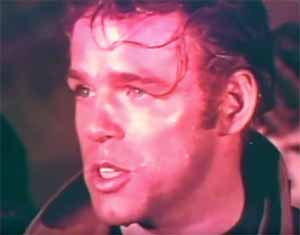 But, as mentioned, the show was gone after only four months and 17 episodes. As tough as life was on the island, the biggest challenge for "The New People" was its timeslot competition over on CBS and NBC.
CBS had two powerhouses up against "People"—"Gunsmoke" and "Here's Lucy." And NBC had its "Rowan & Martin's Laugh-In." Though programming to the youth market might have been a smart move, ABC's upstart drama didn't have enough bombast behind it to take on the legendary status of CBS's two powerful programs or NBC's fast-paced, funny, slightly naughty upstart.
Perhaps also not helping the show's endurance was its odd length. Each weekly installment was 45 minutes long. It was coupled on the schedule alongside another 45-minuge program titled "The Music Scene" and was an attempt to make the variety show more youth friendly. It, too, only lasted 17 episodes but does have the distinction of featuring some amazing guest performers during its run including Mama Cass Elliot, James Brown, Janis Joplin, Stevie Wonder and Sly & the Family Stone. The show also featured a small group of comedy performers, too, including David Steinberg and Lily Tomlin, who would follow this show with her star-making work on, ironically, "Laugh-In."
Like he did years later with "90210," Spelling cast "The New People" with mostly new faces. Of the six lead actors—Tiffany Bolling, Zoey Hall, Jill Jaress, Peter Ratray, David Moses and Dennis Olivieri--almost all of them were not only appearing in their first series, some were starring in their first ANYTHING. Of the cast, only Bolling and Olivieri had any notable prior credits. (Olivieri--under the name Dennis Joel--had begun his TV career as a child actor on "The Betty Hutton Show."
And though none of the performers would go on to become household names, all of them did go on to lengthy, substantial careers. For example, Ratray made a career for himself in the soaps and Tiffany Boling would go on to appear in such cult film faves as "Wicked, Wicked" and "The Candy Snatchers."
During its short lifespan "The New People" also welcomed some interesting young actors in guest shots who would go onto very big things. They included Tyne Daly, Richard Dreyfuss and Billy Dee Williams, among others.
Looking back at the show—only the pilot episode seems to be at all available; it is on Youtube—it is easy to see where this show drew its inspiration not only from "Twilight Zone" but also from such literary classics as "Robinson Crusoe" and "Lord of the Flies."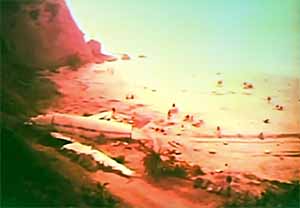 Today, it is impossible to see the show's near-establishing overhead shot of a fractured airplane marooned on a deserted beach and not think of ABC's later (and MUCH) more successful series "Lost." But, unlike that later, island-based hit, "New People," largely seemed to steer clear of supernatural elements; despite the spooky mannequins dotted around, there was no Smoke Monster lurking about on this "deserted" isle.
No, this series was more concerned with building a societal framework from nothing, one incorporating the best parts of the past but also one equipped with a blank slate to keep out any of the old-fashioned unfairness, faults or bigotry. But, as seen in the written synopses of this shows's episode, the best of intentions did not always work out in building the best, most tolerant or livable civilization. In the end, "New People" was—not surprisingly--far less like "Gilligan's Island" than it was like FOX's controversial 2014 reality show "Utopia," which, for its participants, turned out to be anything but.
If one can move beyond the shows horribly dated slang ("You dig?"), "The New People" is—now 50 years after the fact—still utterly fascinating viewing. I'd love to see more episodes. I wouldn't even mind a reboot.