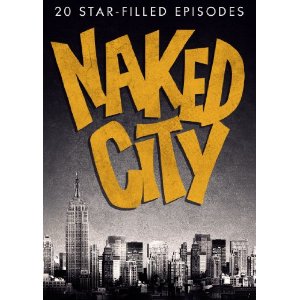 Naked City: 20 Star-Filled Episodes (1963)
reviewed by Billy Ingram
There are 8 million stories in the Naked City... these are 20 of them.
20 of the best episodes of the early 1960s drama The Naked City arrived on DVD and it's very nicely put together, with pristine picture and sound.
This is a slow moving police hour set in New York City, native New Yorkers will be thrilled to see the city in all of it's pristine post-1950s vertical beauty. Many episodes, like 'Lady Bug Lady Bug', was filmed entirely on location and every storyline features the city prominently.
The allure of the show were the guest stars and they include William Shatner, Robert Redford, Dustin Hoffman, Telly Savalas, Martin Sheen and many other notables.
Viewers of modern day dramas will likely find these shows preachy and dialogue heavy but that's what TV dramas were in the 1960s.
Fans of this series have waited a long time for a release like this one from Image Entertainment and they won't be disappointed. There is also a 40 episode 'Best of Naked City' collection available.

---
1960's TV Seasons: 1961 / 1964 / ABC 1966 / 1967 / 1968 / 1969 / Fall Previews / Sharon Tate on The Beverly Hillbillies / Dark, Unseen Monkees Pilot / Pistols 'N' Petticoats / Best Episodes of Every 'Lucy Show' Season / How Lee Meriwether Became Catwoman / The Star Trek Spinoff That Didn't Happen / Why Ginger Was Almost Fired From Gilligan's Island / Every Batman (1966) Fight Scene / Whatever Happened to the Beverly Hillbillies' Mansion? / Remembering "Mary Ann" - Dawn Wells Interview / Catching Up With Lucy & Desi's 'Son' / The Ronny Howard Show?!? / Death of Bonanza's Dan Blocker / Broadside / David McCallum on the Legacy of The Man From U.N.C.L.E. / In Defense of Bewitched (and Jeannie) / Sad Ironic Death of Crazy Guggenheim / Larry Mathers (Beaver Cleaver) on the Rumor That He Was Killed in Vietnam / The Monkees / Jimi Hendrix 1967 Tour - The Only Night It Clicked Was In Greensboro! / William Shatner on the Origin of Star Trek / Brother Dave Garner / Remembering Newton Minow / The Nurses / The Debbie Reynolds Show / The Riddler Was Batman's First TV Super-Villain / Betty Lynn aka Thelma Lou / Remembering The Rifleman's Johnny Crawford / Clu Gulager Obituary / Leonard Nimoy on NBC Hating Spock / Sinatra Wanted To Play Joker on Batman? Yes! / Directing the Batman Pilot / Elinor Donahue on The Andy Griffith Show / Lucy After Ricky / Robert Clary on His Hogan's Heroes Co-stars / Jeopardy! in the 60s & 70s / Stunts Gone Wrong on The Wild Wild West / Whatever Happened To Lost In Space's Guy Williams? / Best of Julie Newmar Catwoman Season 2 / The New People / Dark Shadows Director Lela Swift / Pioneer Newswoman Lisa Howard / The Jim Nabors Hour / The UN Goes to the Movies / Stories About Filming Batman from Burt Ward / Life With Linkletter / The Green Hornet / Best of The Joker / 1961 CBS Fall Season / Bette Davis TV show: The Decorator / The Hathaways / He & She / Eartha Kitt as Catwoman / The Good Guys / James Drury of The Virginian / The Ron Hicklin Singers / Man From U.N.C.L.E. on DVD / Behind the Scenes at The Andy Griffith Show / Pat Buttram & Green Acres / TV's Tarzan / Grocery Shopping in 1962 / Carol Channing on TV / 1960's Nightclub Comic Rusty Warren / Johnny Carson Tonight Show 1964 / That Girl / The Amazing Randi / TV's Greatest Car Stars / Best of Batgirl 1967-68 / TV Shows to Movies / Batman Season 2 / Supermarionation / The Virginian's Clu Gulager / Cast Changes on Bewitched and Green Acres / Sammy Davis Jr. Show / Sunday Morning Cartoons / Naked City / Joe E. Ross / Alan Young Interview / Sherwood Schwartz Interview / Walter Cronkite Moon Landing / The Farmer's Daughter / Petula-Clark /
---
REVIEW:
NAKED CITY on DVD
FROM THE PRESS RELEASE:
THERE ARE EIGHT MILLION STORIES IN THE NAKED CITY… One of television's finest police dramas, NAKED CITY puts a human face on crime, going beyond a simplistic portrayal of good vs. evil to delve into the complex personal dramas of the people involved. This landmark collection features 20 classic episodes from the acclaimed Emmy® Award-winning series and includes an incredible cast of guest stars! Guest stars include: Dustin Hoffman, Robert Redford, Gene Hackman, Robert Duvall, Dennis Hopper, William Shatner, Leslie Nielsen, Carroll O'Connor, Telly Savalas, Martin Sheen, Peter Fonda, Jean Stapleton, Ed Asner, Suzanne Pleshette, Jon Voight, James Caan, Doris Roberts, Diane Ladd and more!

EPISODES: Sweet Prince of Delancy Street, Portrait of a Painter, The Night the Saints Lost Their Halos, The One Marked Hot Gives Cold, Down the Long Night, To Walk in Silence, Shoes for Vinnie Winford, Tombstone for a Derelict, Alive and Still a Second Lieutenant, A Hole in the City, Bullets Cost Too Much, Prime of Life, Robin Hood and Clarence Darrow They Went Out with the Bow and Arrow, Lady Bug Lady Bug, One of the Most Important Men in the Whole World, Line of Duty, Spectre of the Rose Street Gang, The Multiplicity of Herbert Konish, The Pedigree Sheet, The Tragic Success of Alfred Tiloff

• Directors: Alex March, William A. Graham, Arthur Hiller, Buzz Kulik
• Format: Box set, Black & White, Dolby, NTSC
• Language: English
• Region: Region 1 (U.S. and Canada only. Read more about DVD formats.)
• Number of discs: 5
• Rated:
• NR (Not Rated)
• Studio: IMAGE ENTERTAINMENT
• DVD Release Date: February 19, 2013
• Run Time: 972 minutes