by Billy Ingram
with footage from Wesley Hyatt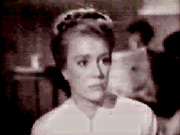 The Farmer's
Daughter
Sept 1963 - Sept 1966
One of a rare breed - a successful series based on a hit movie (from 1948). Inger Stevens assumed the role of a Swedish girl who goes to work as a Congressman's housekeeper. William Windom (My World And Welcome To It) played the lovestruck Congressman.

In an attempt to revive ratings for the 65-66 season, the Congressman and housekeeper got married. Just like modern politics, except for the marriage part...
Steven's career stalled after the show's cancellation. Just as her career started heating up again in 1970, the beautiful blonde actress mysteriously committed suicide.
Inger Stevens introduced the ABC lineup for Tuesday nights in 1965.
Everything you're looking for is here:
TV Guide's The Farmer's Daughter Page, with TV Listings, Photos, Videos, Exclusive News and More.