'TVparty is hands down the best site on the Web for classic TV.'
- Discovery Channel
Mad Men's Main Man
is Back Home
by Jim Longworth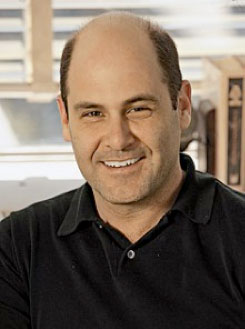 Steven Spielberg's parents gave him a film camera when he was a little boy, and he grew up to make blockbuster films. Matt Weiner's parents restricted his television viewing as a child, and he grew up to create unrestricted television. Go figure.

Weiner, creator of AMC's mega hit "Mad Men" (about ad men on Madison avenue during the 1960's) is on break from the series, and using his down time to shoot a big screen comedy here in North Carolina, starring Zach Galifianakis and Amy Poehler. Weiner is back on familiar turf because he spent several years of his childhood in Fayetteville when his Dad was stationed at Fort Bragg.

Matt's success in television didn't happen overnight, having toiled as a writer for "Party Girl", "The Naked Truth", and "Becker", before being recruited by David Chase to join the writing staff of "The Sopranos". That series and "Mad Men" are both groundbreaking dramas, so I reminded Matt of something our friend Stephen Cannell ("The Rockford Files", "The A Team") told me many years ago.
"It's easy enough to go along and just do the next series, like 'Friends', but it's a lot harder to redefine the medium, because you have a lot of things going against you".

I asked Matt if he agreed with the sentiment.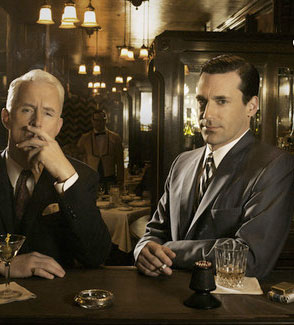 MW: "Yeah, as long as it doesn't seem like I'm saying that I redefine the medium. I'm very proud of what we did, and I'm doing a TV show that I wanted to see...I would call it respectful storytelling, that is, it is respectful of the audience".

JL: Cannell's comment was made about his mentor Roy Huggins, but I think it could also apply to you.

MW: "It's a very flattering quote, that's all I'm going to say".

But that's not all the critics and the fans have to say when it comes to Weiner's talents. To date he has won about a billion awards, including four EMMYs for best drama series, making "Mad Men" the first basic cable show to garner that honor.
But for all of his groundbreaking success, Weiner remains successfully grounded, even to the point of refusing to do interviews about his new film for fear that he would look like a media hog. In that regard, Matt is a throwback to the days before 24 hour news and TMZ, and to an era of simplicity - the era of "Mad Men". However, the early 1960's were not the best of times for many Americans, and "Mad Men" reminds us every week of the rampant sexism and racism which existed in those days.

JL: Is it good for society to have you open up old wounds?

MW: "First of all, anybody who thinks this stuff is gone just because it's against the law now, is a fool. And, I think the issues raised in 'Mad Men' about how different we all are from each other, are not gone either. I also have to say it's not my job to help society. I'm making an observation about how much has changed or hasn't changed , but I do feel very strongly that we shouldn't be arrogant about what HAS changed. We should not take these things for granted".

And while "Mad Men" takes place several generations ago, Weiner has managed to make it relevant to people of all ages.

MW: "One of the things I'm proudest about the show is that people have conversations. Teenagers and grandparents, generations are sort of bridged, as they discuss what's the same and what isn't. And I'm very thrilled that there is a conversation at all outside of my television show, otherwise I'm just creating entertainment".

But in the beginning, not everyone thought "Mad Men" would make great entertainment. A number of networks and cable channels passed on the series because it was set in the 1960's.

MW: "People said 'No' to it for a long time, so when I saw 'Pan Am', and 'Playboy Club' picked up last year by those same people who told me I was crazy, that was kind of a vindication"

JL: But why Madison Avenue as your venue?

MW: I was tapping into something I had seen in movies and TV which was this advertising executive who was seen as a rock star. And the other thing was the ultimate irony of having a job that's about assessing what is human desire, and not necessarily creating desire, but certainly reflecting desire. So for me, I got to tell a lot about my character by setting it in that world".

Of course, "Mad Men" is no more about advertising than "Dallas" was about oil.

MW: "I'm interested in advertising, but I always use it in the show to tell a story about the characters. I'm not trying to tell a story about advertising".

For now, Weiner is having a ball shooting his movie, but he has no intention of turning his back on the small screen once "Mad Men" is done.

MW: "I love television. I think it's an amazing thing. I don't see a hierarchy in entertainment. I love working in television".

Not bad for a kid who wasn't allowed to watch much television.
1960's TV Seasons: 1961 / 1964 / ABC 1966 / 1967 / 1968 / 1969 / Fall Previews / Sharon Tate on The Beverly Hillbillies / Dark, Unseen Monkees Pilot / Pistols 'N' Petticoats / Best Episodes of Every 'Lucy Show' Season / How Lee Meriwether Became Catwoman / The Star Trek Spinoff That Didn't Happen / Why Ginger Was Almost Fired From Gilligan's Island / Every Batman (1966) Fight Scene / Whatever Happened to the Beverly Hillbillies' Mansion? / Remembering "Mary Ann" - Dawn Wells Interview / Catching Up With Lucy & Desi's 'Son' / The Ronny Howard Show?!? / Death of Bonanza's Dan Blocker / Broadside / In Defense of Bewitched (and Jeannie) / Sad Ironic Death of Crazy Guggenheim / Larry Mathers (Beaver Cleaver) on the Rumor That He Was Killed in Vietnam / The Monkees / Jimi Hendrix 1967 Tour - The Only Night It Clicked Was In Greensboro! / William Shatner on the Origin of Star Trek / Remembering Newton Minow / The Nurses / The Debbie Reynolds Show / The Riddler Was Batman's First TV Super-Villain / Betty Lynn aka Thelma Lou / Remembering The Rifleman's Johnny Crawford / Clu Gulager Obituary / Leonard Nimoy on NBC Hating Spock / Sinatra Wanted To Play Joker on Batman? Yes! / Directing the Batman Pilot / Elinor Donahue on The Andy Griffith Show / Lucy After Ricky / Robert Clary on His Hogan's Heroes Co-stars / Jeopardy! in the 60s & 70s / Stunts Gone Wrong on The Wild Wild West / Whatever Happened To Lost In Space's Guy Williams? / Best of Julie Newmar Catwoman Season 2 / The New People / Dark Shadows Director Lela Swift / Pioneer Newswoman Lisa Howard / The Jim Nabors Hour / The UN Goes to the Movies / Stories About Filming Batman from Burt Ward / Life With Linkletter / The Green Hornet / Best of The Joker / 1961 CBS Fall Season / Bette Davis TV show: The Decorator / The Hathaways / He & She / Eartha Kitt as Catwoman / The Good Guys / James Drury of The Virginian / The Ron Hicklin Singers / Man From U.N.C.L.E. on DVD / Behind the Scenes at The Andy Griffith Show / Pat Buttram & Green Acres / TV's Tarzan / Grocery Shopping in 1962 / Carol Channing on TV / 1960's Nightclub Comic Rusty Warren / Johnny Carson Tonight Show 1964 / That Girl / The Amazing Randi / TV's Greatest Car Stars / Best of Batgirl 1967-68 / TV Shows to Movies / Batman Season 2 / Supermarionation / The Virginian's Clu Gulager / Cast Changes on Bewitched and Green Acres / Sammy Davis Jr. Show / Sunday Morning Cartoons / Naked City / Joe E. Ross / Alan Young Interview / Sherwood Schwartz Interview / Walter Cronkite Moon Landing / The Farmer's Daughter / Petula-Clark /
Matt Weiner Interview


TV on DVD/ /Holiday Specials on DVD
TV Commercials on DVD
TV Shows on BLU-RAY