Stunts Gone Wrong on The Wild Wild West!
By Billy Ingram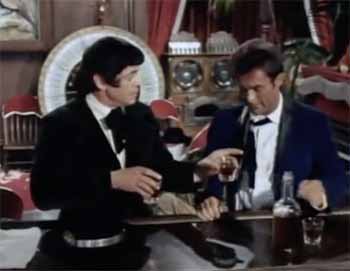 Robert Conrad, star of 'The Wild Wild West' on CBS from 1965-1969, famously insisted on doing his own stunts despite this sci-fi western requiring multiple action scenes each episode.
That wasn't a popular decision for a lead actor on a weekly network show, producers were dead set against it. It just wasn't generally done, the risk was too great that something could go wrong and production would have to be shut down. That could run into tens of thousands of dollars in overcharges.
"Doing my own stunts as an actor, didn't really endear me to the industry," Robert Conrad said in an interview for the PBS series 'The Pioneers of Television.' "Because I became kind of a macho image. And when I did sensitive work, that was sometimes challenging or demanding. I was always the guy in the tight pants who was gonna throw someone down a flight of stairs."
Conrad talked about a stunt gone wrong while filming 'The Night of the Fugitives'; "We had choreographed it. I was to jump off the second floor onto the chandelier and this guy was supposed to stop my forward motion then I was supposed to kick him through a window. He was late coming to me and I said, 'let's do this again because let's come on, you know, simplify, let's get this done.'
"And the second time he was really late and he didn't stop my Forward momentum, my hands slid and I fell 15 feet to the floor and had a high temporal concussion and a six inch linear fracture of the skull."
Watch that clip here…
On his co-star Ross Martin, Conrad said, "On the old Johnny Carson show many, many years ago, Johnny asked him, he said, 'So Ross, do you do your own stunts?' And Ross said, 'No, I do my own acting.'"
Robert Conrad claimed that 'Wild Wild West' was taken off the air because of the violence, and it's true there were 'parental groups' pressuring the network to tone down the fighting, especially on Saturday mornings. As a show in its fourth year, Wild Wild West didn't make the Top 30 in 1966-67, 1967-68 or 1968-69 and would likely become more expensive to shoot each subsequent season, so I doubt violence was the problem prompting CBS to give this Action, Western, Adventure, Sci-fi program the axe.

THE BEST EPISODE OF WILD WILD WEST:

The 'Wild Wild West' Episode generally considered to be the best is The Night of the Murderous Spring (1966) from season one. In it, Jim West succumbs to a hallucinogenic powder and comes under the control by Dr. Loveless who intends to pollute the country's water supply with that powder in order to create mass hysteria so that he can rule the world.