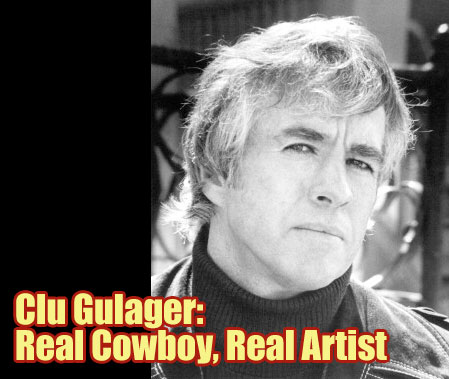 by Jim Longworth
Acting can be dangerous. Just ask Clu Gulager.

"I played the Mouse King in third grade, and this girl named Marian Bebb threw a shoe at me and killed me".

It's no wonder young Clu put his acting career on hold for awhile. Who wouldn't, after being killed by a flying shoe? Still, the work he did during his formative years was no picnic either, but at least it prepared him for some of the roles he would play later on.

"I was a cowboy in Oklahoma, where we raised white face cattle. I used to have to ride the fences, and in Winter it was really cold. When I saw a break in the fence, I had to get down off of my pony with some wire, and fix that break. The thing I'm most proud of in my whole life is that, on my watch, not one white face got away".

And while Clu spent most of his time doing cowboy chores, he was also influenced by his Father's many talents as a cowboy performer in Vaudeville and on Broadway. The elder Gulager was particularly known for his mastery of rope tricks, something he had in common with a famous relative.

"My Father grew up in Indian territory with his cousin Will Rogers. They were both very adept at trick roping. According to my Aunt, Will would spend hours and hours down by the barn practicing with the ropes. He always wanted to improve. But my Uncle once told me, 'Your Dad was better than Will at twirling ropes!' "

Inspired by his Father's showmanship, and armed with a fierce work ethic, Clu struck out on his own, and paid his dues as a thespian by appearing on stage, as well as in a number of live television dramas. He soon signed as a contract player with Universal studios where he appeared in everything from mystery series to crime shows. But the Oklahoma ranch hand also found himself working on TV Westerns, which led to his being offered the starring role of Billy the Kid on NBC's The Tall Man.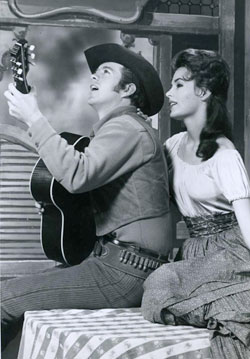 "My agent and I sat in the car for about three hours deciding whether or not to wait for movies, or take The Tall Man series. I had a wife and little boy to support, so I took the TV show, and I've never regretted it".

But Gulager, who studied the Stanislavski Method, was as serious about his acting as he had been about his ranching, and the shooting schedule of make believe Westerns was frustrating to the young star.

"Artists pride ourselves on taking our time to find things in the words. But that didn't happen on TV. The networks wanted those shows yesterday, so we had to really speed along, and couldn't even rehearse. We shot each episode of The Tall Man in two and a half days".

The Tall Man was canceled after two seasons, but not because of hectic schedules or low ratings. Instead, Clu told me it was politics and politicians who killed Billy the Kid.

"Congress debated the fact that Billy the Kid was a killer, and that I was playing him as a hero on television, which wasn't good for our children. So they pressured NBC to take The Tall Man off the air. Of course Congress let ABC keep The Untouchables, and our show wasn't one eighth as violent as that show".

Soon after cancellation of The Tall Man, Gulager signed up to play a recurring role on The Virginian until 1968, then spent the next three decades as a highly sought after guest star for scores of TV dramas such as Murder She Wrote, Hawaii Five-O, and The Streets of San Francisco. A career highlight was landing the role of the town lothario in Peter Bogdanovich's film, The Last Picture Show. The co-star he was supposed to seduce was a young model named Cybill Shepherd.

"One day, Peter wanted to stand in for me during Cybill's close-ups, and my heart sank. I thought I was just a bad actor, and that Peter didn't want me feeding Cybill her lines. I didn't realize Peter and Cybill had fallen in love. Much later, I was told that Peter had actually wanted to play my part, but the casting director wanted me, and Peter eventually agreed".

Gulager has been acting for over 60 years, yet still manages to re-invent himself for each new generation of fans. Last year, for example, Clu appeared in Piranha 3DD, proving two things: a real artist can master any genre; and, anyone who can survive a shoe attack can survive a Piranha attack.

Fans of all ages can meet Clu at next week's Western Film Fair in Winston Salem. For more information, visit www.westernfilmfair.com
Clu Gulager Interview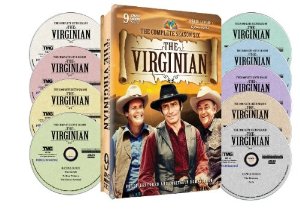 Shout Factory Store