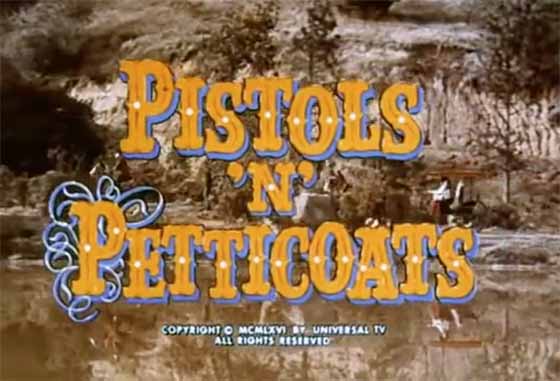 "PISTOLS 'N' PETTICOATS"
by Cary O'Dell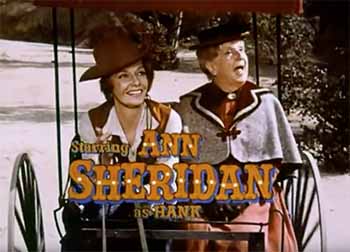 A widely-reprinted July 1966 newspaper article probably summed it up the best with its headline: "Ann Sheridan Puts the 'Oomph' in 'Pistols 'n' Petticoats."
Ann Sheridan, known during her film heyday and forevermore as "The Oomph Girl" (a moniker, more or less, bestowed on her by columnist Walter Winchell who used the informal term to describe Sheridan's personality), was being written up a few months before debuting in her very first prime-time TV show. The show was a comedy-western hybrid satire named "Pistols 'n' Petticoats" and it, too, was aptly named as the show played on some twisted gender roles. In this program, it was the cowgirls, not the cowboys, who did all the shooting and wrangling.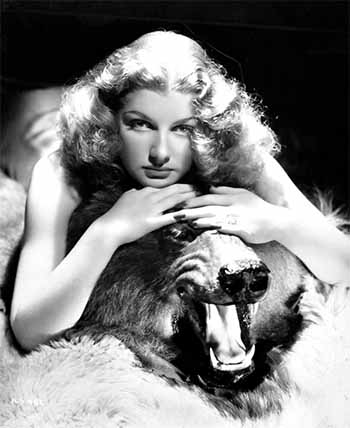 Ann Sheridan was born Clara Lou Sheridan in 1915 in Denton, Texas. She was studying to be a teacher when her sister submitted her photo to a Hollywood-based "Search for Beauty" contest. And she won! Hence the soon-to-be-renamed Ann made her film debut in 1934's "The Search for Beauty" in a tiny, unbilled part.
But it got her a film contract at Paramount Pictures - making the starlet's starting salary of $75 a week--and she began appearing in (very) minor roles in many of the studio's bigger films. Some of Sheridan's early movies included "Murder at the Vanities," "Mrs. Wiggs of the Cabbage Patch" and "The Lemon Drop Kid," all made in 1934.
Sheridan proved herself a quick study as an actress and a charismatic screen presence. In 1935, she had her first lead role opposite Fred MacMurray in the film "Car 99." But her star really started to ascend when she switched studios; she headed over to Warner Bros. in 1936.
At WB, she did some more "B" pictures but broke through into "A" films with a well-received role in "Angels with Dirty Faces" opposite James Cagney. "Angels" would prove to be one of the biggest films of 1936. From there, Sheridan was a full-on leading lady and had major roles in major films like "They Made Me a Criminal," "Dodge City" and "They Drive by Night."
Off camera, Sheridan was known for her good humor and likability. She was close-friends with that other "great broad" Ida Lupino and even Bette Davis had good things to say about her when the two teamed up in "The Man Who Came to Dinner" in 1942.
But even though Sheridan had one of her biggest hits in 1949's "I Was a Male War Bride" opposite Cary Grant, like many actresses, by the mid 1950s, she was finding fewer good roles for herself on the big screen. In a still-prophetic 1966 interview, Sheridan said, "…when I was beginning, they made pictures [with] matures women as heroines. But producers stopped that after World War II and the teen-agers took over."
Never pretentious, Sheridan moved into TV in the 1950s, acting on many of the medium's early anthology shows including "Playhouse 90," "Lux Video Theatre" and "The US Steel Hour." Beginning in the mid 1966, she took on a role on daytime's "Another World," playing the wonderfully-named Katherine Corning.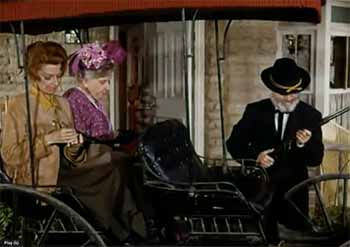 In 1966, she came to primetime with "Pistols."
"Pistols" was the creation George Tibbles, a prolific TV scribe who had already written for such shows as "Leave It to Beaver," "Dennis the Menace" and "The Munsters." Tibbles dreamed up Sheridan's lead character, a savvy, sharp-shooting frontierswoman named Henrietta Hanks who lived with her family in Wretched, Colorado, in 1871.
Wretched could be a wild place and the town's lawman, Sheriff Sikes, played by Gary Vinson, never could do much to keep the peace…so, he often had to turn to the Hanks family to do the job. The family included Grandpa Andrew Hanks (played by Douglas Fowely) and its womenfolk, Grandma Effie (played by Ruth McDevitt) and Henrietta and Henrietta's lovely blond daughter, Lucy (played by Carole Wells).
Sheridan had grown up in Texas of course and had done her fair share of Westerns in movie days and she seemed pleased to bring a feminine mystique to this then very popular TV genre. She said, "Barbara Stanwyck opened the gates with 'Big Valley.' I just hope we aren't too ahead of our time."
Even before Stanwyck, Gail Davis as "Annie Oakley" settled much of the TV West but even with those ladies before her, Sheridan's Henrietta Hanks was still something brand spanking new as were all of the Hanks women. Just consider what happened in the series's debut episode: The three older members of the Hanks Family are riding in a stagecoach with a gent from the British Isles when, suddenly, two outlaw gunslingers ascend upon them, guns drawn.
When the Englishman asks the two robbers who they are and what they are doing, Henrietta attempts to educate him. She explains that they are thieves and that's what people do "when they're too lazy to work." Papa Hanks is asleep in the coach and two kerchiefed outlaws think they are going to make an easy getaway since they are only faced with this fastidious gent and these two beautifully attired and respectable women. But these two ladies, as the title suggests, pack pistols under their petticoats and are soon turning the tables!
Each of the two women grab her guns and shoot off some warning shots - the buttons off the vest of one of the bandits, a bullet through the toe of the boot of the other. The robbers immediately turn and run for their lives! Once they are gone, the two ladies straighten their hats and skirts and climb back into the coach to continue their trip.
A later episode has two other bandits coming to town attempting to cause trouble. But they don't have any luck either! First the two elder Hanks women use their parasols to disarm the men and then drag them to church!
Later, when the two men threaten to shoot up the town, the ladies bring in the help of their old friends Doc Holiday and Wyatt Earp…only to learn that both those men are well past their prime when it comes to firing a gun. No matter though. Henrietta and her mother and father can more than make up for the sloppy marksmen of those two one-time greats.
In another episode, the Hanks Family come to the aid of a group of mail-order brides who have been kidnapped and are being held hostage outside town.
But should anyone think that the females of the Hanks Family are all brawn and no brains, in one episode, we learn that they are also locally renowned for their cooking and that both women are knowledgeable in the world of poetry,; they quote Whitman's "Leaves of Grass."
Though "P 'n' P" was technically a comedy, the Hanks women weren't played for laughs. Instead it was the dopey town lawman, Sikes, who drew most of the guffaws with his ineptness and bumbling or it was the various outlaws who wandered into town only to be taken to task by these fierce women whose stunning self-reliance and abilities not only predated the modern feminist movement but, in this context, even women's right to vote!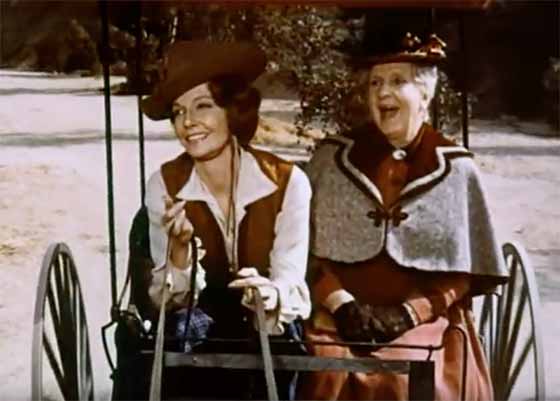 "Pistols" was around for only a single season. The program might very well have endured - it was engaging enough; the cast certainly likable enough - and it fit in well on CBS which was then high on its old-fashioned-y, rural comedies like "Green Acres" and "The Beverly Hillbillies."
Unfortunately, leading lady, Ann Sheridan, was diagnosed with cancer not long after the program hit the airwaves and she succumbed to the disease on January 21, 1967, at age 52. She passed away on the same day that "Pistols's" 19th episode aired.
Though a few non-Sheridan episode were made and broadcast, it was impossible to continue the series without its lead star and, after 26 episodes, "Pistols 'n' Petticoats," sadly, rode off into the sunset.