by Billy Ingram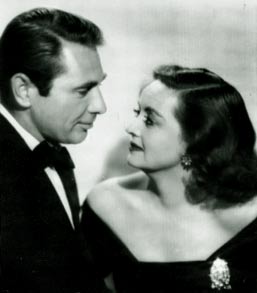 If Bette Davis had gotten her proposed series Paula on the air in 1958, she would have accomplished what no other woman had done - portray a strong, competent businesswoman on television.
During WWII, American women got used to the idea of going to work for the first time, there weren't enough men to keep the factories going. Throughout the war years, women in filmed entertainment were often depicted as the bedrock of the family, ready to roll up her sleeves and do whatever was necessary to get through the hard times.
When the menfolk returned, women were expected to step aside and give up their jobs to the returning vets. Postwar entertainment generally depicted the female as daffy and incompetent, helpless without a big, strong (and infinitely smarter) man by her side.
Television's early days in particular are one long blur of dizzy dames. From Our Miss Brooks to Private Secretary to I Love Lucy, the idea of gals in the workplace meant theater of the absurd and lots of laughs. That is, when the idea wasn't met with outright suspicion or utter contempt.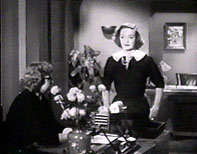 But Bette Davis had a different idea for her television pilot in 1958. Paula was to be a light comedy/drama about a successful Broadway theatrical agent (herself, of course), her agency and the eccentric clients they take on. In this TV show, the women wouldn't be played for laughs, they would do the playing.
STORY CONTINUES - AFTER THIS AD FOR VIDEO DOWNLOADS:
Television was desperate to get established Hollywood actors to appear in the new medium. Movie studios strictly forbid their contract players to appear on television in the fifties, but Bette was on her own by 1958 - without the steady paycheck and job security that a studio contract offered.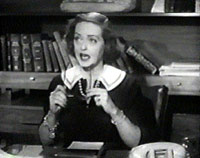 Her last film hit had been All About Eve in 1950, so naturally Paula was essentially All About Eve for the small screen. Bette could have easily been playing Margot Channing in a slightly different setting - just substitute the cigarettes and booze in All About Eve for telephones and eyeglasses for her TV production.


Bette's real life husband Gary Merrill (the couple met while filming All About Eve) was cast as Paula's husband, a playwright who was there principally to provide her with a male prop for theater openings and provide some familial warmth for the closing of the segment. He was also the show's narrator who intoned in the show's opening, "When she's through being an agent for 10 percent every day, she comes home and then she's 100 percent wife." Yeah, I'll bet...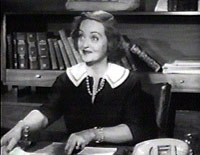 There was no question who was in charge here, in front of - and behind - the camera. And with good reason. Davis's command of the medium far outstripped anyone else's and she knew it. I can think of no other actor working in television in the fifties (except James Dean, perhaps) who could touch her confident artistry. Notice how subtly she plays this scene from Paula.
This production was top-knotch and might have been one of the brightest lights of the era had it gotten the go-ahead from one of the networks. A long-running TV series would have stabilized Bette's career at a time when her life was rapidly careening out of control.
Oddly, the night before Paula was filmed, Bette and her husband were almost killed in a fire near their rooms at LA's fashionable Chateau Marmont. The infamously contentious couple split soon after this ill-fated venture.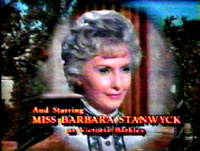 The TV audience would have to wait some time before a strong, independent woman was seen on a weekly basis. The Big Valley in 1965 may have been the first TV show centered around a successful businesswoman.
Bette Davis went on to film many more TV pilots over the next twenty-five years, both sitcoms and dramas, but didn't get a series picked up until 1983's Hotel. By then, she was too ill for the weekly grind; she died on October 5, 1989.
Today, women rule the workplace and it's almost impossible for a man to find a job. You can look that up in the dictionary under 'karma.'
---
EXCEPTIONS TO THE RULE:
The exception to the dizzy gal in the workplace was the TV maid - in both
Beulah
and
Hazel
, the maids were smarter than the people they worked for.
OTHER POSSIBLE EXCEPTIONS:
Miss Kitty in Gunsmoke (1955-1975) was the owner of the Longbranch Saloon, although it was hinted she was also a prostitute, so that eats away at her credibility a bit.
Glynis (1963), about a detective-novelist starring Glynis Johns, lasted only a short time.
Liz Thorpe as Head Nurse Conway on The Nurses.
Gladys Cooper as Aunt Gladys, a con-woman in the ensemble show The Rogues (1964-65).
---
"I wanted to take issue with a statement on the web in the article on Bette Davis on TV.
"True, on some series like "I Love Lucy" and "I Married Joan," the idea of a woman working outside the home was treated, more or less, like a joke. But at that same time, there were many, many women, in both dramas and comedies, who held jobs outside of the wife/mother role and proved themselves as smart and capable at their jobs.
"Let's consider: Eve Arden in "Our Miss Brooks," Ann Sothern in "Private Secretary," Mercedes McCambridge in "Wire Service," Ella Raines in "Janet Dean, Registered Nurse," Beverly Garland on "Decoy," June Havoc on "Willy," "Lois Lane" on "Superman," "Millie" on "Meet Millie," Barbara Hale on "Perry Mason," Gale Storm on "Oh, Susanna," and Lynn Bari on "Lady Boss," among other notables. Let's be sure to give these characters and these actresses their due."
- Thanks. Cary O'Dell
SEE ALSO: Rare Bette Davis TV Performances
Bette Davis on TV Part One / Bette Davis TV Shows Part Two / Bette's TV Pilot