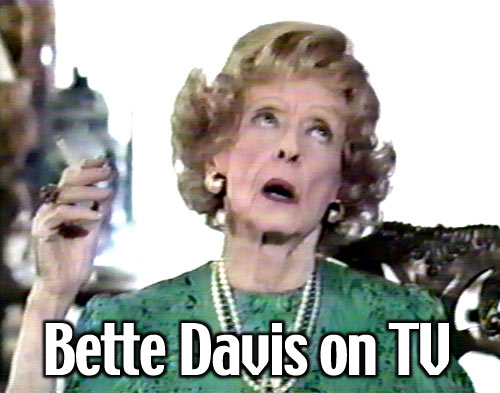 PART TWO: by Billy Ingram
"I'm the nicest goddamn
dame that ever lived."
- Bette Davis

Bette Davis was, personally and professionally, at her strongest point in years in 1983; at age seventy-five, she finally got a weekly series picked up - Hotel, from the producer of Dynasty.
In the pilot film, Davis starred as Laura Trent, owner of San Francisco's luxurious St. Gregory Hotel, a kind of land-locked Love Boat with James Brolin, Connie Selleca, and Shari Belafonte greeting the guests. Once again the format offered an opportunity for Miss Davis to barge in and out of people's lives-only now, with a looser morality in effect on television, she could butt into their sex lives as well.
/ / / Classic TV Blog / / / TV Shows on DVD / / / TV Show Reviews / // / TV on BLU-RAY
The telecast did well in the ratings. Nighttime soaps were incredibly popular in 1983 and Bette Davis's bitchy persona was a natural for the genre. After all, wasn't Joan Collins doing her best Bette Davis imitation on Dynasty?
Bette fell ill and was hospitalized just after the first regular episode was filmed but was expected to return to Hotel after recovering from her unexpected radical mastectomy. Nine days after the operation she suffered a stroke that left an arm, a leg, and her face partially paralyzed.
Producer Aaron Spelling did everything he could to accommodate the ailing legend, but she ultimately dropped out before ever returning to the production, ungratefully trashing the series as vulgar in the press. Believe it or not, Anne Baxter swooped in and took over the role as Victoria Cabot, Mrs. Trent's sister-in-law.
STORY CONTINUES - AFTER THIS AD FOR VIDEO DOWNLOADS:
---
---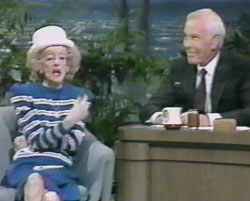 Even with paralysis severely affecting her face and voice, Bette Davis continued to make TV films - Murder with Mirrors in 1985 and As Summers Die in 1986.
In 1987, she made her best motion picture in decades, The Whales of August with Lillian Gish. Bette Davis turned in a brilliant Tonight Show with Johnny Carson performance to promote Whales. There she happily took the opportunity to insult her former co-star from The Disappearance of Aimee.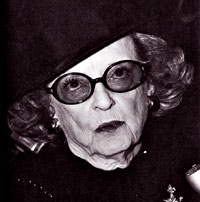 With Crawford long dead, one wonders if Bette felt she needed to go after the actor who portrayed Joan in Mommy Dearest:
CARSON: "Who is one of the worst people you know in Hollywood?"
DAVIS: "That I worked with?"
CARSON: "That you wouldn't want to work with again. You don't have to comment on that..."
DAVIS: "Faye Dunaway. Everybody you can put in this chair will tell you exactly the same thing."
CARSON: "What is it about Miss Dunaway that makes your..."
DAVIS: "Well, she's just totally impossible. I don't think we have the time to go into all the reasons."
In a prime example of the kettle talking, she went on to complain about Dunaway keeping the cast, crew, and extras waiting one day:
DAVIS: "She's very unprofessional, a difficult woman."
CARSON: "You had a reputation at certain times as being kind of tough yourself."
DAVIS: "Oh no, I never had a reputation of that kind of thing. No, no, no, never. I have never behaved in an unprofessional manner. Ever. No. That includes keeping actors waiting, keeping crews waiting, all those things. No. Never, never, never."
CARSON: "You are a true professional. That's for sure."
DAVIS: "Yes, and that is really what she isn't."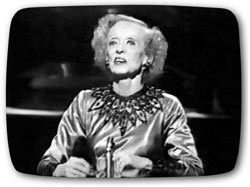 In 1988, Bette was a presenter on both the Golden Globes and the 59th Annual Academy Awards telecast. At the Academy Award dais, she appeared to be disoriented and in trouble-but recovered beautifully, despite the director cutting away unexpectedly from her and Robert Wise, who was accepting the award.
Bette was bitter about the affront; after all, she was a past president of the Academy: "Someone kept saying to me, 'Name the winner! Name the winner!' Then before I could say 'Mr. Paul Newman cannot be here tonight,' they shoved someone onstage to replace me."

Her description isn't entirely accurate. She read the list of nominees, announced the winner and, before she could be hustled offstage, delivered a rousing tribute to Mr. Wise, one of the industry's most respected directors. When she finished her accolades, the program cut away quickly to hosts Chevy Chase and Goldie Hawn, who seemed flustered, commenting; "Are you guys through over there?"
Bette Davis taped a Barbara Walters Special that aired the same night as the Academy Awards ceremony. In her last in-depth TV interview, she talked about life, love, and regrets:
BARBARA: "You say, what you always hoped to have, from the song title - "Someone to Watch over Me." You never found it."
BETTE: "And then I say, it's no wonder. Nobody ever thought I needed it. I was always competent, earned my own way, and nobody would have ever thought I needed someone to watch over me. And I never did find it."
One of Bette Davis' last public appearances was on NBC's Late Night with David Letterman in 1989, where she began by repeating her famous line from All About Eve: "Fasten your seat belts-it's going to be a bumpy night!"
She died just a few months later, on October 6, 1989.
---

"I think Davis' finest TV work -- and the greatest work of the last two decades of her career -- is STRANGERS.

"This 1979 telefilm teams Davis with another great actress, Gena Rowlands; they play an emotionally estranged mother and daughter that have been out of touch for many years. Rowlands abruptly shows up on Davis' doorstep one day. They argue and fight; slowly and over time, Davis' heart begins once more to open to her daughter. Then we learn why Rowlands has returned home...

The two actresses are extraordinary together and much of the film is so real and emotionally agonizing, it is at times difficult to watch.

"Also of some note is SKYWARD, which Ron Howard directed, and A PIANO FOR MRS. CIMINO, which co-stars Keenan Wynn.

"George Schaefer -- a tv filmmaker of some taste and sensitivity -- directed PIANO in 1982. The following year he made RIGHT OF WAY, a telefilm for HBO [does that get it invited to the TV Party?] starring Davis and James Stewart.

"This was an unusual, disturbing and rather controversial film about euthanasia and suicide: Davis's character learns that she has only a short while left to live; Stewart, her loving husband of many years, can't bear the thought of her suffering further, and can't imagine living without her. Accordingly, they decide to end their lives.

"[No one -- not even David Lynch -- has ever filmed a more matter-of-fact/creepy scene than the sequence here in which Jimmy Stewart visits a hardware store to purchase materials for the couple's planned double suicide.]

"This would have understandably been a rather short movie if the couple hadn't confided their plans to daughter Melinda Dillon, whose strong objections result in legal action and increasing loss of dignity and privacy for Davis and Stewart.

"Two endings were filmed for this movie -- I've seen both of them; each are troubling, with one much more satisfying than the other, given this almost insoluable ethical situation. After airings on HBO in '83 and '84, the movie was at least briefly in syndication; there has never been a video release to my knowledge. [There is something so deeply disquieting about this film, I can't be surprised that it is seldom shown much.]

"It was Stewart's final starring performance -- not counting the curious religious TV special MR. KRUGER'S CHRISTMAS, it was his first leading role in any project since the cancellation of his TV show HAWKINS -- as well as his first and only appearance opposite Davis. Jimmy -- always a gentleman -- took second billing to Bette.

"After RIGHT OF WAY, director Schaefer went on to make the Lucille Ball dramatic telefilm curio STONE PILLOW and three TV films starring Katharine Hepburn."

- Wogggly

Bette Davis Part One / Part Two / Bette's TV Pilot
Rare Bette Davis TV Performances