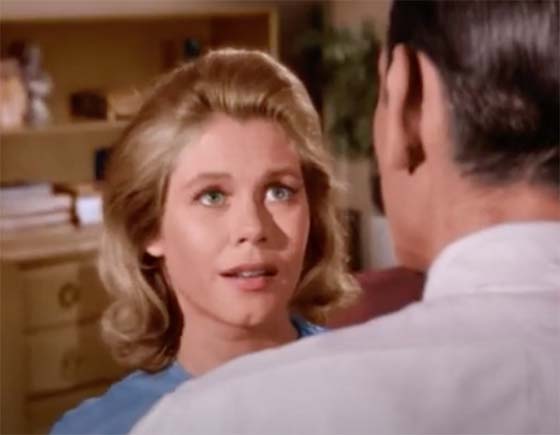 IN DEFENSE OF "BEWITCHED" (AND "JEANNIE")
by Cary O'Dell
Now that Barbie has been successfully redeemed- one billion dollars at the box office... and counting!- from various, long-enduring, and simplistic accusations about female stereotypes and oppression, about all the "damage" that that little doll supposedly did, I wonder if it is not now also time to reconsider some other female pop culture touchstones.
Can we consider "Bewitched" (1964-1972) and "I Dream of Jeannie" (1965-1970)? These two beloved sitcoms of the 1960s and early '70s do have much in common. Both have magical premises and both were headlined by pretty, fetching and blond leading ladies. And due to these commonalities they are often (usually) lumped together though the two series do have some important differences.
For example, "Bewitched" was about marital bliss... sort of. It was a domestic sitcom, family- and suburbia-based, thus placing it very much within the realm of such other series as "I Love Lucy" and, later, maybe, "Mad About You," among so many others. It was the story of navigating newlyweds still learning about each other while, in this case, also having to deal with a witchy reveal and some very intrusive in-laws. (And, by the way, why did Samantha wait til her wedding night to share her witch identity with Darin?)
In contrast, "I Dream of Jeannie" is almost like a (sexless) shotgun marriage with two individuals suddenly beholden together. Hence, theirs, at least, until very near the end of the series, is not a marriage story or even, really, a courtship story.
Over the years, these basic differences between the two series are never taken into account- nor, actually, are any of the show's actual episodes. Certainly not by many well-intentioned but often misguided media scholars who love to convey, report and amplify superficial readings of both program which label both of them as "sexist," as programs supposedly about "dominant" male/patriarchal systems "oppressing" emerging female powers.
According to some, Samantha of "Bewitched" and Jeannie of "I Dream of Jeannie- and we can probably also include the 1964-1965 series "My Living Doll" with Julie Newmar as science's most voluptuous robot- are female characters forced to have their magical powers subdued in suburbia- actually, completely hid.
But, the reasons for the respective series' subterfuge of their characters' powers--Samantha's personal choice, Jeannie's protection- are ignored as the programs are, instead, recast as metaphor for a pre-Second Wave/modern feminist movement assessment of the culture.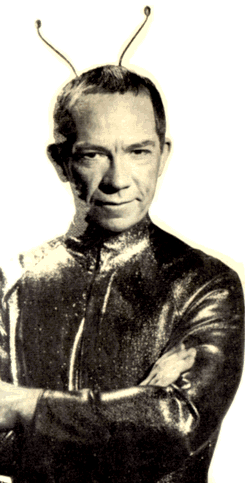 But they are wrong.
Various absolute truths about the two series (and "Doll" for that matter) derail the sexism accusations and one that is almost never reported on is the long-tradition, the TV trope, that both programs fall into/under. If "Bewitched"/"Jeannie"'s hiding of their magical powers is sexism, then why did Uncle Martin live a similarly secluded existence on "My Favorite Martian" (1963-1966)?
"Martian" aired from 1963 and 1966. In the series, Ray Walston is the titular Martian who crashed his ship onto Earth only to be discovered by eager reporter Tim O'Hara played by Bill Bixby. (Ironically, in "Jeannie's" pilot episode/set-up, Major Nelson crashed his spaceship resulting in him stumbling on Jeannie). Like Jeannie and Samantha in a couple of years, "Uncle Martin" (as he is named, just as "genie" became "Jeannie") had many remarkable powers. Among them: he could turn invisible, he could levitate objects and he was telepathic. (And not to mention he had two retractable antennae that rose in and out of his head.)
Something else Uncle Martin had in common with Jeannie and Samantha? He and his nearest and dearest kept his identify a secret from everyone else and innumerable episodes revolved around keeping his existence being from discovered.
Call it the "Can You Keep a Secret?" subgenre of television. Shows as old as "Topper" (1953-1955) and "Mr. Ed" (1961-1966) but as more recent as "Small Wonder" (1985-1989), "ALF" (1986-1990) and even the currently running "What We Do in the Shadows" (2019- ) all have lead characters fearful of being found out.
And this sort of central objective is not restricted to just the comedy genre. All the super hero shows- from "Batman" to "Wonder Woman" to the "Incredible Hulk" to their more modern-day incarnations--as well as the bionic duo of "The Six Million-Dollar Man" and "The Bionic Woman" had to kept their special abilities, in fact, their very existence, largely under wraps.
Yet, to the best of my knowledge, "My Favorite Maritain," or its imitators, has never been labeled sexist, centralist, or regressive. Where are its critics and its wave of pushback?
If "Martian," et.al. was not about gender oppression, then, therefore neither was "Bewitched" nor "Jeannie."
If that was the case then we must ask ourselves: what was the basis of these shows' central fear? Why was it necessary to keep everything and everyone so hush-hush?
The fears- from "Martian" onward- was the concern of the sitcoms's main characters from society, and more pin-pointedly, from various world governments- including our own- who appear anxious to overtake and exploit not only that which was out of the norm, but, indeed, any sort of "other-ness," especially anything (anyone) with abilities that could be dangerously capitalized and weaponized. (After all, why wouldn't Samantha fear a reprisal of the Salem Witch Trials of America in the 1690s?)
And while this apprehension could be linked back to emerging, changing women's roles, the era is off. When "Bewitched" and "Jeannie" (and "Doll" and "Martian"... ) were all in production, the nation was still several years away from the dawn of the modern feminist movement but, notably, the Cold War and the nuclear arms race was already apace.
The central fear then was out of control governments (foreign... and domestic), sanctioned institutions, and even of America itself, of all of them going rogue, their powers as limitless as they were unchecked.