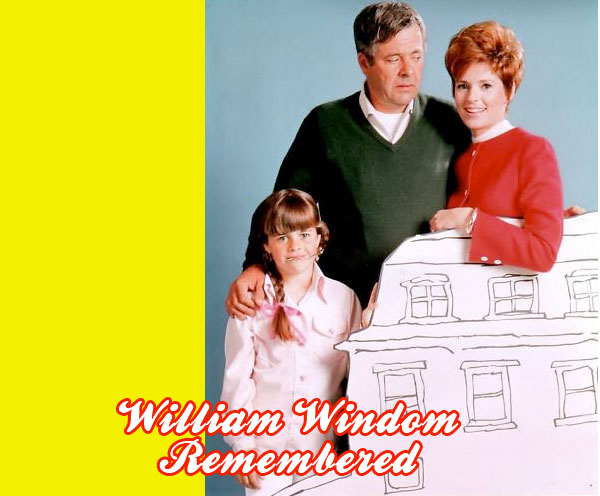 by Kevin S. Butler
Character William Windom, best remembered for his work on the TV sitcoms "The Farmer's Daughter" and "My World & Welcome To It" and his guest appearances on "Star Trek" and "The Twilight Zone", sucummbed to congestive heart failure at his Nothern, Cal. home on Thursday, August 16,2012. He was 88 years old.

Born in NYC on September 28,1923. He was named after the US Treasury Secretary who served under Presidents James Garfield and later Benjamin Harrison. Windom attended Williams Collage in Ma. but his education was interrupted by WWII when he was drafted into the US Army Aircorps as a paratrooper.

It was during his time in Frankfort, Germany that Mr. Windom decided to further his education by enrolling with the Biarritz/American College in France. There he discovered acting by signing up with the drama class where he made his first stage appearance in the school's production of"Richard III".
After the war Windom returned to the states and he continued his education at NYC's Fordham University where he continued his studies in drama. Eventually, he left Fordham and found acting work on the NYC stage.
He also performed on radio and TV during the golden days of live broadcasts of the early 1950's. His stage work encompassed a half a dozen Broadway plays, four seasons with the American Repetory Theater Co. and a memorable turn in the 1956 revival of Noel Coward's "Fallen Angels". Windom also appeared in summer stock productions in Pa. and Ct.
And he did one man shows where he portrayed James Thurber and Ernie Pyle. In 1962 Mr. Windom made his film debut in the classic screen adaptation of "To Kill A Mockingbird" with Gregory Peck and Mary Badham. He also appeared in "The Americanization Of Emily" with James Gardner, Julie Andrews, and James Corburn, "She's Having A Baby" and "Brewster McCloud".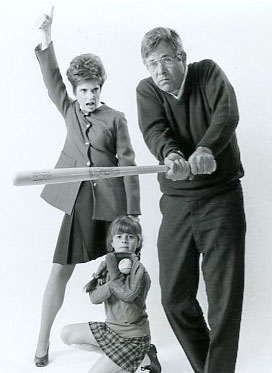 But William Windom is best remembered by TV fans for his roles on such series as the ABC TV/Screen Gems' version of "The Farmer's Daughter" with Inger Stevens and Cathleen Nesbit in which he played "US Congressman Glen Morley" and "My World & Welcome To It" in which he played the grumpy and opionated cartoonist and writer John Monroe with Joan Hotchkis, Lisa Gerristen, Henry Morgan and Harold J.Stone.
He also appeared on "Murder She Wrote" as Dr. Seth Hazzlett with Angela Lansbury, Tom Bolsey and Ron Masak.

Mr. Windom also made an appearance on "Star Trek" as the demented Commadore Mat Decker and on epsidoes of "The Twilight Zone" and "Rod Serling's Night Gallery"
He also was seen on "Barney Miller" as an embittered New Yorker who held the 12th Precient hostage with a bomb and demanded to see the entire US Government in jail for crimes against humanity. He played the US President in "Escape From The Planet Of The Apes" who orders his soldiers to capture and kill the kindly, talking chimps Zira & Cornelius (played by Kim Hunter and Roddy McDowall) when he learns that they make take over the world and enslave the human race.
By the 1990s William Windom had cut back on his acting work, he made his last appearances in an 2004 episode of "Star Trek New Voyages Phase II" and in the 2008 film "Just."