LISA HOWARD, NEWSWOMAN
by Cary O'Dell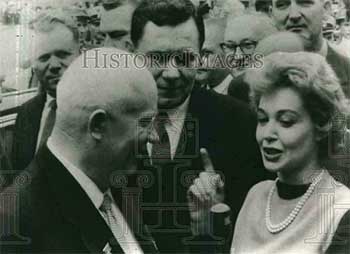 Though their numbers were not nearly as plentiful as they are today of course, believe it or not, back in the very early days of television and broadcast journalism, a handful of women did carve out a place for themselves behind the reporter's microphone.
Women like Dorothy Fuldheim at WEWS-TV in Cleveland and Martha Brooks at WGY-TV in Schenectady, paved the way for other woman at the local level, while, at the national level, the great Pauline Frederick became TV's first female network news reporter. She began her career with ABC-TV in 1948 before switching to NBC in 1953. She remained on the air for the network, usually reporting from the United Nations, until her retirement in 1975.
After Fredericks, other women reporters followed in her wake. Nancy (Hanschman) Dickerson joined CBS in 1960; Lisa Howard joined ABC in 1961 and Aline Saarinen joined NBC in 1964.
Of all those national names mentioned above, probably the least known today is that of Lisa Howard. It's a surprising anonymity as Howard's career—though quite short compared to those other just-mentioned women—was an fascinating one, that was, over time, impressive, innovative, pioneering, controversial and, then, ultimately, tragic.
**
Though today it would be very unusual, in the early days of TV, several later journalistic legends began in the industry as actors or even game show hosts. For example, Mike Wallace—then often billed under his given name "Myron"—began as a radio announcer and actor and later starred on the fictional TV show "Stand By for Crime." Later, he hosted TV game shows and fluff-oriented TV talk programs before segueing into the hard news phase of his on-air career.
Like Wallace, Lisa Howard began as an actress before leaving pretend stories behind in favor of real life ones.
Howard was born Dorothy Jean Guggenheim in Cambridge, Ohio, in 1926. After growing up in the Midwest, the soon-to-be Lisa Howard began her college career at Miami University before dropping out. Intrigued, it seems, by the stage and the flood of the footlights, Howard moved to the West Coast and joined up with the Pasadena Playhouse. She eventually earned a BA in drama from the Playhouse in 1949. This occurred, however, only after Howard's adoption of her new stage name and after her first marriage (to film/TV director Felix Fiest) and the birth of her first child, Fritzi, in 1947.
The newly-named Lisa Howard, the actress, got her first on-screen role in the 1950 film "Guilty of Treason." The film starred Charles Bickford and Bonita Granville and was directed by Howard's husband. After it, Howard had a couple other not-so-big roles but found her greatest success on television—specifically in TV soap operas. Howard would go on to appear on "The Guiding Light" and, most famously, as the character Louis Grimsley on "The Edge of Night." Her work in the 1950s in the daytime dramas made her marginally famous for the scandalous women she often played. Various magazines of the era reported on Lisa's daytime roles and even nicknamed her daytime's "First Lady of Sin."
But despite the success Howard was enjoying in the world of soaps, her interests were elsewhere. Howard had long harbored an interested in more "intellectual" pursuits. She said once, "I stand before you a confessed egghead." Later she said of her career switch, "I became more and more interested in politics and world affairs…and less interested about the fate of Louis Grimsley…. I wanted to talk to people who were making news."
Hence, in 1960, while living in New York with her second husband, Walter Lowendahl and her second child, a daughter, Anne (Howard and Feist had divorced some years before), Howard quit the soap and purchased a tape recorder.
Never shy, in fact, long on nerve and gumption, Howard, tape recorder in hand, began to stalk various New York, US and global notables for one-on-one newsy interviews. Howard's first news coup (the first of MANY to come) was when she flew all the way of Nova Scotia to tape an exclusive interview with Russian cosmonaut Yuri Gagarin. That interview got Howard hired by radio's Mutual network.
Later she showed equal aplomb with another major news coup—chatting with Soviet premier Nikita Khrushchev. She talked with the Russian leader in an impromptu interview after staking out the Russian Embassy and nimbly cornering him, garnering the only American interview he held while on US soil. That was in 1960.
(The year 1960 also saw the publication of Howard's one and only novel, the story of a young actress making her way in the world. It was titled "On Stage, Miss Douglas" and, in an unusual move for a hard-back novel, had Howard's picture featured on the FRONT of the book.)
Howard's big Khrushchev "get" gained her publicity and she was soon spirited away by the ABC-TV network in 1961.
Despite still being a reporter wet behind the ears, she said, upon her arrival at the network, "They simply threw me on the Convention floor." Nevertheless, by the end of the Democratic Party powwow that year, Howard had nabbed 38 top Democrats for one-on-one interviews.
While under contract to the Alphabet network, Howard was also able to, later, finagle one-on-one interviews with a host of newsmakers including the Adlai Stevenson, the Shah of Iran, Dr. Benjamin Spock, and Nelson Rockefeller.
But, as a pretty blond and former soap opera actress, Howard's emergence as a network newswoman was sometimes greeted in the press like they had spied a two-headed unicorn. Only, usually, they nearly weren't as impressed with Howard's existence as they would have been with a "real" unicorn. "Time" magazine, in a story in 1963, chastised her for "lacking polish" and the "New York Herald" said she was "all puff." That same year, "McCall's" mag called her a "dead-serious reporter" but then also called her a "bright, buxom and bumptious" one.
Howard was aware of the difficult road she was paving for women. She said at one time about working women, "If she becomes a success in a field considered to be a man's, she is made to feel guilty and unfeminine. She is called aggressive, brash and pushy. A lot of women don't want to fight that kind of psychological barrier."
In September 1963, Lisa Howard made further TV history when the ABC network gave her her very own daily newscast. "Purex Presents: News with a Woman's Touch," anchored by Howard, was a daily, five-minute, afternoon newscast and the first to ever be helmed by a woman. The program, despite the cutesy title (a nod to the program's sponsor's slogan), was, according to historian Marcia Rock, a "straight-forward news program."
But for Lisa Howard, her biggest career achievement happened earlier that year when she was able to secure an exclusive one-on-one interview with Fidel Castro. As always, Howard was tenacious in her pursuit of the Cuban leader.
For it, it took Howard months of badgering various diplomats from various embassies who were friendly with Cuba. Eventually gaining a visa to visit the country, she held up in a hotel for three weeks as she attempted to pin down the famous prime minister for a talk. She eventually succeeded and her 35-minute interview with Castro ended up as a highly-rated ABC primetime documentary special. "Fidel Castro: Self Portrait" aired on ABC on May 10, 1963.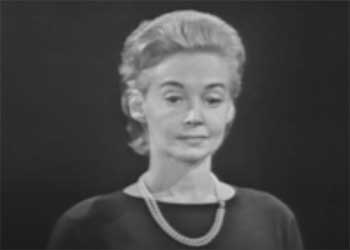 Interestingly, in a 2018 article for "Politico," author Peter Kornbluh, who had just recenlty been granted access to Howard's letters and private diaries by her widower, examined the complex relationship between Howard and Castro which went on long after that documentary aired. For a time, as the US attempted to navigate international relationships between Cuba and Russia, Howard, from mid 1963 until the end of 1964, served as a secret and thoroughly unofficial "back channel" between those two nations and the US.
That author also speculates—as it would be easy to do—that the relationship between Howard and Castro was, if not intimate, certainly somewhat romantic.
The Howard-Castro connection was, obviously, a unique partnership. Howard's bosses—largely in the dark—nevertheless allowed her to travel to Castro's country two more times for follow-up stories.
The US Government, meanwhile, were mostly just confused by the Cuba-Howard link and regarded Howard's actions and motives as decidedly "mixed": was this a personal mission of hers? Or was she just a reporter digging for a good story? Or was she casting herself as a major lynchpin in a matter of international diplomacy?
Eventually, unclear of Howard's underlining intent, the White House shut her out, closing the door on the info she was relaying between the US and the Cuban leader.
This swift change seemed to begin a downward turn in Howard's previously meteoric career.
**
When the great newswoman Marlene Sanders began her TV news career at ABC, in 1964, she was told by a few others on staff to be wary of Howard who many in the news division viewed as troublesome. Sanders related in her autobiography, "Howard had a rather affected manner of speech and an eccentric way of dressing. Still, she was a gusty woman…"
But if Sanders wasn't put off by some factors regrading Howard, she was when Lisa came up to her in the hall one day and asked her to join her in the senate reelection campaign of NY Senator Kenneth Keating who was running against upstart Robert Kennedy. Sanders was taken aback. However journalists voted or felt on political issues, it was always an unwritten rule that they not show support for anyone or any cause publically. Sanders wondered how Howard could be viewed as objective covering a campaign that she was also, essentially, a part of.
Howard's ABC bosses wondered the same thing and though Howard vowed that she would not let her personal views interfere with her on-air duties, the network brass wasn't buying it. Though Howard had just recently scored another major interview--Argentine revolutionary Che Guevara--ABC nevertheless suspended her from her job in September 1964.
Though, originally, there was some speculation that Howard would return to the air after the election, ABC eventually chose to terminate her. In retaliation, Howard filed a $2 million lawsuit against the network over the firing but it was dismissed by the New York Supreme Court in January 1965.
Good news, however, arrived for Howard and her family in early 1965 when Howard and her husband found themselves pregnant once more. It would be Howard's third child. Howard also signed on to a new job—becoming the publicity director for New York City's anti-poverty program.
But, sadly, in the Spring of 1965, Howard suffered a miscarriage and it left her emotionally unmoored. Despondent and depressed after losing her child, Howard was hospitalized for a short period but it seemed to do little to help her.
Then, on July 4, 1965, while she and her family were spending the holiday weekend in the Hamptons, Howard was found despondent and wandering around the parking lot of a local pharmacy. She had, earlier, altered a prescription she had for 10 barbiturates to 100 and then swallowed them. Reports of a woman acting strangely were called into local police about the time that two of Howard's friends came upon the scene and discovered her disoriented and mumbling both "Take me home…." and about her recent miscarriage. Placed in one of the cars of one her friends, Lisa Howard died. Her death was labeled a suicide.
Obituaries published the next day recounted Howard's short but spectacular TV career. They also reported a variety of ages she supposedly was at the time of her death—from 35 to 39, as the one-time actress probably did try to obscure her real age over the years.
In Marlene Sanders' memoir, "Waiting for Prime Time," she subscribes at least some of the reason for Howard's suicide to her network firing. Though we will never know for sure, Howard's sudden exist from major network news reporter (and newsmaker) to "civilian," might very well have weighed on her.
Regardless of her end, however, Lisa Howard's presence and legacy is far greater than her sad conclusion. She broke open the anchor desk for all newswomen who would come along after her. And in her role as interviewer to even the toughest of subjects, she presaged everyone from Barbara Walters to Lesley Stahl to even Oprah Winfrey.
As Marlene Sanders said, "She was a gusty woman…"