Remembering Johnny Crawford
 by Jim Longworth
Much has been said about the importance of adult role models, and the positive impact they can have on children. But for those of us little buckaroos who grew up in the 1950's, there was no finer role model than Johnny Crawford, himself just a kid when he starred as Mark McCain on the hit TV series "The Rifleman".
On screen, Johnny seemed like a great guy, so we just assumed he was like that in real life. Turns out, we were right. Johnny could ride and rope with the best of them. He was a talented actor and an accomplished musician. He had a genuine smile, and a genuine interest in people. He had a great sense of humor, and an even greater sense of humility. He was the kind of guy you wanted to be like, whether you watched him as a kid or got to know him as an adult. I was lucky. I got to do both.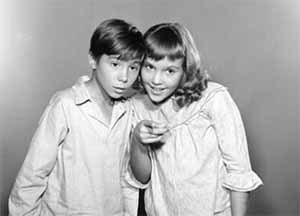 Johnny's big break came in 1955 when Walt Disney tapped him to be one of the original Mouseketeers on the new "Mickey Mouse Club" television series. But when producers decided to pare down the large group, Johnny was an early casualty.
"They went from twenty-four Mouseketeers down to twelve," he told me, "and I was let go after the first season. It was very disappointing, but having done 'The Mickey Mouse Club' gave me confidence."
In fact, young Crawford's talents were in constant demand, and he stayed busy as a guest star in numerous TV series. That led to an audition for "The Rifleman". In an interview with TV Guide, Rifleman star Chuck Connors said, "The producers and I interviewed 20 or 30 kids to play Mark. Then Johnny came in the room, and before we even talked to him I said, 'That's him. That's the Rifleman's son!'".
During the run of "The Rifleman", Crawford was nominated for an EMMY, and became a teen heart throb with hit songs like "Cindy's Birthday", which reached number 8 on the Billboard charts. But unlike so many child actors who struggle with the transition to adulthood, Johnny stayed out of trouble, and stayed active, first in film, then in the Army, and later as the leader of his own orchestra. In 1990 he reconnected with his high school sweetheart Charlotte Samco, and they married in 1995. In his later years, Johnny was a fan favorite at nostalgia conventions, while continuing to conduct his band and act. In 2019 he was diagnosed with Alzheimer's disease, and he died on April 29, 2021 after battling COVID, and a bout of pneumonia. Johnny Crawford was 75 years old.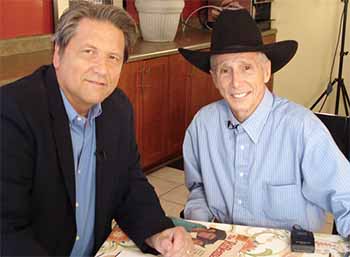 I met Johnny in 2014 when he attended the Western Film Festival in Winston-Salem, and in the years since I would call him on his birthday and exchange holiday cards.
Our last conversation was just prior to his Alzheimer's diagnosis, and we talked about his role in, "Bill Tilghman and the Outlaws", a western film in which he portrayed silent movie star William S. Hart.
Later that year, I interviewed Johnny's pal, Paul Petersen (a fellow Mouseketeer and co-star of "The Donna Reed Show"), who told me about the diagnosis, and his plans to start a Go Fund Me campaign to help pay for Johnny's medical care. I asked Paul when he first knew that Johnny was sick.
"My wife and I, Tony Dow, Johnny and others were at the Hollywood Museum to honor Annette (Funicello), and we noticed that something was amiss with Johnny. He seemed to be a little confused, but we covered for him because that's what you do for your friends. Later, when Charlotte had to put him in a facility, we knew what it was, and how severe it was."
In one of my earliest conversations with Johnny, I was pleasantly surprised to learn that he was a regular guy, just like those of us who had watched him on TV every week.
"Yeah, I was just like you and other kids at the time. I watched B westerns on Saturday mornings. I had all of the toy guns, and the Hopalong Cassidy stuff, and cap pistols. We all played cowboys and Indians, and my bicycle was my horse."    
In one of our more serious conversations, I asked Johnny to comment on the amount of violence in "The Rifleman".
"The father/son relationship WAS the show. It gave the show a dimension that other shows didn't have, which was a family of two people trying to make it in the Old West when it was pretty lawless. But it was always understood that killing was a last resort, and the violence wasn't to be used frivolously."
My funniest memory of Johnny was when I was introducing him for a TV segment. During my opening remarks, I held up various memorabilia to the camera, including a Rifleman comic book, and a 1973 Playboy magazine, featuring a revealing photo of Johnny from a film in which he had appeared.  "You're my hero," I said. "For which one?," he replied.  We both had a big laugh.
Speaking of heroes, there were plenty of TV cowboys who I enjoyed watching as a kid, but it was Johnny Crawford who I wanted to hang out with. Six decades later I finally got my chance, and he didn't disappoint. A real role model never does.    
Donations to Johnny Crawford's Alzheimer's Fund can still be made at www.johnnycrawfordlegacy.com