by Billy Ingram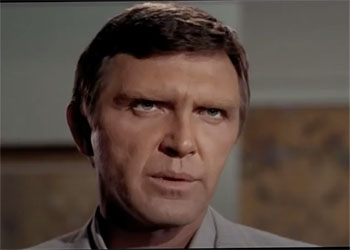 Created by Gene Roddenberry, 'Assignment Earth' wasn't just the title of the 26th and last episode from the second season, it was actually a pilot for a Star Trek spinoff series. Well, kind of.
'Assignment Earth' was the story of Gary Seven (Robert Lansing) born in the year 2319 and his black cat Isis, who can transform itself into a beautiful woman, time and space travelers who are intent on stopping civilization in 1968 from descending into chaos.
The duo gets from one place to the next via a vault with beaming technology. They are joined in the office by Roberta, a daffy assistant played by the always wonderful Teri Garr (Sonny & Cher Comedy Hour).
"We had three black cats," Lansing was quoted as saying. "That was because in those days, the theory was that you couldn't train cats. Cats would have a certain propensity: One would like somebody, would want to follow them around, so that day, you would release the cat that would probably do what you wanted it to do. One of the cats took a great liking to me. It was always loose on the set when I was working, so it happened that the stuff on the rocket gantry was all ad lib. I would say something like, 'Isis, come on, you're getting in the way. You know, there is a bit of a hurry. This is not the time to be jealous.' We added meows in later."
This episode of Trek was produced by Gene Roddenberry who was involved in all aspects of production, right down to insisting Garr's mini-skirt be more mini, which irked the actress but what could she do?
Interesting how nonchalant Captain Kirk is about traveling back in time at the beginning of the Trek episode, like it was a routine mission, the only one that takes place entirely in the 20th century.
Written in 1966, 'Assignment Earth' didn't have anything to do with Star Trek other than the overall look of the pilot. Events took place in the 20th century for one thing, hundreds of years before The Federation.
"Assignment: Earth is interesting in a sense," writer Art Wallace said for Captain's Logs: The Unauthorized Complete Trek Voyages. "Because I had gone to Paramount and pitched a series idea to them. They had said that Gene Roddenberry had come up with a very similar idea. So I saw Gene and we decided to pool the idea, which was about a man from tomorrow who takes care of the present on Earth.
"That was intended to be the pilot, although it was never made into a series. It was a good pilot and it's a shame, because I think if they had done it as a series with just Gary Seven, it would have been a very successful show."
Broadcast on March 29, 1968, the back door pilot failed to get picked up as a series. As far as Roddenberry knew, not only was 'Assignment Earth' not green-lit but Star Trek itself was expected to be cancelled by NBC after season two, saved by a letter writing campaign orchestrated by Roddenberry himself.

Assignment Earth
Story by: Gene Roddenberry and Art Wallace
Teleplay by: Art Wallace