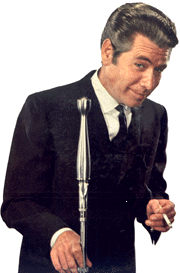 Dogs is like wise humans -
they fight with their mouth.


- Brother Dave Gardner

Brother Dave Gardner thrived on the tantalizing edge of live performance, setting a tempo with club audiences accustomed to the freaky deadpan of Jonathan Winters and the wry horror-humor of Lenny Bruce. A record 51 appearances on Jack Paar's celebrated "Tonite" show established Brother Dave as the ultra-hip 60s TV star with the homegrown attitude and delivery. RCA quickly signed Brother Dave Gardner to an exclusive recording contract, releasing album after album for the next four years.

Brother Dave's recording sessions in sophisticated supperclubs across the Southeast coincided with a red-hot college-campus circuit tour where he observed the changing face of American youth. Racial integration, music, and politics influenced the material he recorded for release as well as posterity.
"(On being a preacher) I am, you know.
Only difference is, I'm preaching for it!"
- Brother Dave Gardner

Before Ron White there was Brother Dave Gardner!
Ain't That Weird Album Side 1

Brother Dave Gardner "John and the Haunted House"

The Motorcycle Story

Julius Caesar--Brother Dave Gardner

Bro Dave Gardner "Are you going to be here when JOHN get here?"

The Origin of Rock 'n' Roll or David and Goliath as told by Brother Dave Gardner

BROTHER DAVE GARDNER - "Words From Brother Dave"

Chicken Every Sunday

Brother Dave Gardner 1960's Interview