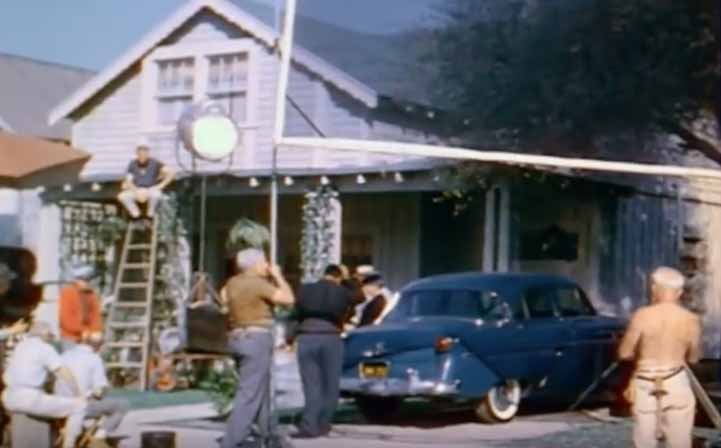 Rare Behind The Scenes Footage
of The Andy Griffith Show!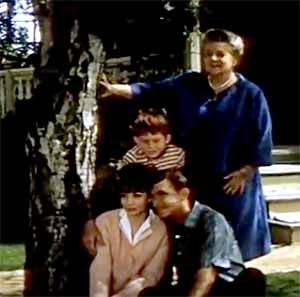 Watch this amazing rare color 8mm footage shot on the exterior Mayberry sets for The Andy Griffith Show (1960-68). Notice how young Ron 'Opie' Howard was, seen with his even younger brother Clint.
Keep in mind, this show was still broadcast in black and white when these home movies were made.
Footage includes set-ups out at the lake where the opening theme was filmed and then moves to exteriors of the Taylor home on the backlot in Culver City.
So-called 'Myers Lake' used on The Andy Griffith Show, seen in the opening titles, is actually located in a secluded canyon near Beverly Hills known as the Franklin Canyon Reservoir.
Since Jim 'Gomer Pyle' Nabors is present on set in this 8mm peak behind the cameras, were the opening titles reshot in 1963, in anticipation of the show going to color in 1965?
Don 'Barney Fife' Knotts is also on hand, he exited the production (except for yearly guest star appearances) after the 1964-65 season.
Watch closely for Grandma Walton herself (Ellen Corby) who sells Barney her "lemon" of a car in the episode being filmed that day, which pegs that footage to the winter of 1963. ('Barney's First Car' - Episode recap: It's a red-letter day in Mayberry when Barney decides to join the motoring world, but things go sour when his cream-puff turns out to be a lemon. That episode aired in April of 1963.)
Aneta 'Helen Crump' Corsaut joined the cast in 1963 and she's clearly visible, posing for stills with the rest of the core cast members that were present for that shoot.
We even get to see 'Opie' on a skateboard!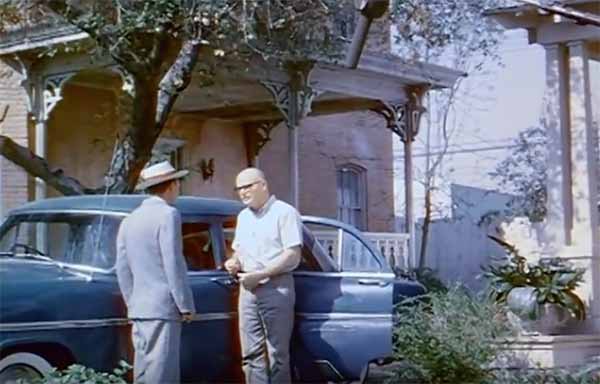 BONUS:
In this interview conducted on May 5, 1998 in Manteo, NC, Andy Griffith talks about the early days of his seminal sitcom - he credits Don Knotts for the success of the program.
This fellow goes in search of where the Andy Taylor House was on the 40 Acres backlot in Culver City, CA. (long gone) and shows us what everything in the vicinity looks like today: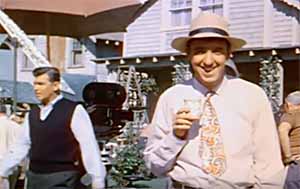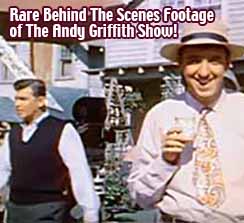 (That's a glass of milk in Jim Nabors' hand.)
"I ain't got time to stand around here and discuss trivial trivialities." - Barney Fife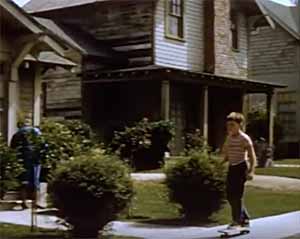 DID YOU KNOW: By the 1960s a small number of surfing manufacturers in Southern California such as Jack's, Kips', Hobie, Bing's and Makaha started building skateboards that resembled small surfboards, and assembled teams to promote their products. So Ron Howard was cutting edge!
Mayberry R.F.D /
Jim Nabors Hour
Don Knotts Show /
Headmaster
The New Andy
Griffith Show
How it All Ended &
Return to Mayberry