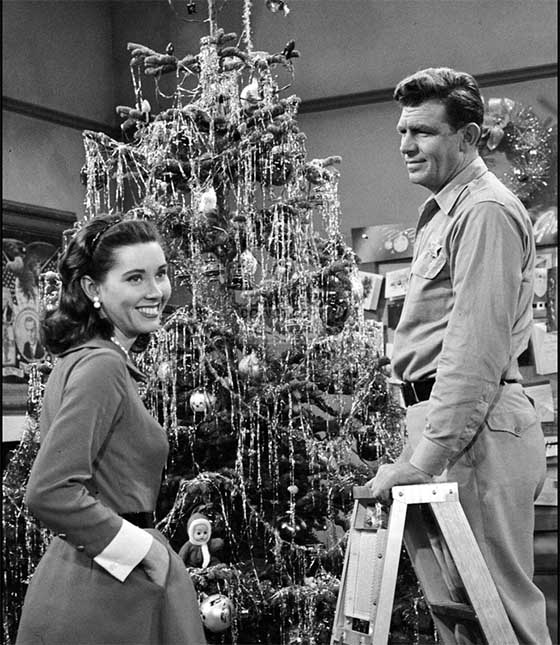 Elinor Donahue discusses working with the cast of 'The Andy Griffith Show'
Hired to play Andy Taylor's girlfriend on The Andy Griffith Show, Elinor Donahue found that, despite her 6 years on the long-running sitcom Father Knows Best (1954-1960), she didn't really fit in on her next TV series assignment.
As soon as Father Knows Best left the air in the summer of 1960, Elinor Donahue was immediately cast in the Andy Griffith Show debuting that fall. That's an unusual occurrence but it does happen - after Lost in Space was canceled in 1968, June Lockhart joined the cast of Petticoat Junction that year as the female lead after Bea Benaderet died.
Despite playing Andy Taylor's first regular girlfriend on the show, Elinor "Ellie" Walker, Donahue found she was a fish out of water. Andy's excuse for dropping Donahue from the cast after only 12 episodes during one season? "I didn't know how to write for you."
"I don't think that that's true," Donahue states. "That's very kind of him to say, I don't think I did give them anything to write for. But that was his excuse for that."
Donahue speculates that the unique camaraderie between Andy Griffith and Don Knotts was unexpected, that no one thought they would click in the spectacular way they did. As a result, many of Donahue's lines went to Knotts.
It was nothing personal that she was dropped, she got along well with the cast by all accounts. She was in awe of Don Knotts and Ronny Howard. As for the actress that portrayed Aunt Bee, "I loved Frances Bavier. People say she was tough and snappish but I never found her so. I always found her very, very nice." It's been said that only Jim Nabors really got along with Bavier, no cast members attended her funeral.
Charlotte Observer: Elinor Donahue was introduced in Season 1 as Griffith's love interest, but there was no chemistry, onstage or off. It was quite the opposite with Aneta Corsaut, introduced in Season 3, as teacher Helen Crump. She and Griffith became passionate lovers.

1960's TV Seasons: 1961 / 1964 / ABC 1966 / 1967 / 1968 / 1969 / Fall Previews / Sharon Tate on The Beverly Hillbillies / Dark, Unseen Monkees Pilot / Pistols 'N' Petticoats / Best Episodes of Every 'Lucy Show' Season / How Lee Meriwether Became Catwoman / The Star Trek Spinoff That Didn't Happen / Why Ginger Was Almost Fired From Gilligan's Island / Every Batman (1966) Fight Scene / Whatever Happened to the Beverly Hillbillies' Mansion? / Remembering "Mary Ann" - Dawn Wells Interview / Catching Up With Lucy & Desi's 'Son' / The Ronny Howard Show?!? / Death of Bonanza's Dan Blocker / Broadside / In Defense of Bewitched (and Jeannie) / Sad Ironic Death of Crazy Guggenheim / Larry Mathers (Beaver Cleaver) on the Rumor That He Was Killed in Vietnam / The Monkees / Jimi Hendrix 1967 Tour - The Only Night It Clicked Was In Greensboro! / William Shatner on the Origin of Star Trek / Remembering Newton Minow / The Nurses / The Debbie Reynolds Show / The Riddler Was Batman's First TV Super-Villain / Betty Lynn aka Thelma Lou / Remembering The Rifleman's Johnny Crawford / Clu Gulager Obituary / Leonard Nimoy on NBC Hating Spock / Sinatra Wanted To Play Joker on Batman? Yes! / Directing the Batman Pilot / Elinor Donahue on The Andy Griffith Show / Lucy After Ricky / Robert Clary on His Hogan's Heroes Co-stars / Jeopardy! in the 60s & 70s / Stunts Gone Wrong on The Wild Wild West / Whatever Happened To Lost In Space's Guy Williams? / Best of Julie Newmar Catwoman Season 2 / The New People / Dark Shadows Director Lela Swift / Pioneer Newswoman Lisa Howard / The Jim Nabors Hour / The UN Goes to the Movies / Stories About Filming Batman from Burt Ward / Life With Linkletter / The Green Hornet / Best of The Joker / Matt Weiner Interview / Lost in Space: Mark Goddard Interview / 1961 CBS Fall Season / Bette Davis TV show: The Decorator / The Hathaways / He & She / Eartha Kitt as Catwoman / The Good Guys / James Drury of The Virginian / The Ron Hicklin Singers / Man From U.N.C.L.E. on DVD / Behind the Scenes at The Andy Griffith Show / Pat Buttram & Green Acres / TV's Tarzan / Grocery Shopping in 1962 / Carol Channing on TV / 1960's Nightclub Comic Rusty Warren / Johnny Carson Tonight Show 1964 / That Girl / The Amazing Randi / TV's Greatest Car Stars / Best of Batgirl 1967-68 / TV Shows to Movies / Batman Season 2 / Supermarionation / The Virginian's Clu Gulager / William Windom / New Bewitched Book / Court Martial / Cast Changes on Bewitched and Green Acres / Sammy Davis Jr. Show / Sunday Morning Cartoons / Naked City / Joe E. Ross / Alan Young Interview / Sherwood Schwartz Interview / Walter Cronkite Moon Landing / The Farmer's Daughter / Petula-Clark /
Created by Ed James, Father Knows Best follows the lives of the Andersons, a middle-class family living in the Midwestern town of Springfield.

The Andy Griffith Show / Ellie Walker
- The Guitar Player Returns (1961) ... Ellie Walker
- Ellie Saves a Female (1961) ... Ellie Walker (uncredited)
- The New Doctor (1961) ... Ellie Walker (uncredited)
- Cyrano Andy (1961) ... Ellie Walker (uncredited)
- Mayberry on Record (1961) ... Ellie Walker (uncredited)
- The Beauty Contest (1961) ... Ellie Walker (uncredited)
- The Horse Trader (1961) ... Ellie Walker
- Christmas Story (1960) ... Ellie Walker (uncredited)
- Ellie for Council (1960) ... Ellie Walker (uncredited)
- Andy the Matchmaker (1960) ... Ellie Walker (uncredited)
- Irresistible Andy (1960) ... Ellie Walker (uncredited)
- Ellie Comes to Town (1960) ... Ellie Walker