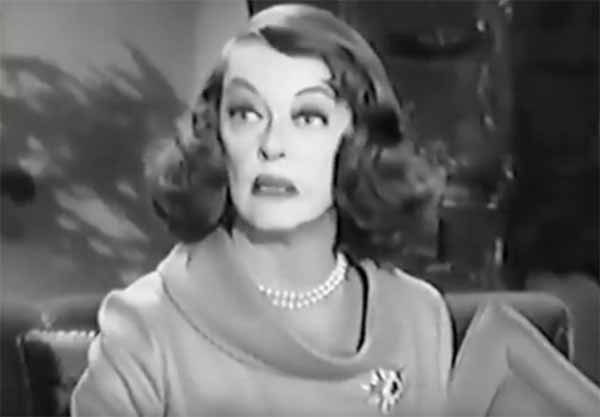 Bette Davis TV show
THE DECORATOR
1965 Unsold Pilot
By Billy Ingram
Produced by Aaron Spelling (Dynasty), this funny pilot for a possible weekly series was co-written by Mart Crowley who authored one of the most highly acclaimed stage plays of all time, "Boys in the Band."
Aaron Spelling was already producing two amazing network shows in 1965, Burke's Law and Honey West.
In this half hour production, Bette plays Miss Lizzy, "A respected but struggling interior decorator from a wealthy background moves in with some of her clients in order to meet their specific needs. In the process, she tends to become friends with the families and get drawn into their personal problems." The Decorator features character actress Mary Wickes as Bette's assistant Viola. Supposedly, Mart Crowley wrote the part with Paul Lynde in mind.
Synposis: In the pilot episode, Bette's is hired by an oil tycoon to lavishly decorate a house on his property for his daughter and future son-in-law, secretly hoping that the obvious expense will cause the fiancé' to back out of the wedding.
Bette really desired a weekly series, she saw how Lucille Ball could spend time with her family after a day's work in TV while Ms. Davis was forced to travel so often for her roles in movies and on the stage. Hence this campy but fairly typical 1960s sitcom - adorable kids, peppy theme song, laugh track and all.
Unfortunately, the script isn't very funny, it's only Ms. Davis' delivery of her lines that coaxes any laughs.
(Doorbell rings)
Viola: Now that could just be the answer to all our problems.
Bette: Not unless its Cary Grant.
A blurb in the New York Times declared, as if the series was a given, "Tom McDermott, president of Four Star, said yesterday the series would be written by Cy Howard, who produced "Fair Exchange" and was writer and producer of "My Friend Irma." Miss Davis will portray a California interior decorater who, refuses to accept clients until she has visited in their homes and studied their standards of taste. The show will have a biting kind of comedy," Mr. McDermott said. "We will use an approach that is similar to the type of character Bette Davis played in 'All About Eve.'"
Indeed, Bette's character in The Decorator is as acerbic and cutting as any she'd played. But maybe the best approach wasn't to have Bette bully a small child as she does in the beginning and end of the film. Lucy wouldn't do that!
This was one of several attempts to shoe-horn Bette Davis into a weekly appearance in American homes but a television series was not in her future until 1983's Hotel on ABC, also produced by Aaron Spelling. Sadly, the actress suffered a stroke just as production on Hotel was getting underway, forcing her to drop out.