Green Hornet TV Show
by Billy Ingram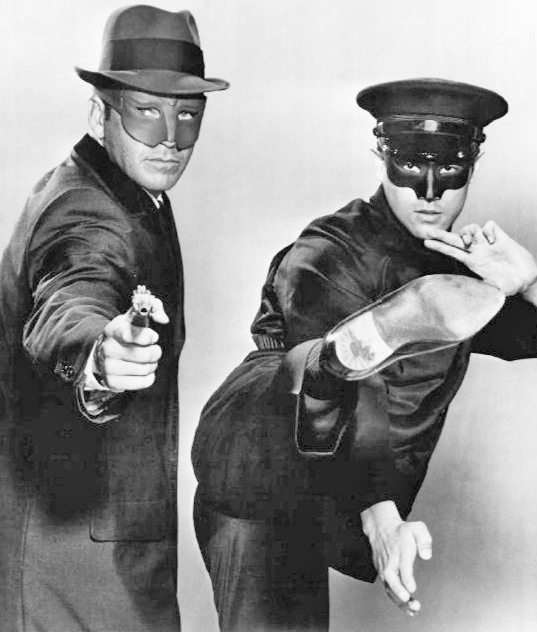 For the fall of 1966, ABC had high hopes for The Green Hornet, a spinoff (kinda sorta) from Batman which was all the rage that year.
Batman was TV's first mid-season hit. Debuting in January of 1966, the series rocketed to number one status. Naturally, the network wanted to replicate that success so they went to Batman's producer, William Dozier, to come up with another superhero hit.
The Green Hornet was a somewhat logical choice, a costumed crimefighter with a secret identity, sidekick (played by Bruce Lee), driving a groovy car, The Black Beauty. Just like Batman, right?
Still, The Green Hornet hadn't enjoyed much popularity since the 1940s when Green Hornet was a radio program, movie serial, and a best-selling comic book. By the 1950s, there wasn't much exposure left for The Green Hornet and Kato, no comics, no movies.
There were two mini-pilots filmed before production began, one with Jay Murray as the Green Hornet (yuck!), another with Michael Lipton in the lead role. Ultimately Van Williams was selected for the coveted part, he had previously starred in two other short-lived detective shows, Bourbon Street Beat and Surfside 6. Bruce Lee appeared in both pilots.
While Batman was played for laughs, The Green Hornet was meant to be a serious crime drama, mostly devoid of colorful villains. Batman aired on Wednesday and Thursday nights so The Green Hornet was scheduled for Friday nights.
The announcer (William Dozier) and music was replicated from Batman, the opening graphics were trippy and exciting, too bad the shows themselves weren't so thrilling. The series was a dud from the start, Batman was starting to lose popularity as well by the fall of 1966.
In an effort to juice up the ratings, Green Hornet and Kato appeared on a two-part episode of Batman that aired in March of 1967, same month The Green Hornet was cancelled.
The Green Hornet lasted just one season, 26 episodes, leaving the air in March of 1967, with reruns until until July 14th. After Bruce Lee became a superstar in the early-1970s, episodes of The Green Hornet were stitched together and released as a motion picture in 1974 with Bruce Lee given top billing. The movie was no more popular than the TV series in the United States but performed very well overseas.
Van Williams for the most part retired from acting in 1982, serving instead as a reserve search and rescue team deputy for the Malibu station of the Los Angeles County Sheriff's Department.
The premiere episode of The Green Hornet:
The 2 pilot films:
Batman & Robin vs Green Hornet & Kato:
1960's TV Seasons: 1961 / 1964 / ABC 1966 / 1967 / 1968 / 1969 / Fall Previews / Sharon Tate on The Beverly Hillbillies / Dark, Unseen Monkees Pilot / Pistols 'N' Petticoats / Best Episodes of Every 'Lucy Show' Season / How Lee Meriwether Became Catwoman / The Star Trek Spinoff That Didn't Happen / Why Ginger Was Almost Fired From Gilligan's Island / Every Batman (1966) Fight Scene / Whatever Happened to the Beverly Hillbillies' Mansion? / Remembering "Mary Ann" - Dawn Wells Interview / Catching Up With Lucy & Desi's 'Son' / The Ronny Howard Show?!? / Death of Bonanza's Dan Blocker / Broadside / In Defense of Bewitched (and Jeannie) / Sad Ironic Death of Crazy Guggenheim / Larry Mathers (Beaver Cleaver) on the Rumor That He Was Killed in Vietnam / The Monkees / Jimi Hendrix 1967 Tour - The Only Night It Clicked Was In Greensboro! / William Shatner on the Origin of Star Trek / Remembering Newton Minow / The Nurses / The Debbie Reynolds Show / The Riddler Was Batman's First TV Super-Villain / Betty Lynn aka Thelma Lou / Remembering The Rifleman's Johnny Crawford / Clu Gulager Obituary / Leonard Nimoy on NBC Hating Spock / Sinatra Wanted To Play Joker on Batman? Yes! / Directing the Batman Pilot / Elinor Donahue on The Andy Griffith Show / Lucy After Ricky / Robert Clary on His Hogan's Heroes Co-stars / Jeopardy! in the 60s & 70s / Stunts Gone Wrong on The Wild Wild West / Whatever Happened To Lost In Space's Guy Williams? / Best of Julie Newmar Catwoman Season 2 / The New People / Dark Shadows Director Lela Swift / Pioneer Newswoman Lisa Howard / The Jim Nabors Hour / The UN Goes to the Movies / Stories About Filming Batman from Burt Ward / Life With Linkletter / The Green Hornet / Best of The Joker / Matt Weiner Interview / Lost in Space: Mark Goddard Interview / 1961 CBS Fall Season / Bette Davis TV show: The Decorator / The Hathaways / He & She / Eartha Kitt as Catwoman / The Good Guys / James Drury of The Virginian / The Ron Hicklin Singers / Man From U.N.C.L.E. on DVD / Behind the Scenes at The Andy Griffith Show / Pat Buttram & Green Acres / TV's Tarzan / Grocery Shopping in 1962 / Carol Channing on TV / 1960's Nightclub Comic Rusty Warren / Johnny Carson Tonight Show 1964 / That Girl / The Amazing Randi / TV's Greatest Car Stars / Best of Batgirl 1967-68 / TV Shows to Movies / Batman Season 2 / Supermarionation / The Virginian's Clu Gulager / William Windom / New Bewitched Book / Court Martial / Cast Changes on Bewitched and Green Acres / Sammy Davis Jr. Show / Sunday Morning Cartoons / Naked City / Joe E. Ross / Alan Young Interview / Sherwood Schwartz Interview / Walter Cronkite Moon Landing / The Farmer's Daughter / Petula-Clark /