THE HATHAWAYS
More Fun Than A Barrel of….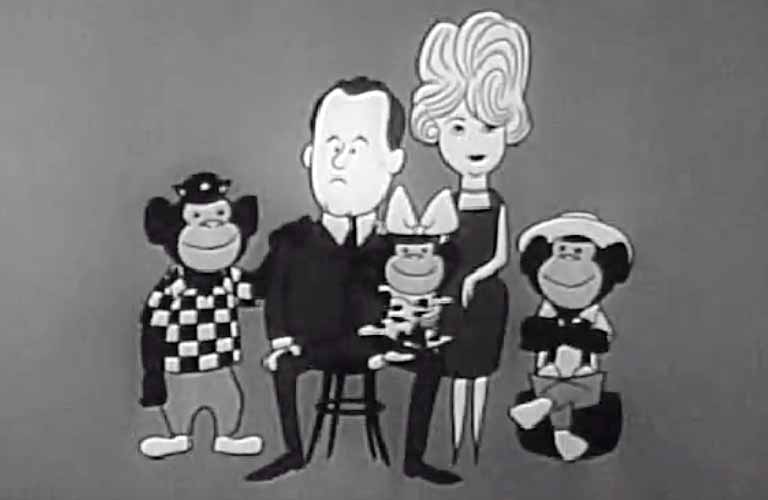 by Cary O'Dell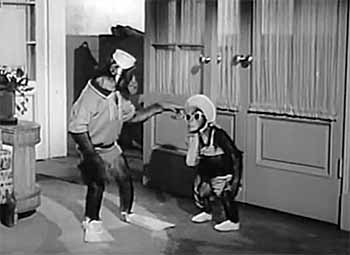 Before Google and her best friend, Siri, came along and made our lives so much easier, it seemed like one of the most frequently asked questions submitted to all those newspaper "Ask Me Anythings…" was "What was the name of that show where a family was raising three kids but the kids were monkeys?"
Well, that show was "The Hathaways." And it aired on ABC for 26 episodes from October of 1961 to March of 1962.
A show so odd, so eccentric, people probably could never quite convince themselves that what they saw was actually what they saw.
Though Peggy Cass and Jack Weston and a few other humans (including in a few episodes Barbara Perry and Mary Grace Canfield) were in the cast, it is fair to say that the real stars were their simian supporting players.
The Hathaway "family" had three "kids": Charlie, 9; Enoch, 6; and, the "baby," Cindy, 2. They were played by the Marquis Chimps.
The Marquis Chimps were trio of, as you may have guessed, charming chimpanzees whose remarkably people-like antics had proved popular on many of the TV variety shows of the era. They proved such a hit they, like many a talent before them, soon got packaged into their very own weekly series.
But when the chimp-centric program was announced in March of 1961, TV columnist Bill Fiset, for one, was not anxious to see the result. He wrote: "Heaven help us all! It may be that by the time you read this I'll have taken the gas pipe, a victim of sheer frustration from trying to work as a serious essayist on a subject matter put into the hands of monkeys…. Really it was inevitable, considering how desperate the television industry is, that the Marquis Chimps would be signed to star in a weekly series."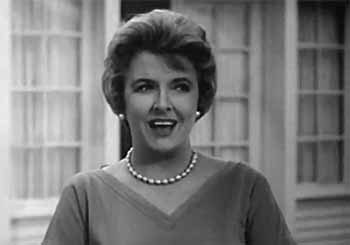 Originally, lead human star Peggy Cass, was, too, a little less than overjoyed when offered this role, her first in a regular primetime series. In one interview shortly after the show was put on the air, the actress admitted to taking the role for the paycheck and because she thought the pilot would never sell. But, once production started, Cass came around. She said, "Those chimps are natural comics. And believe me, they're hard to top!"
In the series, Cass played Elinore Hathaway and co-stared with Jack Weston, another familiar TV face. He played, her husband, Walter Hathaway, a real-estate agent. Together, they had these three "kids." Actually, the monkeys were supposed to be a stage troupe (just like the real-life Marquis) who just lived with the Hathaways between engagements, but the Mr. and Mrs. treated them just like real-life children—they called them "the children," they dressed them up in age- and gender-appropriate outfits and they had their very own bedroom. On Walter's desk he even had a framed photo of his wife and the three little ones. While, deep down, they knew that these "children" weren't human, they sure, day after day, treated them like they were.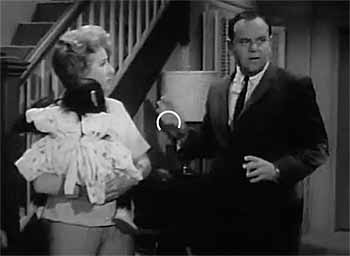 As one can image, having a house full of monkeys to raise was even harder than having a house full of kids to raise. Further not helping was how confused some of the Hathaways' neighbors were in regard to these "family members."
In the show's debut installment, real estate agent Walter is anxious to sell the house next door to his but he doesn't know how the potential new neighbors will react to living next to apes. Can Elinore keep the kids hidden for a full day?
Like many "family" sitcoms, many episodes of "The Hathways" dealt with some of the "normal" issues around "child-rearing." In one, Candy gets tonsillitis and won't take her medicine. What is a mother to do? In another, Charlie takes on the task of delivery the neighbor's newspaper. In another, the Hathways go on a couples' vacation and leave the kids with a responsible sitter—but can Elinore relax when away from her kids?
Some episodes dealt with the unique problem of having children who are chimps. In one very self-reflexive episode, "TV or Not TV," Walter is set to do a live TV commercial about some vacant lots he has for sale. But, at the last minute, he can't make it, forcing his family to take over. Of course, on camera, the "kids" are a little hyper—as most kids can be—and wreck havoc on the set. Luckily, though, home viewers love the antics of the little monkeys and, soon, the family is being offered their own TV series!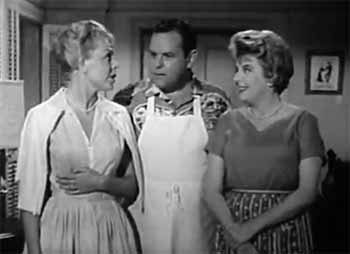 In regard to the making of this series, one can't help but wonder if what Elinore experienced was often repeated on the set for the various human actors, especially Cass and Weston. Rumor has it—or, a newspaper article from the time at least—that there was so much curiosity about the chimps and how'd they perform on the show that, during the filming of the first episode, Kim Novak, Spencer Tracy, Audrey Hepburn and Mel Ferrer all wandered over to the "Hathaways" soundstage from their movie sets to see how things were progressing.
Watching episodes today it is hard not to be charmed by these chimps, who are so cute, so expressive and so very human-like. Surprising then, that this series was far from a success when it aired.
ABC put it on Friday nights and though it didn't have much of a lead-in (a largely forgotten show called "Straightaway," starring John Ashley and Brian Keith as race car mechanics), it didn't seem to have too much competition either; "Rawhide" aired opposite it on CBS. Still, ratings were poor. In fact, ABC was not even able to find a sponsor for it and the network had to sustain it itself. Rather surprising as the series was well-done for what it was, and TV at the time was starting to show a greater love for shows with—what shall we call it?--a gimmick. Additionally, what series could be more kid-friendly than this one?
(Of course, maybe monkeys are a hard sell. They didn't prove any more successful with "Me and the Chimp" many years later.)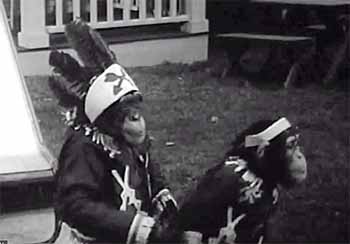 After the end of the series, Cass and Weston would go on to a plethora of other roles, on stage and both screens. And the Chimps? They returned, quite successfully, to TV variety shows, especially "Ed Sullivan," where they made numerous appearances. While they sometimes interacted with show hosts, they were often seem alongside their owner/trainer Gene Detroy, a former acrobat turned chimp wrangler. Between show biz gigs and personal appearances, the animals resided with Detroy on a spacious ranch in Las Vegas, The chimps could afford it—at their peak, they were earning a quarter of a million dollars a year.
The chimps's last appearance was on a Perry Como special in 1976. Detroy died in 1986.
Perhaps "The Hathaways's" short duration and low initial ratings is why it remains somewhat remembered. The Boomers watched it when they were young and its swift exit from the schedule (and then the lack of reruns) rendered it almost like a figment of their childhood imaginations. So they had to ask after it years later, if only to make sure that their memories weren't monkeying around.