'TVparty is hands down the best site on the Web for classic TV.'
- Discovery Channel
Past TV Blog Entries: RESCUE KITTY GOES NUTS! /Filthy Rich / Police Squad / Lost Christmas Specials of the 50s & 60s / 1970 TV Shows / Strother Martin / Joya Sherrill / Super Circus / 1950's The Big Show / Saturday Morning TV Memories / Hilarious Outtakes / The Smothers Brothers Revisited
Joe E. Ross
by Billy Ingram
OOOH! OOOH!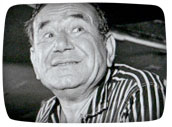 Watching Car 54, Where Are You? on DVD reminded me of how much I enjoyed the great Joe E. Ross. At least as a kid I liked him, one of those oddball performers that kept popping up here and there for no apparent reason. It certainly wasn't talent.
He started out life in show biz as a burlesque club comic, here's a cleaned up sample of his 1950's act as half of a duo with Dave Starr, crammed full of corny vaudeville routines but funny none the less.
He shot to stardom on Nat Hiken's Sgt. Bilko as the imbecilic mess sergeant, Rupert Ritzik. His trademark phrase "Oooh, Oooh" sprang from an inability to remember his lines, he was stalling until the words finally came.
But sudden fame was like lighting a match to his flame, soon the unlikely TV star was gaining a reputation in town as a hard partier who was undependable on the set. His vivacious appetite for hookers, cigarettes, fatty foods, and booze were fueled by Hollywood's open embrace for that sort of behavior. He returned to the nightclubs when Bilko was cancelled in 1959.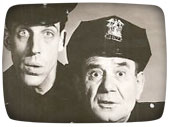 Still, his charm was irresistable to the home audience so Nat Hiken cast him as one of the leads in his new series, Car 54, where Joe E. Ross proved even more difficult to control.
Car 54 was dropped after two terms and a few years later Joe E. Ross landed the show I first saw him on, It's About Time, which I loved as a 9 year old. The kooky combo of Joe E. Ross and Imogene Coca was hard to resist. Again his co-workers complained about his loutish behavior and that one season wonder was the comedian's last primetime series.
In the 1970s he was relegated to doing cartoon voices for Hanna-Barbera where he once again resurrected his "Ooh, Oooh" catch phrase to delight a new generation. Even that career was short-lived. He died in 1982 entertaining in an apartment complex clubhouse in Van Nuys, CA. You can read Joe E. Ross' cautionary tale here.
---
1960's TV Seasons: 1961 / 1964 / ABC 1966 / 1967 / 1968 / 1969 / Fall Previews / The UN Goes to the Movies / Life With Linkletter / Matt Weiner Interview / 1961 CBS Fall Season / The Good Guys / James Drury of The Virginian / Man From U.N.C.L.E. on DVD / Pat Buttram & Green Acres / 1960's Nightclub Comic Rusty Warren / That Girl / TV Shows to Movies / Batman Season 2 / Supermarionation / The Virginian's Clu Gulager / William Windom / New Bewitched Book / Court Martial / Cast Changes on Bewitched and Green Acres / Sammy Davis Jr. Show / Sunday Morning Cartoons / Naked City Sherwood Schwartz Interview / Walter Cronkite Moon Landing / The Farmer's Daughter / Petula-Clark /
JOE E. ROSS
Star of Sgt. Bilko, Car 54 Where Are You?
and It's About Time

TV on DVD/ /Holiday Specials on DVD
TV Commercials on DVD
TV Shows on BLU-RAY
Auto huren makes it possible to compare all car rental companies all over the world!
Compare the top sellers of Instagram followers on Buy instagram followers reviews!
An overwiew of guides and gutscheincode with the best tips and tricks to save money! on Ebookers.