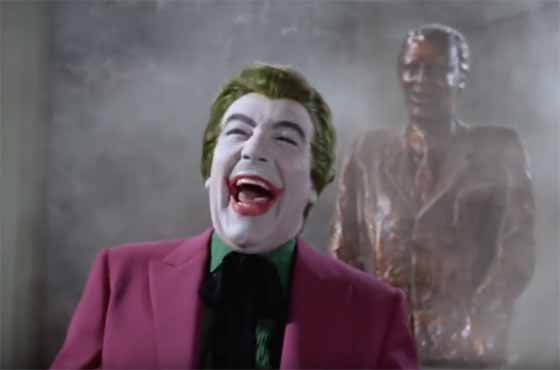 The Best of The Joker!
America first became aware of The Joker, those who weren't comic book fans, when he appeared as the guest villain on Batman (1966-1968). That show took the nation and the world by storm, evoking mass hysteria and inspiring product tie-ins by the thousands.
As a 9-year old when Batman first aired on ABC, I was thrilled to see my favorite Batman villains brought to life, particularly effective were Frank Gorshin as the Riddler and Julie Newmar as Catwoman. My fave Bat-badguy incarnation was Cesar Romero as The Joker.
As IMDB notes about Cesar Romero, "To one generation, he was the distinguished Latin lover of numerous musicals and romantic comedies, and the rogue bandit The Cisco Kid in a string of low-budget westerns. However, to a younger generation weaned on television, Romero was better known as the white-faced, green-haired, cackling villain The Joker of the camp 1960s TV series Batman."
Romero's portrayal of the Clown Prince of Crime was deliriously over-the-top, making his debut in episodes 5 and 6 of the first season (The Joker's Wild/Batman Is Riled) then returning in episode 15. The Joker's last appearance was in the third to the last episode of the third and final year.
There's a new Batman trilogy coming, directed by by Zack Snyder and starring Robert Pattinson as the caped crusader, Jared Leto (Suicide Squad) has offered to reprise the role of The Joker but the first motion picture villain will reportedly be Deathstroke.
Here's some of the best of The Joker from the 1966 series:
By the third season of Batman The Joker had become impossibly silly, still, I loved the scenes between Cesar Romero and Eartha Kitt as Catwoman (Newmar wasn't available but I preferred Kitt).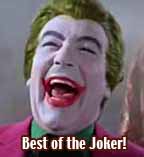 The Joker, created by Bill Finger and Jerry Robinson, and to a lesser extent Bob Kane, first appeared in the debut issue of the comic book Batman (April 25, 1940) published by DC Comics. The Joker did not appear on the Batman radio program or the 2 Batman serials in the 1940s.
Batman regulars:
• Adam West as Bruce "Batman" Wayne
• Burt Ward as Dick "Robin" Grayson
• Alan Napier as Alfred Pennyworth
• Neil Hamilton as Commissioner James W. Gordon
• Stafford Repp as Chief O'Hara
• Madge Blake as Aunt Harriet Cooper
• Yvonne Craig as Barbara "Batgirl" Gordon
• William Dozier as the narrator
• David Lewis as Warden Crichton
• Byron Keith as Mayor Linseed