The Riddler Was Batman's First TV Super-Villain
By Billy Ingram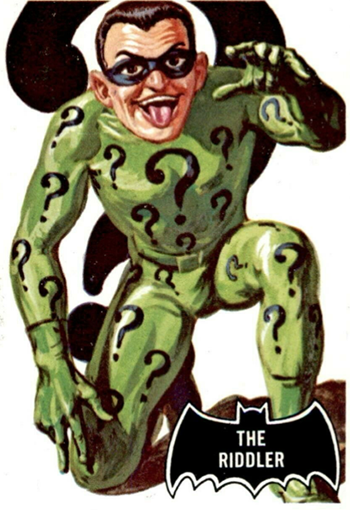 When Batman debuted on ABC-TV on January 12, 1966, the Dynamic Duo's first foe was none other than The Riddler, the villain Robert Pattinson's Caped Crusader faces in The Batman motion picture.
The Riddler, also known as Edward Nygma or Edward Nashton, was created by Bill Finger and Dick Sprang for Detective Comics #140 in October 1948. By the way, Finger and Sprang were the ultimate writer/artist team for Golden Age Batman stories. The Riddler was a largely forgotten Batman supporting character by 1966.
For the Batman TV show, The Riddler was portrayed by Frank Gorshin, best known for his Broadway roles, many guest appearances on The Ed Sullivan Show, and his talent as an impressionist. As a 9-year old watching Batman for the first time in 1966, I had no idea who he was, or any of the big name stars that appeared as guest villains for that matter. That probably made the experience much more enjoyable.
In the first two-parter, Hi Diddle Diddle / Smack in the Middle, Batman is tricked into becoming a law breaking disco lethario while Robin is delivered into the hands of the Riddler.
The Riddler was back for episodes 11/12, 23/24, as well as 31/32 during season one. Frank Gorshin was nominated for an 'Outstanding Performance by an Actor in a Supporting Role in a Comedy' Emmy award for his manic performance in Hi Diddle Diddle.
When Gorshin wasn't available during Batman season two, he was replaced by John Astin, Gomez from The Addam's Family (him I knew!). But Astin didn't quite fill out the costume, or the character, the way Gorshin did. The Riddler only appeared in two episodes for season 2.
When The Riddler returned for the second episode of season three, Gorshin once again donned the bright green tights, augmented by a costume he himself designed and had stitched up, a much more modest question mark emblazoned lime green suit.
"Even on the set, you just didn't know what was going to come out of him," recalls Burt Ward who played Robin. "He was like super power steering with the way he could use his body and voice."
The best of The Riddler - Batman season one…