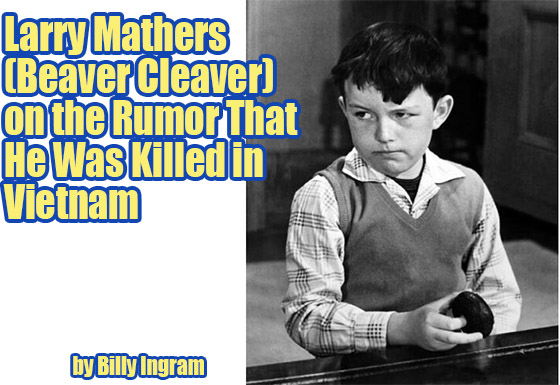 If you grew up in the 1960s, as I did, you heard the shocking news: Jerry Mathers, beloved Beaver Cleaver on Leave It To Beaver (1957–1963), had been killed in action in Vietnam.

Talk about your fake news!

It was many years later, maybe a decade?, before Mathers turned up in newspapers declaring, contrary to popular notion, that he was in fact alive and the story about his KIA, which was sent out across the world over the major news wires in December of 1969, wasn't true. Again the nation was shocked, by that point his sad demise was accepted as established fact.

Interviewed by Bill Murray on SNL in 1980, 'Wally' & 'Beaver' made light of that unfortunate falsehood:

In 1988, Mathers was interviewed by Bob Costas who asked him how this rumor came about. During this period Mathers was starring in a reboot of Leave It to Beaver, entitled Still the Beaver also known as The New Leave It to Beaver (1984-1989), filming the fourth season syndication.

What did the actor think about this turn of events as the rumor of his violent death w as spread across the world? "It went out on both wire services, Bob. And what they tell me at that time is that bureau chiefs for the. - u p and AP would with scan casualty lists in major cities, looking for people of some prominence in their particular city. And somebody saw either the same name or a very similar name."

Mathers had also recently appeared on the Academy Awards where he presented an award to Gene Kelly, "And I'd done that in uniform. So people said it must be him. I saw him on the awards and he's dead."

"And they ran the story. And then Shelly Winters went on the Tonight Show that night. And having read it in the paper said, 'you know, it's such a tragedy we're losing our youth in Vietnam.' And of course everybody thinks that all actors know each other.

"If there's anything funny about it, this would, this would probably be a people that were not real fans, but were personal friends of mine. But maybe people like you went to high school with, and you hadn't seen and say three or four years because I was in the service, they'd see me walking down the street and they'd get a real funny look on their face and they'd say, 'I read something about you.' And I'd say, 'oh, yeah, that was that.' And they'd say, 'well, you're not dead, are you?'

Costas asked why Mathers didn't have a publicist or somebody to put the story to rest? "No actually, at that time I really wasn't in the industry. I was in the service and just being what, you know, a regular serviceman. And I didn't have a publicist. I didn't have an agent. I was in the Air Force or the Air National Guard."