'TVparty is hands down the best site on the Web for classic TV.'
- Discovery Channel
Past TV Blog Entries: RESCUE KITTY GOES NUTS! /Filthy Rich / Police Squad / Lost Christmas Specials of the 50s & 60s / 1970 TV Shows / Strother Martin / Joya Sherrill / Super Circus / 1950's The Big Show / Saturday Morning TV Memories / Hilarious Outtakes / The Smothers Brothers Revisited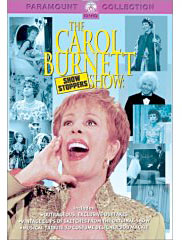 Classic TV
shows on DVD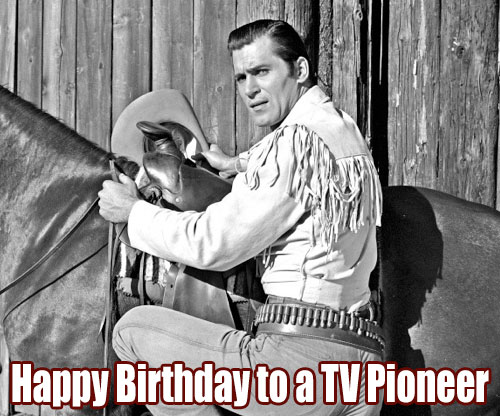 by Jim Longworth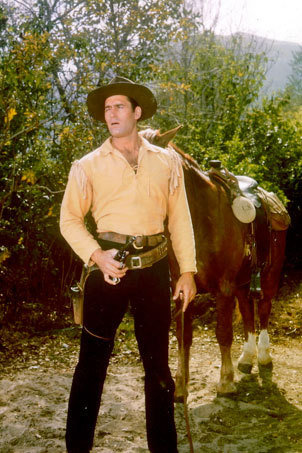 If you're a fan of shows like Mad Men, Game of Thrones, or Breaking Bad, then you should send a thank you note to Clint Walker. If you're the creator of a TV drama, then you should send a royalty check to Clint. That's because, had it not been for Clint Walker, the evolution of adult television dramas would have been significantly altered.

In 1955, the prime time television landscape was replete with comedies, variety shows, and live studio plays. But ABC and Warner Brothers changed all that with Cheyenne, the first weekly, hour long, filmed TV drama.
Cheyenne was the story of a loner (Cheyenne Bodie) who roamed the West, helping those in need. The man they chose to star in this groundbreaking show was a six foot, six inch, broad shouldered embodiment of the character he would portray.

Born Norman Eugene Walker on May 30, 1927 in Hartford, Illinois, Clint struck out on his own after high school, and held a variety of jobs, ranging from river boat crewman to sheet metal worker. Later, while Clint was working as a security guard in Vegas, a number of visiting celebrities suggested he move to Hollywood to seek work as an actor.
His big break came when Cecil B. DeMille was looking for tall men to play Sardinian guards in The Ten Commandments. DeMille agreed to interview Clint in person, and what happened next reads like a movie script. It will also tell you a lot about Clint as a person. Clint recounted the story during a phone conversation we had a few weeks ago.

"I was driving down the Hollywood freeway on my way to Paramount studios, and I saw an elderly woman trying to change a tire. It was obvious that she couldn't handle it, so I stopped and changed the tire for her. She asked me 'What do I owe you?', and I said 'You don't owe me a thing, I was happy to do it'. She then said 'I hope I haven't made you late for anything', and I said, 'Well as a matter of fact I have an appointment with Mr. DeMille at Paramount which may lead to an acting job, but I'm sure it will work out'. I arrived at Paramount over an hour late and was made to sit just outside Mr. DeMille's door. Then he said in a commanding voice, 'You're late young man' I thought, Oh boy, this is probably the beginning and end of my career in Hollywood. I said, 'I'm sorry sir, but I stopped to help someone on the freeway'. DeMille smiled and said, 'Yes, I know all about that. That was my secretary you helped' ".

Clint landed the role in The Ten Commandments, and from that point on, a kind of positive karma followed the big man around. And why not? Who else do you know would risk their career and a much needed paycheck by stopping to help a stranger? Cheyenne Bodie would, and so would his alter ego.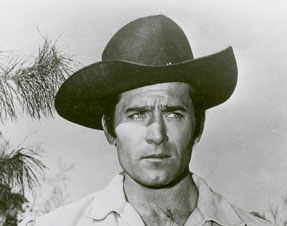 Walker made Cheyenne a rousing success. So much so, that Warner Brothers cranked out dozens more hour dramas (most of them Westerns), and ABC became competitive for the first time in its young history. Clint stayed with Cheyenne for six seasons, then, in 1962, left to make movies.

Walker's film credits include: Fort Dobbs, Yellowstone Kelly, Night of the Grizzly, None But the Brave, The Dirty Dozen, and White Buffalo. He also starred in Kodiak, a short lived series for ABC, as well as in several TV movies.

Though he denies it, Clint was a sex symbol throughout much of his career. In his modest manner, Clint told me, "Well, everybody admires someone who takes care of himself". In fact Clint was a fitness fanatic, and even designed his own exercise machines which were marketed and sold by Fabrege at a time when that company operated a sporting goods division.

Today Walker lives in northern California with his wife Susan, who accompanies him to film festivals and special tributes, like last Fall's Paley Center salute. She also helps him respond to the thousands of requests he receives through his website www.clintwalker.com, where fans can follow Clint's activities, and purchase autographed DVDs and photos.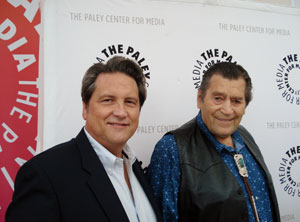 This week, Clint celebrates his 86th birthday, and while he has enjoyed a successful career, the thing he finds most gratifying are the emails and letters he receives. "I have stacks and stacks of letters that are so wonderful.... Most of them say things like 'My Dad wasn't home much', or, 'I lost my Dad at an early age', or, 'My folks just went through a divorce'. Then they say, 'You've become my surrogate father'. Others would simply write and say, "I watched Cheyenne, and I wanted to grow up to be just like him".

My sentiments exactly. Happy birthday big guy.
---
1960's TV Seasons: 1961 / 1964 / ABC 1966 / 1967 / 1968 / 1969 / Fall Previews / Sharon Tate on The Beverly Hillbillies / Dark, Unseen Monkees Pilot / Pistols 'N' Petticoats / Best Episodes of Every 'Lucy Show' Season / How Lee Meriwether Became Catwoman / The Star Trek Spinoff That Didn't Happen / Why Ginger Was Almost Fired From Gilligan's Island / Every Batman (1966) Fight Scene / Whatever Happened to the Beverly Hillbillies' Mansion? / Remembering "Mary Ann" - Dawn Wells Interview / Catching Up With Lucy & Desi's 'Son' / The Ronny Howard Show?!? / Death of Bonanza's Dan Blocker / Broadside / In Defense of Bewitched (and Jeannie) / Sad Ironic Death of Crazy Guggenheim / Larry Mathers (Beaver Cleaver) on the Rumor That He Was Killed in Vietnam / The Monkees / Jimi Hendrix 1967 Tour - The Only Night It Clicked Was In Greensboro! / William Shatner on the Origin of Star Trek / Remembering Newton Minow / The Nurses / The Debbie Reynolds Show / The Riddler Was Batman's First TV Super-Villain / Betty Lynn aka Thelma Lou / Remembering The Rifleman's Johnny Crawford / Clu Gulager Obituary / Leonard Nimoy on NBC Hating Spock / Sinatra Wanted To Play Joker on Batman? Yes! / Directing the Batman Pilot / Elinor Donahue on The Andy Griffith Show / Lucy After Ricky / Robert Clary on His Hogan's Heroes Co-stars / Jeopardy! in the 60s & 70s / Stunts Gone Wrong on The Wild Wild West / Whatever Happened To Lost In Space's Guy Williams? / Best of Julie Newmar Catwoman Season 2 / The New People / Dark Shadows Director Lela Swift / Pioneer Newswoman Lisa Howard / The Jim Nabors Hour / The UN Goes to the Movies / Stories About Filming Batman from Burt Ward / Life With Linkletter / The Green Hornet / Best of The Joker / Matt Weiner Interview / Lost in Space: Mark Goddard Interview / 1961 CBS Fall Season / Bette Davis TV show: The Decorator / The Hathaways / He & She / Eartha Kitt as Catwoman / The Good Guys / James Drury of The Virginian / The Ron Hicklin Singers / Man From U.N.C.L.E. on DVD / Behind the Scenes at The Andy Griffith Show / Pat Buttram & Green Acres / Remembering Clint Walker / Cheyenne / Camp Runamuck / Gilligan's Mary Ann - Dawn Wells / 1960's Nightclub Comic Rusty Warren / Johnny Carson Tonight Show 1964 / That Girl / The Amazing Randi / TV's Greatest Car Stars / Best of Batgirl 1967-68 / TV Shows to Movies / Batman Season 2 / Supermarionation / The Virginian's Clu Gulager / William Windom / New Bewitched Book / Court Martial / Cast Changes on Bewitched and Green Acres / Sammy Davis Jr. Show / Sunday Morning Cartoons / Naked City Sherwood Schwartz Interview / Walter Cronkite Moon Landing / The Farmer's Daughter / Petula-Clark /
CLINT WALKER
Television Pioneer

TV on DVD/ /Holiday Specials on DVD
TV Commercials on DVD
TV Shows on BLU-RAY