FEUDING DIVAS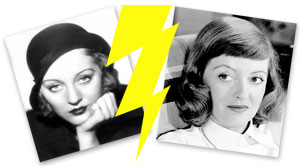 We've gone over NBC's The Big Show from 1950-51, radio's last stand. The show was hosted by the immortal Tallulah Bankhead. One of Hollywood's most colorful feuds was between Miss Bankhead and Bette Davis. It didn't attain nearly the intensity Davis' hatefest with Joan Crawford did but, like any good feud, there were legitimate reasons for the tension.
Someone has mixed together Tallu's references to Bette from The Big Show for us all to enjoy. Bette was riding high at the time thanks to All About Eve. Bette's characterization, many claimed, was an imitation of Tallulah. In fact, Bette made a career out of playing roles originated on the stage by La Bankhead, acted in much the same style. Any potential Divas out there - here's how it's done.
Saturday, June 5, 2010 - 12:18pm
WOULD YOU LIKE TO RESPOND?
RASCALS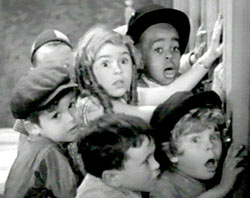 Weekends growing up I used to get up early - well, I've always gotten up early - and tuned in the TV set to a station an hour and a half away in order to stare through the snow and watch sci-fi movies. At 6:00am one of the Raleigh stations would air a double feature on Saturdays, movies like Them, Attack of the 50 Foot Woman, The Incredible Shrinking Man, They Came From Outer Space - if it had radiation or spaceships it was on Saturday mornings. It sure beat the Farm Report on our local stations. Funny thing, the reception was fairly decent early but as the morning wore on the signal would become more and more distant until it virtually disappeared altogether. Don't ask me why that was.
To fill the time they would air Little Rascals shorts and I was always on the prowl for the Our Gang / Little Rascals, I thought that stuff was hilarious. Anytime I noticed a 10 or 20 minute hole in a station's schedule in the newspaper listings it usually meant a Rascals short would fill the slot. Scheduling for weekend daytime local TV was pretty haphazard back then.
Remember Pete the Pup from the series, the Staffordshire Terrier with the black circle around his eyes? That circle was applied by none other than Max Factor himself. The next time your wife is getting made up for the evening you can tell her she looks just like a Max Factor movie star - even if she's a dog. Sadly, the original Pete was poisoned to death in 1930, who knows why, but the Our Gang kids were quite broken up about it.
There's not a lot of choice Our Gang on the Tube but here's an excerpt from one of the more popular shorts and it has the added bonus of providing some handy tips on how to handle young children.
Saturday, June 5, 2010 - 8:25am
WOULD YOU LIKE TO RESPOND?
SAD NEWS
Gosh, it seems like every other day we hear about a classic TV star passing away, now Golden Girls' star Rue McClanahan has died of a stroke. I'm not sure she was ever truly appreciated for just how strong a comedic actress she was. Some people are pointing out that she's the third Golden Girl to die (that leaves one) let me point out she's the first Mama's Family cast member to pass.
Friday, June 4, 2010 - 8:15am
WOULD YOU LIKE TO RESPOND?
TEN MINUTES WITH DEAN
When Dean Martin signed on to do a variety show for NBC he agreed to do it on one condition - that he come in on Sunday afternoons after a round of golf and shoot the entire show without rehearsal. The network said yes and that's the way it was, all Dean got before the shooting was a run through beamed to his dressing room with someone else playing his part.
He had The Golddiggers and The Ding-A-Ling girls to guide him around the stage to where he needed to be. He never even asked who the guest stars were that week, he couldn't have cared less (The guests, however, rehearsed all week.) It all worked marvelously, Dean's devilish nature, bawdy sense of humor and his golden voice were a perfect combo for the home screen. (And yes he really did drink - on the set even!) Take it away Deano...
Joyce Garro of The Golddiggers is remembering Dean in a very special way for his birthday on Monday: Ciao friends and family; As many of you know, every year since Dean Martin went on to croon with God's heavenly Big Band, I request a special intention to remember and pray for the spirit of Dean at Mass on his birthday. St. Peter's has been the perfect church to remember him, since this was the church that his mother, Angela attended often with the Italian Woman's Club. Of course, I'll be leading the music and my dear friend Fr. Giovanni Bizzotto will be presiding.
Dean's birthday is June 7 but the Mass this year will be held on
Sunday, June 6, at 6pm
St. Peter's Italian Church (north end of Chinatown)
1039 No. Broadway
Los Angeles, CA 90012
If you are not able to attend (for whatever your reason) please say a prayer remembering Dean. He was a kind and wonderful man who through his music and performances gave so much to all of us.
Hope you can join us. Let us pray for each other! God bless you and yours! Pace e Amore, Joyce

By the way, that 1966 Dean Martin Show was the last time The Andrews Sisters appeared together. From a previous post: I was fascinated with music of the World War II era growing up in the 1970s, swept up in the nostalgia boom that was going on at the time, no doubt. The Andrews Sisters were three of the brightest stars of the 1940s, scoring big not only on vinyl but in motion pictures with Bob Hope and Bing Crosby as well.
LaVerne Andrews died in 1967 at age 55 and the other 2 sisters had a rocky relationship throughout in the 1970s even though a hit Broadway show Over Here! was built around them in 1974. They had a serious falling out after that and never reconciled.
Maxene died in 1995; Patty, the lead singer, is still alive, the last I saw of her was as a judge on The Gong Show in the late-1970s.
Friday, June 4, 2010 - 5:15am
WOULD YOU LIKE TO RESPOND?
I'LL BE BACK
I'm working on a script right now so I'm a bit busy, should be back to blogging soon. In the meantime:
Remember that nutty inspirational speaker Tony Robbins? He's getting an hour in primetime on NBC.
Cary Coleman's wife, the one that pulled the plug on his life? Not his wife. They were divorced. So she prolly had no right to do it.
A $300 million dollar Michael Jackson museum is in the planning stages. Right.
Can a show be both charming and funny at the same time? Ordinarily I'd say no but here's the exception to the rule. I just reviewed for you Season three of Leave it to Beaver, the entire series set, 6 seasons, is being released by Shout! Factory later this month and it's spectacular. Read the review of Leave It To Beaver: The Complete Series.
Thursday, June 3, 2010 - 8:45am
WOULD YOU LIKE TO RESPOND?
WHO ASKED?
I spent 1978-1994 living in Los Angeles and 1994 to date (with a year off in London) living down South. For a skinny guy I ate a lot of my meals from fast food joints and I tried just about all of them in both locales.
In LA I enjoyed the Sizzler salad bar, the Shakey's lunch buffet (especially on Santa Monica Boulevard in West Hollywood where Carol Burnett & Friends would be on the TV), Round Table Pizza, Koo Koo Roo, In-N-Out Burger and maybe a few others. Most of those places aren't fit to eat in any longer, as subsequent LA business trips proved.
Down South these are my favorite fast food 'delicacies':
Sadly, Hardees' Fried Chicken is no more and hasn't been around for more than a decade. I don't know why I brought it up except Hardees' fried chicken was a phenomenon. When I arrived here in 1994, anytime someone I knew went out for chicken they went to Hardees and I couldn't fathom why. Hardees, one of the worst fast food places of my youth?!? But their fried chicken was the closest I'd tasted to homemade and, folks believe me, I was raised on some magnificent home cooked fried chicken. I'm guessing, as popular as it was, the chain prolly dropped it because it was more difficult to make than a burger. Those Angus Thick Burgers were introduced some time after to the horror of dieticians everywhere.
Another thing I grew up on was homemade country ham biscuits. I never had a canned biscuit growing up, my grandmother made the real thing by the dozens. Late nights I could always pull a few from the freezer, toast them, cover them in molasses and it was a stoner's paradise.
If I want to start the day with a ham biscuit, Biscuitville is my choice, both for the quality of the ham and the biscuit itself. Sure, Bojangles' buttery, greasy, flattened ham biscuit is tasty, much better than Mrs. Winners' green ham & eggs, but Biscuitville tastes the most like 'home did' to me. My grandmother used to make these little mini ham biscuits that were out of this world. Barely bigger than your thumb. Biscuitville (which is a five syllable word down South) makes them as well, you just have to order a dozen at a time in advance. Theirs are bigger than my grandmother's, both in diameter and height, favoring fluffiness over flavor, but they're reminiscent. You'll only find this store in North Carolina and Virginia.
Everyone in the West loves to rave about In-N-Out Burger and they are good. Or were. But down South we've got them beat with Cook Out. Like In-N-Out, these burgers are made fresh to order, never frozen. The portion sizes are smaller than the mega-burgers that seem to be the rage which is just fine for me. The A-1 burger is my fave, it really tastes like backyard cooking and the prices as astonishingly low. 5 Guys has a terrific burger but I got tired of it after just a few trips.
Even better, Cook Out's barbeque sandwich is the best anywhere for my money. Sure, you might find more flavorful barbeque in the family owned restaurants that are quickly disappearing but Cook Out's sandwich tastes the way I like it, topped with the perfect recipe slaw. Bojangles used to have an equally fine barbeque sandwich but they dropped it for some reason.
Po' Folks dished out some pretty decent country style cooking for a very nice price. Their Fried Okra was just like Dad used to make but we lost our location a few years ago. Don't know if it's still good or not, you folks in Alabama and Florida might - and in Buena Park, CA.
I love a rare roast beef sandwich. Problem is few stores serve the real thing. I have no clue what Arby's is selling but it doesn't look, taste or have the consistency of anything I recognize as roast beef. I don't know how they get around the truth in labeling laws, if there still are any. I'm so old I remember when Roy Rogers had a spectacular rare roast beef sandwich but the chain retreated to the northern states long ago. People also swore by their "Pappy Parker" fried chicken but we're talking 1980s nostalgia now.
Jersey Mike's, on the other hand, offers a real roast beef sandwich, slices and tops it with fresh veggies and just baked bread. I get the mini - which is less expensive than the six inch but generally seems to measure around six inches. Or eight inches depending on the guy you're talking to. It's the perfect roast beef sandwich and the perfect portion size. If you see a Jersey Mike's coming your way check it out, they're all over the map.
We have some great local pizza spots, as I'm sure you do as well, but I can't think of a single chain that delivers a comparable product - and I've tried them all. Well, I haven't tried the new Dominoes but get real. I can abide the Pizza Hut individual pan pizza and the meager salad bar but only if they have that delicious creamy white Italian dressing.
I used to love Baja Fresh. I say "used to" because the one location in my area disappeared a few years ago, replaced by a Shane's Rib Shack. I was crazy about Baja's Carne Asada Taco, you got three fresh soft tacos cooked to order for about six bucks and their salsa bar was the best, lots of cilantro. This was always my first choice for a quick, inexpensive lunch. Now we're left with Qdoba and Moe's Southwest Grill where - you folks out West and down Mexico way won't believe this - they steam the tortillas. Do you know what happens to bread when you steam it? But the sheeple here line up for those rubbery tacos and burritos stuffed too full of largely flavorless ingredients. Go figure.
Since I mentioned it, Shane's Rib Shack is not bad. Their barbeque is too sweet for me but their ribs are delish and the simple side dishes are adequate. But it's way too pricey for what little you get. Their new cheeseburger topped with barbeque and slaw looks appalling.
That's about it. Most fast casual places, as they're now called, have gone downhill so badly I don't visit them anymore. Suppose I'll head back over to Biff Burger today.
Tuesday, June 1, 2010 - 8:00am
WOULD YOU LIKE TO RESPOND?
Read more TV Blog entries here!