* Classic & Current Television Blog *
DO YOU KNOW?
Sonja Shafer from Vancouver, Washington asks: I am trying to find the name of a host of an afternoon movie from the early 60's I believe. The program was a typical title like 'the afternoon movie" or "matinee theater" or that type generic name. The host was tall, thin and had dark hair. The show's tune was "Alley Cat". I can't remember if it was instrumental or whistling. If whistling it may have been a different tune but I really have Alley Cat in my head as being the correct theme song. Does any of this ring a bell with you? I want the name of the host but if you know the name of the program I can take it from there.
Tuesday, October 6, 2009 9:06am
WOULD YOU LIKE TO RESPOND?
YOU TUBING
Watching George Takei on Heroes I'm struck by what a good actor he is, it's a shame he didn't work more in the last 30 years but he's certainly making an impression today. I'm watching Heroes season three on DVD now, I didn't like it so much at first but after I let go and realized it's basically just a comic book come to life I could enjoy it more. It's a lot like the DC and Marvel comics of the late-60s / early-seventies. It doesn't make a lot of sense but there are some interesting characters to distract you from the meandering plotlines. And I'm grateful that, even though they've killed off his character, George Takei wasn't written out of the series.
Golden age of television director Ken Whalen was the guest on a 1973 episode of To Tell The Truth leading to a reunion of cast members from The Garry Moore Show. On the panel you'll see Bill Cullen and Nipsey Russell, two underapreciated TV talents, IMHO. I thought Bill Cullen was one of the wittiest guys on daytime TV in the 1970s, it was largely because of his personality that the game shows he hosted were worth watching.
Next up, bloopers from The Julie Andrews Hour then Johnny Carson and Ed McMahon cut up over a promotional spot for a feminine hygiene product.
More Carson - the opening and interview with Paul Lynde from a 1976 Tonight show.
Tuesday, October 6, 2009 8:30am
WOULD YOU LIKE TO RESPOND?
MORE RANDOMNESS
Letterman may be in more trouble than he thought for his inner office romance - a friend tells me he's been all over the BBC news ever since, and not in a good way.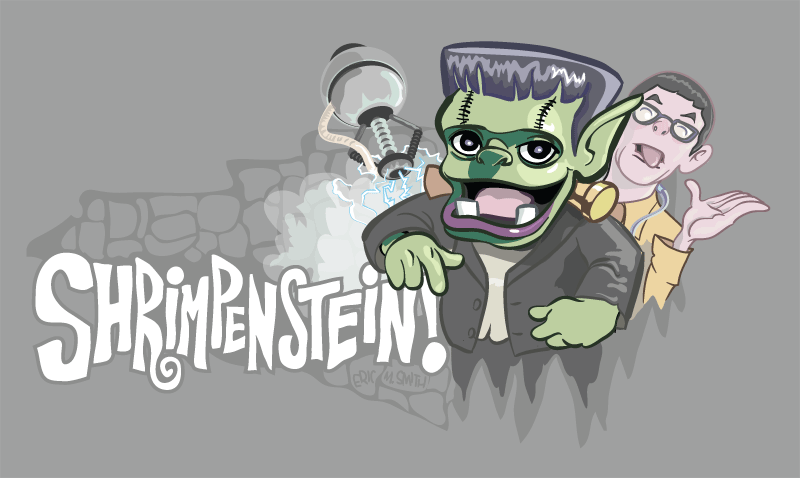 Eric Smith writes: Hi, TVparty! I found your information on Shrimpenstein very valuable. I haven't had a chance to see many of the shows, (just the one on YouTube currently,) but I'm definitely a fan. I recently created and blogged an illustration of Shrimpy and Dr. Von Schtick and thought I would let you know, in case you'd like to add it to your Shrimpenstein page. I'm attaching it to this email.
The original blog post is here with desktop wallpaper and the original sketch. Thanks for the excellent website. Keep it up!
Thanks to Jay Blotcher for reminding us that The Twilight Zone is fifty years old this week.
The Archive of American Television has interviewed many of the contributors to The Twilight Zone, including writers Richard Matheson, Earl Hamner, Jr., and George Clayton Johnson; associate producer Del Reisman; directors Lamont Johnson, Richard L. Bare, Richard Donner, and James Sheldon; actors Cliff Robertson, William Shatner, George Takei, and Maxine Stuart.
To ring in the Zone's 50th, the Archive premieres new pages for Rod Serling and classic episodes "Eye of the Beholder" and "Nightmare at 20,000 Feet" to our website featuring clips from the Archive's interviews.
The Mary Tyler Moore Show season 5 drops Tuesday, here are some clips in Quicktime format:
Will Mary Richards go to jail?
Of course, tonight is the night of the first part of the Seinfeld reunion on Curb Your Enthusiasm.
Sunday, October 4, 2009 1:18pm
WOULD YOU LIKE TO RESPOND?
CAST CHANGES
Look who's joining the cast of Damages, one of my faves, when it returns in January: Keith Carradine, Martin Short, Campbell Scott, Lily Tomlin and former 24 star Reiko Aylesworth.

And who should be returning to Melrose Place but Heather Locklear as Amanda. Which reminds me, I was just watching Melrose Place (the original series) on DVD. When I left LA in 1994 many of my friends and co-workers were hooked on that show. I didn't give it a glance but I watched season 3 last year and thought it was kind of fun, campy and funny. Silly, but I could see why everyone enjoyed it.
So I netflixed season 4 recently, the 1995-96 season - what an amazingly shitty run of shows that was! Completely, totally ridiculous - you have one character who goes stark raving mad, literally, she gets locked up in a psych ward, then just a few episodes later she's a psychologist treating her husband's paramour, the one that drove her insane in the first place. And what was up with Andrew Shue? At first I couldn't decide if he was the most brilliant TV actor of all time because of his restrained performance - or if he was just a no talent shell of an actor, incapable of conveying emotion. If you ever want to know what is meant by the expression "phoning it in" observe Andrew Shue on Melrose Place. Or better yet don't.
Poor Heather Locklear was literally carrying that incestuous little show on her shoulder pads, she was by far the only interesting character, even if they did have her hopping from one apartment and office cubicle to the next fucking everyone in sight for no apparent reason.
Friday, October 2, 2009 11:19am
WOULD YOU LIKE TO RESPOND?
TWO ANNIVERSARIES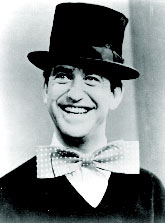 Kevin Butler writes: On October 3, 1959 the ABC TV network premiered a new kidult TV comedy show - Lunch With Soupy Sales (originally known as 12 O'Clock Comics) which had been a popular series on WXYZ TV Channel 7 in Detroit, Mi. since 1953. Although Soupy had been seen on ABC TV weekday evenings during the summer of 1955, it was not until four years later when he replaced The Uncle Al Show that his program was finally seen nationally.
Sales and his first comedy assistant puppeteer Clyde Adler would engage their viewers in comedy and puppet skits, song and dance numbers, present their own zany advice in 'Soupy Sez: The Words Of Wisdom,' narrate old silent film comedies and eat lunch with their viewers.
Inevitably Soupy would also get a pie in his face for his troubles and he became forever popular with adults, teens and kids and was undoubtedly the inspiration for other kidult TV comedy series hosted by such talented people as Clellan ("Axel") Card, Sandy Becker, John Zacherley, Chuck McCann, Johnny Ginger, Eddie Lawrence ("The Old Philosopher"), and Mario Cantone.
Lunch With Soupy Sales would be seen Saturday afternoons on ABC until the series was cancelled Saturday, March 25, 1961.
Also on that same day half a century ago: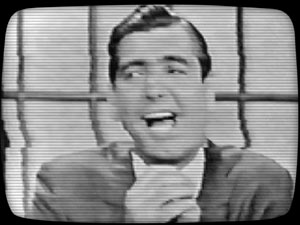 October 3rd was the date 50 years ago when WNEW TV Channel 5 in NYC debuted their children's stunt game show Just For Fun. Wonderama's fourth host Sonny Fox needed more money to take care of his wife Mrs. Gloria Fox and their growing family so he asked the station execs at WNEW / Metromedia TV if they would pay him more for hosting that popular Sunday morning kid's education/talk/variety show.

The station bosses replied, "No, we can't pay you more for doing that show but if you can create another show for our Saturday morning schedule we'll pay you for hosting that show."
Working with producer and director Bob Cahn and using the concept of the Color Wars from his summer camp days, Sonny and Bob created a fun and exciting kid's game show for Saturday mornings until the show went off the air in September of 1965 (former Capt. Video regular and cartoon show host "Uncle Fred" Scott would MC Just For Fun during it's final run).
Wednesday, September 30, 2009 10:19am
WOULD YOU LIKE TO RESPOND?
THIS 'N' THAT
How clever is this - Uncomfortable Plot Summaries. Here's a taste:
• GONE WITH THE WIND: Rich, white slave owner enjoys getting raped, miscarries.
• GOOD WILL HUNTING: Underemployed genius squanders prestigious job opportunity to chase trim.
• FANTASTIC FOUR: Scientist exposes friends, family to dangerous radiation to assuage ego, becomes embroiled in rivalry with former room-mate.
• FERRIS BUELLER'S DAY OFF: Amoral narcissist makes world dance for his amusement.
• WONDER WOMAN: Princess from isolationist culture lectures Americans on equality.
• WORLD TRADE CENTER: Rag-tag group of underdogs succeed at a massive undertaking despite overwhelming odds, credit success with faith in God.

Another classic TV remake is coming: AMC will premiere its six-part mini-series "The Prisoner" on Sunday, November 15 from 8 - 10pm ET/PT, featuring the series' first two episodes back-to-back. A reinterpretation of the 1960s cult classic, "The Prisoner" will air over three consecutive nights, with two episodes each evening, from 8-10pm ET/PT. It stars Jim Caviezel, Ian McKellen, Ruth Wilson, Jamie Campbell-Bower, Hayley Atwell and Lennie James.

Not a revival but a new show with an old cast: Sherri centers around a newly single mom, paralegal and part-time comedienne/actress who tries to get back into the dating scene and move on with her life after divorcing her cheating husband. Sherri finds solace and support among her girlfriends at the office while juggling her hectic life. Also starring in the series are Tammy Townsend (Lincoln Heights), Kali Rocha (Grey's Anatomy), Elizabeth Regen (The Black Donnellys) and Kate Reinders (Ugly Betty). Terri Minsky (Less Than Perfect, Lizzie McGuire) has been named writer/executive producer of Sherri. The comedy reunites Shepherd, Minsky, Wass and Stein, who last worked together on the ABC sitcom Less Than Perfect.
Wednesday, September 30, 2009 8:19am
WOULD YOU LIKE TO RESPOND?
Read more Blog entries here!