* Classic & Current Television Blog *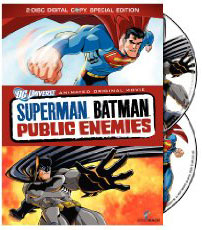 Superman Batman - Public Enemies
I suppose I was lucky to have grown up when I did, collecting comic books just as the industry was being shaken up from within. At the age when a kid would naturally put down the comics to pursue more mature reading material in come Neal Adams, Bernie Wrightson, Jeff Jones, Dennis O'Neil, and a slew of other young creators determined to grow the medium into an art form.
Older, re-awakened pros like Al Williamson, Wally Wood, Joe Kubert and Jack Kirby also stepped up to the plate to create the most amazing graphic stories.
The proof is in the number of multi-million dollar productions we see today based on the characters and situations those writers and artists created decades ago. It cost us 25 cents or less to enjoy them back then but we had to sift through the grit to get to the tiny slivers of gold. I still have a few hundred comics from that time that I'll never let go of.

President of the United States Lex Luthor declares Superman an enemy combatant and a world of superheroes and villains come out of the woodwork to claim the billion dollar bounty on the Man of Steel. That's the premise behind Superman Batman - Public Enemies a new animated feature film from the DC Universe / Warner Bros. studios.

Bruce Timm, the re-animator of animated comics, is the producer behind this one so look for a plethora of famous and lesser known characters from the DC Universe - the ridiculously busty Powergirl, Captain Cold (and every other villain that conquers ice), Solomon Grundy, Hawkman, Metallo, even Captain Atom from the Charlton Action Heroes plays a major role.
And remember that silly space suit that Luthor wore beginning in the late-1970s, a design I suspect they whipped up to make the Luthor action figure more interesting (since previous to that he mostly wore Brooks Brothers suits)? It's back to great effect.
And robot built by a young Toyman to save the world combines the Superman / Batman images in an homage to the composite characters that were so popular in the 1960's World's Finest teamup comics.
The voice talent is in pitch perfect, especially Clancy Brown as the malevolent Luthor, and one of my favorite actors CCH Pounder (The Shield) turns up as his right hand woman. The animation is impressive but limited, the script full of action from start to finish; no time for secret identities and long soliloquies, hurray for that.

This feature is rated PG-13 which would explain some of the more extreme violence - I say extreme compared to the cartoons I grew up with where heroes and villains couldn't punch or fight, they could only move each other out of the way or bind someone. No punching or even much running.
If I were a fourteen year old boy (or girl) there's no doubt Superman Batman - Public Enemies would have thrilled me no end, even watching it as an adult, far outside the film's demographic, I still found it an enjoyable 67 minutes - despite some rather glaring plot holes and Deus ex Machina ending. Then again, it is a comic book story.
Saturday, September 19, 2009 9:00am
WOULD YOU LIKE TO RESPOND?
BELVIE OLD BOY
Ken Reid writes about my non-review of Mr. Belvedere: Reading your blog today I'm tempted to check out the original films. I'm the exact opposite of you in that I'm a big fan of the show, but have never seen a single second of the films because I probably wouldn't appreciate them, being such a fan of the TV show.

That being said the sitcom is pretty bizarre, I actually did a whole one man stand up comedy show about how television messed me up as a kid and a large chunk of this was about a particular Belvedere episode in which one of Wesley (the 10 year old ish one)'s friends gets AIDS



Some other episodes include:
- TWO different child molester episodes
- one where Belvedere gets kidnapped by a Misery-esque fan
- an episode in which the teenage son attempts to date rape the school "tramp"
- an episode in which the teenage daughter is the victim of an attempted date rape
- an episode where the teenage daughter and her best friend kidnap an old man, take him to Atlantic city and he dies on the board walk
- an episode where the teenage son starts dating an Amish girl and decides to become Amish

Some weird stuff, I'm still shocked they got away with it re watching the series.

The commentaries on Season 3 are interesting in that it seems that the actors have some perspective on things and feel the show was pretty odd as well.
Thanks Ken! Eighties sitcoms are not my thing, I only remember watching two shows the whole decade - Mama's Family (the first season with Carol Burnett & Betty White) and Filthy Rich which I'm dying to see again.
Thursday, September 17, 2009 12:49pm
WOULD YOU LIKE TO RESPOND?
ANOTHER CLASSIC TV GREAT PASSES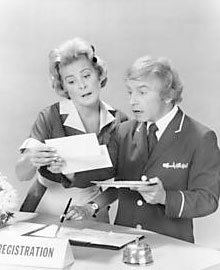 Kevin S. Butler writes: Henry Gibson, the diminutive poet on Rowan & Martin's Laugh In died on Monday, September 14, 2009 at his home in Malibu, California. Mr. Gibson was 73 years old and a battle with cancer.
He appeared on numerous TV show and movies, most notably "F-Troop" as jinxed "Private Leonardo Wrongo Starr" and "The Nutty Professor" as a college student. He also appeared in "The Three Stooges" last feature film "The Outlaws Is Coming" as indian chief "Charlie Horse."

He provided the voice of "Wilbur The Pig" in The Hanna/Barbera animated feature film version of E.B. White's classic children's story "Charlotte's Web" but Mr. Gibson will always be remembered as the zany poet on "Laugh In."

One of his last roles was as the "Sandman" who's life and career was being threatened by a demon and whose efforts to help people sleep and maintain their dreams and hopes were being destroyed by this supernatural villain on the series "Charmed."
When I was a kid I was crazy about Laugh-In, I wrote to Rowan & Martin, Henry Gibson and Judy Carne and they all sent autographed photos. That kind of thing doesn't happen today.
Thursday, September 17, 2009 8:00am
WOULD YOU LIKE TO RESPOND?
MY MR. BELVEDERE AND YOURS
Mr. Belvedere Season Three has arrived on DVD and somehow ended up on my doorstep, a faint reminder of an old celluloid friend I haven't seen for three decades. No, it's not the character played by Christopher Hewitt in the TV sitcom.
Unfortunately I can't review this DVD because of my profound love for the first two of the three Mr. Belvedere movies from the late-1940s which have only ever been released on VHS. I caught the first two on weekend and late night TV movie airings in the 1970s and they quickly became some of my favorite classic comedies.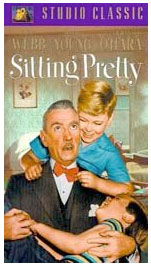 These feature films starred the impeccably prissy Clifton Webb as Mr. Belvedere, it's the most well-rounded character of his career and a rare starring role for this popular supporting actor.
The first, Sitting Pretty directed by Walter Lang, is a riot as this erudite genius, who has seemingly been everywhere and done everything, goes to work as a live-in nanny for a typical American family so he can secretly write a tell-all book. Pretty modern concept, huh? Robert Young and Maureen O'Hara co-starred.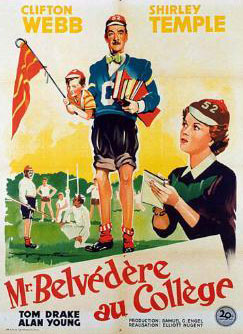 Mr. Belvedere Goes To College was the hilarious sequel - it turns out the guy who knows it all never got his college degree so he enters a University as a freshman and proclaims that he will finish the four year curriculum in just a few weeks. The college allows him to join the students with the proviso that he attract no publicity, his book about suburban life touched off a firestorm, after all. A mostly grownup Shirley Temple co-stars in this totally charming and funny 1949 prequel to Animal House.
The third entry was the abominable Mr. Belvedere Rings The Bell wherein Belvedere goes underground to live in an old folks home in order to pen an expose. There are a couple of laughs but way too many maudlin moments - it's the film that killed the franchise. Zero Mostel co-starred. It might not have been so bad if the much-too-young actors playing the elderly folks weren't so phony.
Any other Mr. Belvedere just won't do. I understand the TV version was a solid family comedy from the 1980s ala Silver Spoons and I'm sure kids that enjoyed the show will get a nostalgic boost from seeing it again.
Myself, I want to see the Clifton Webb Mr. Belvedere movies again. Oh well.
Wednesday, September 16, 2009 10:00am
WOULD YOU LIKE TO RESPOND?
MORE ON PETER KASTNER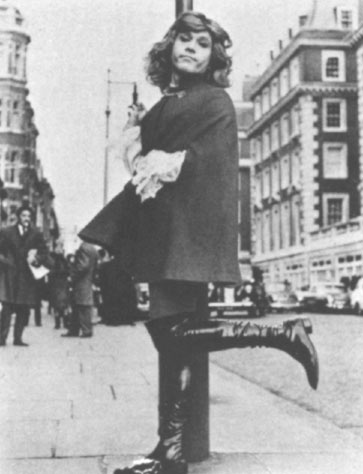 Just about exactly a year ago, following the death of a little known sitcom star by the name of Peter Kastner, there was a blog posting that went like this:

Linda Gillies alerts us to an inflamatory obituary of Peter Kastner, his death was mentioned in an earlier post. The Toronto Star obit states:
But after starring in a disastrous ABC sitcom, The Ugliest Girl in Town, in which he played a young man disguised as a young woman, his career tanked, and his life story turned into a bizarre twist on Sunset Boulevard, with Kastner turning into an updated Canadian male incarnation of Norma Desmond, the deluded former star of silent movies.
After moving back to Toronto from the U.S. a few years ago, Kastner played coffee houses (including Free Times Café) and comedy clubs (including Yuk Yuks) with a one-man show. He not only milked the irony of his own career crash but attacked his mother, the late Rose Kastner, resulting in a bitter estrangement from his three siblings and other members of the family.
It goes on to quote family members about how troubled the actor was.
But Kastner's wife is crying fowl and tells another story. She states in part, "After he left acting he became a high school English teacher. He became a maker of quirky and interesting videos on a wide range of subjects. He mentored many teenagers, helped raise his step-daughter and was the constant delight of his grandchildren. Not only is the article inaccurate on a factual basis, it is also a gross misrepresentation of Peter's life after he left acting. The Peter I knew was actively engaged in the world, through his video work, his songwriting, his political activism and his many friendships. It would have been nice if Knelman had mentioned his first wife Wendy Miller, who also mourns him. The incomplete view presented by Knelman fails to capture the sweetness and soul of the good man who died in his parked car on September 18th, 2008."
Jenny Kastner, Peter's wife, has more to say: There were many other self-serving distortions in the Kastner siblings' attack on their brother, Peter. Among them, Peter's estrangement from his family began in 1976, following his father's death, not following his return to Toronto in 2005 as the article suggests. Peter's mother, Rose Kastner had long engaged in sexual aggression against Peter and when he decided to return to his home in California she cut him off saying it would be "too painful" to have anything further to do with him if he would not live in her home. His siblings joined in this rejection and refused to listen to his reasons for needing several thousand miles between himself and his incestuous mother, putting the lie to their exclamations of innocence and dismay.
In 1991 he was hospitalized with a breakdown; they knew of this but continued to ostracize him. By 1999 he had begun working on a series of videos, some publicly aired in clubs in Boston and Toronto, dealing with the problem of incest in his life. These are what his siblings refer to as "attacks" on their mother. Families where incest occurs most often go straight into denial, and where an inheritance is involved, that denial can become deeply entrenched. Such was the sad case with Peter, a victim, but also through his enormous creativity, a survivor. His siblings wouldn't hear of his experience so he bravely made it into art and took it to the public square. He refused to be silenced in spite of their retaliation. Good for him.
Here's part one of the first episode of The Ugliest Girl in Town - think of it as 1968's answer to Ugly Betty - and discover a wonderful personality, Peter Kastner
Tuesday, September 15, 2009 10:26am
WOULD YOU LIKE TO RESPOND?
LOCAL ST. LOUIS SHOW
Ray Brammer writes: Great site. It really brings back the memories. I found this picture of Corky in the studio (it was on a site dealing with RCA Television equipment!). Corky's Colorama was the first locally produced color TV program in St. Louis (October 1966). This photo probably came from the St. Louis Post-Dispatch (which owned KSD-TV) and probably dealt with this TV event. I hope this picture works on your site.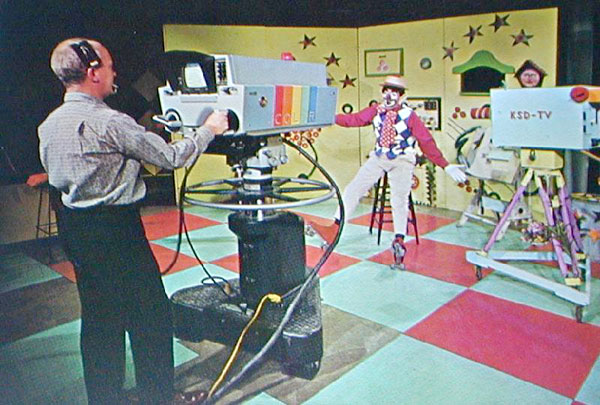 Tuesday, September 15, 2009 9:59am
WOULD YOU LIKE TO RESPOND?
Read more Blog entries here!