* Classic & Current Television Blog *
THIS 'N' THAT
Bob Huggins writes: "I was reading your page on the 1960s game show Shenanigans and wanted to pass along the news that a single episode of the series that starred Stubby Kaye has surfaced on a commercially available DVD. It's titled TV Quiz Shows: Intrigue Series and, of course, Amazon carries it."

Shenanigans, in case you don't remember or weren't around in 1965, was a Saturday morning game show for kids sponsored by the Milton Bradley toy company. The show was hosted by Broadway musical star Stubby Kaye (Li'l Abner). Here's a short clip from the series followed by one of the MB commercials for Racko & Easy Money with one of the catchiest jingles of all time. Don't blame me if you're singing it all day long - "Easy money... easy money!" That's what I need.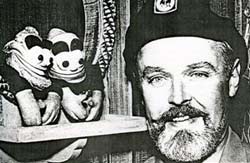 Matt writes about our tribute to Boston TV's Captain Bob Cottle: "Oh my god - to see Capt. Bob again - what an artist - he would start off with a line on an easel and twenty minutes later he drew a whole picture of a city or something. Do you remember when Big Brother Bob Emery would draw a CURLECUE??? You had to copy it at home and make a picture from it - the best would win a prize like a bike or something. I'm 59 years old and I remember the shows and songs word for word some almost 50 years later.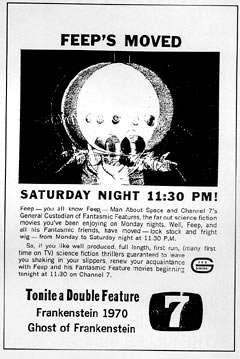 "We would get up on Saturday mornings at 6:00 AM to begin watching Rex Trailer. Then we watched Major Mudd - and Saturday night FEEP was on (when we got older) showing Science Fiction Movies called Fantasmic Features. Oh how I wish I could share these shows with my grandchildren - no sex or filth - and always a moral to the show that you carried with you. God bless these TV personalities, both living and deceased. You were as important to us as our parents and teachers. THANK YOU!!!!"
Do you think local TV stations will ever realize the goodwill in the community that they lost when they stopped producing kid shows? Nah, me either.
Friday, February 13, 2009 - 8:42am
WOULD YOU LIKE TO RESPOND?
ON THE TUBE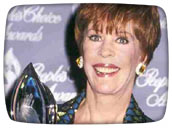 From the press release: Six-time Emmy Award and five-time Golden Globe Award winner Carol Burnett will guest-star on "Law & Order: Special Victims Unit", Executive Producer Neal Baer announced today. Burnett will guest-star as a former dancer caught up in the murder of a young couple, in the episode titled "Ballerina," premiering Tuesday, March 17th, 10:00p.m. ET/PT on NBC.
"Having Carol Burnett on SVU is a dream come true. When you grow up wanting to be a writer, you can count on one hand the actors you'd give anything to work with. Carol Burnett is my thumb," said Baer.
"Every time I mention to someone that I'm about to work on "Law & Order: SVU", they immediately say 'Oh, that's my favorite show!' I'm so glad that they all share my opinion," Burnett added.
Burnett will next co-star with Michael Keaton in this summer's upcoming feature, "The Post Grad Survival Guide". Recently, she portrayed the villainess Kangaroo in 20th Century Fox's blockbuster animated feature "Dr. Seuss' Horton Hears A Who", with Jim Carrey and Steve Carell. Burnett is currently working on a second book.
That last part is really great news!
Thursday, February 12, 2009 - 8:29am
WOULD YOU LIKE TO RESPOND?
DOLLHOUSE
This highly anticipated series debuts on Friday night - reviews overall have been tepid at best, with Joss Whedon fans hoping the oddball premise will hold promise for their favorite writer / producer. And I hope they're right but here's what I wrote last month, harsh as it is: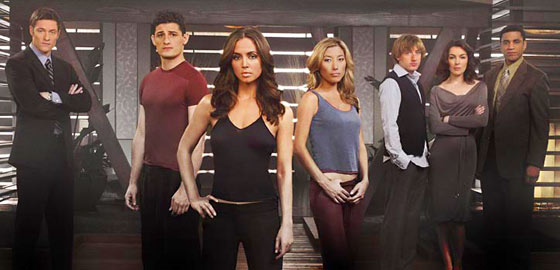 Producer Joss Whedon (Buffy the Vampire Slayer) returns to network television with another science fictiony drama that is one of the worst written, poorly acted series premieres I've seen in a long time.
This Dollhouse is a buzzing hive of wickedly attractive young ladies like Eliza Dushku who have their minds wiped clean and reprogrammed by violent shock treatments in order to be whoever their masters decide they need to be that day.
These perky puppet chicks can be instantly imprinted with abilities it takes a person a lifetime to learn, all the while everything they experience is monitored by the stereotypically snarky nerds back at the office. (Fran Kranz as the dolls' tech support guy doesn't just play an annoying character type he is annoying.)
It's the Bionic Woman with a juiced up mind and fewer parts. Need an expert hostage negotiator or crack crossbow marksman and you need it overnight? Put in your purchase order and a no nonsense superdoll is on the way.
This all too convenient contrivance may hold a rank appeal to henpecked husbands at home watching FOX on Friday nights or dateless dorks who can't get within striking distance of a beautiful, capable woman but there's nothing much to get excited about otherwise.
Every plot point is hammered home with blunt repetitions, as if the potential audience too thick to get what little is going on here. This is cookie cutter not cutting edge. Good thing the entire enterprise is presided over by a woman (Olivia Williams as Adelle DeWitt) or we might get the idea that this is some misguided, misogynistic wet dream.
Put a stake in this one. Dollhouse debuts Friday night, Feb. 13th at 9:00pm ET/PT.
Wednesday, February 11, 2009 - 10:49am
WOULD YOU LIKE TO RESPOND?